Fatal hit-and-run traffic collision in San Francisco involves pedestrians
SAN FRANCISCO - Police and fire crews responded to the scene of a fatal hit-and-run traffic collision in San Francisco Tuesday evening where at least one person was killed, officials say.
San Francisco police arrived at the scene of the crash at Polk and Hayes streets at around 7 p.m., where they found two victims near the Bill Graham Civic Auditorium in the Civic Center area. Police said the crash involved two vehicles and two pedestrians. One victim was pronounced deceased at the scene. Another victim, a 28-year-old man, was reported to be in critical condition. Their identities were not immediately available.
The Citizen app showed video from the scene. Maria, a resident of the nearby Fox Plaza apartments, described the jarring sound she heard from 20 stories above the crash. 
"I heard what sounded like a tuna can. A crushing of sounds. Something didn't sound normal. It was a loud crunch. It just sounded like when you…two cars are being flattened. That's what it sounded like," she said.
District 6 Supervisor Matt Haney, who was at the scene, said the person with critical injuries was taken to Zuckerberg-San Francisco General Hospital and was being operated on. 
"Right now I'm thinking about and praying for the young man who's in the operating room," said Haney. He said four people were in the Audi. Three of them did not need medical treatment. One was taken to the hospital with minor injuries.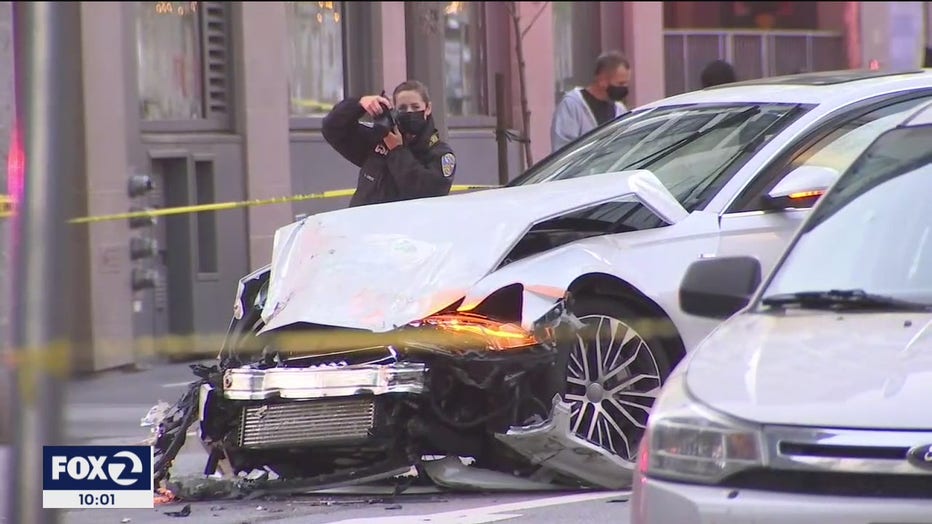 People in the area and a source indicated a dark blue Chevrolet truck traveling southbound on Polk ran a red light and was going more than 50 miles per hour. The truck then crashed into a white Audi sedan that was headed westbound on Hayes, before plowing into pedestrians, killing one. Witnesses told police the driver of the truck fled on foot. 
"It's just an awful, tragic, horrifying accident," said Haney. "You know, right here, some of these people are walking down the street and next thing you know, one of them is dead and one is in the hospital."
"They've put cameras and put different things to help, but it's still a really bad corner," Maria said. She's lived in the area 20 years and said there's been numerous crashes at the intersection. "I'm sorry to see that somebody, you know, passed away, but I'm not surprised." 
Neighbors said they aren't surprised because drivers are always trying to make the traffic light at the intersection. 
SFPD Traffic Company and Traffic Collision Investigation Unit remained at the scene past 10 p.m. as part of their preliminary investigation.