More than 1K march in wake of slaying of 18-year-old Nia Wilson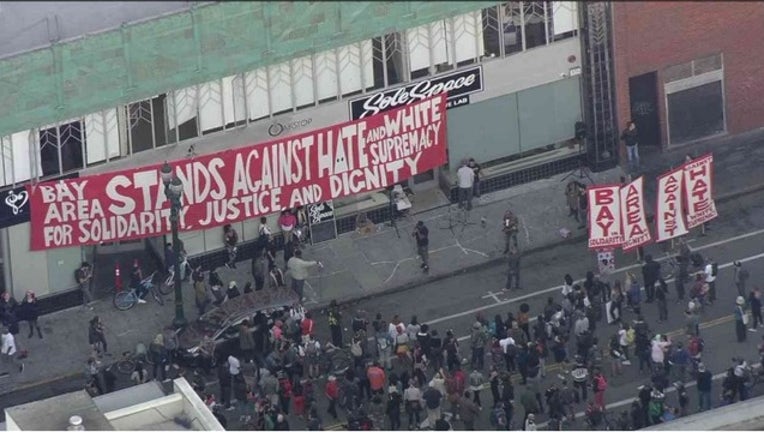 article
OAKLAND, Calif. (BCN) - More than 1,000 people marched this evening from the site of a killing in Oakland Sunday to a downtown Oakland bar to deter an alt-right group from promoting its message. 
A gathering occurred at about 4 p.m. at the MacArthur BART station at 555 40th St. in part to demand justice following the fatal stabbing of Nia Wilson, 18, Sunday night at the station. 
BART police have not ruled out that the slaying was racially motivated because Wilson was black and the alleged killer is white. 
Wilson was allegedly stabbed by John Lee Cowell, 27, who was at large until he was arrested today. Cowell also allegedly stabbed one of Wilson's sisters. 
The group of marchers also called for the community to value black lives and for people to come together as a community in the wake of the tragedy. 
One of the marchers Cat Brooks, who's running for mayor of Oakland, said the group left the BART station at about 6 p.m. and walked peacefully to the Make Westing bar at 18th and Telegraph to deter the Proud Boys, an alleged alt-right group from promoting its message. 
Around 8 p.m., some violence may have broken out between the two groups. 
Oakland police had blocked off part of Broadway between 21st Street and central downtown. 
As of about 8 p.m. there was police activity at 19th Street and Broadway near the 19th Street BART station. Several helicopters were overhead. 
As of 8:30 p.m., Broadway was open again but some officers were still near 19th Street and Broadway. 
Around that time, about 200 marchers were still gathered peacefully near the Make Westing bar. 
Brooks said if the Proud Boys were involved in violence this evening the blame is on their shoulders. But she said she didn't see any violence. 
Police did not immediately respond to a request for information about the police activity.