President Donald Trump takes aim at Oakland mayor again, calls sanctuary cities haven for criminals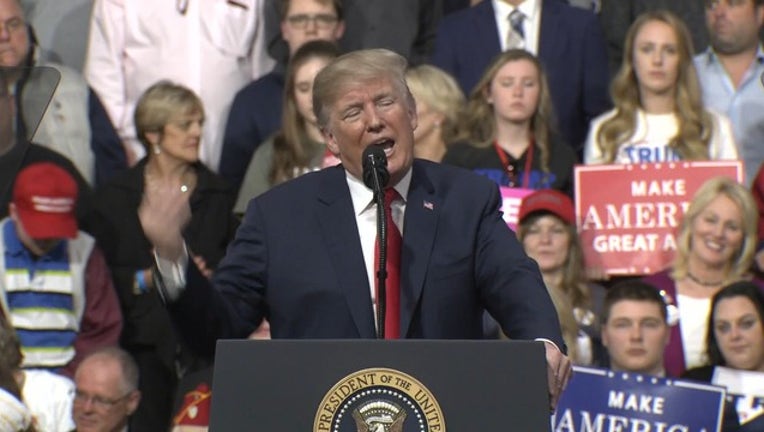 article
President Donald Trump took aim at Oakland Mayor Libby Schaaf once again criticizing her for warning the public about impending ICE raids.
"In Oakland, you have a mayor and she told people that were going to be captured in a big raid that there was going to be a big raid," he told the crowd in Moon Towsnhip, Pennsylvania on Saturday where he was campaigning for Republican Rick Saccone. "Can't do it...you can't do it folks."
The president also called on Congress to stop giving federal money to sanctuary cites, like Oakland and San Francisco, across the country. Every state is subject to the laws and constitution of the United States, Trump reminded the crowed, and California's status as a sanctuary state is in direct defiance of federal laws. 
"I'm calling on Congress to stop funding sanctuary cities so we can save American lives," he told the crowd. "Sanctuary jurisdictions are the best friend of smugglers, gang members, drug dealers, human traffickers, killers, and other violent offenders. We want our cities to be sanctuaries for Americans, not safe havens for criminals. That is why I am calling on Congress to block funds for jurisdictions that shield dangerous criminals."
Schaaf didn't immediately respond to Trump's latest jabs. But she has steadfastly held on to her resolve about warning her city on Feb. 24 of the ICE "Keep Safe" operation, telling immigrants they don't have to open their doors for immigration officials if they don't have a warrant. "How is it illegal to advise people of their rights?" she asked on KTVU last week.
She also has called the Trump administration's agenda "racist" for vilifying undocumented immigrants. "We will also distinguish between law-abiding residents who work hard and contribute to our community from dangerous criminals," she said in a previous statement. "This administration has tried to portray all immigrants as villains. We know this is a racist lie, and we will shed light on that myth every day."
Many political experts also think that Schaaf's status has soared in California because she is being attacked by Trump and Attorney General Jeff Sessions. Last week, Acting ICE Director Thomas Homan, Sessions and Trump all said the federal government is looking whether Schaaf's warning was legal.
"She was pretty popular already, but if she had any weakness, it was probably on the left," said veteran Bay Area political consultant Barry Barnes told the East Bay Express. "This helps her."
Melinda Haag, the former U.S. Attorney of the Northern District of California, said she offered to represent Schaaf for free.