Home Depot arson suspect also accused of theft spree in San Jose
SAN JOSE, Calif. - An arson suspect accused of torching the Home Depot in San Jose was on a theft spree, and attempting to steal thousands of dollars in tools, officials said.
Dyllin Jaycruz Gogue, 27, of San Jose was charged with three counts of arson, seven counts of grand theft, and three counts of petty theft. He was arraigned Tuesday afternoon.
Santa Clara County District Attorney Jeff Rosen said Gogue intentionally set the fire in an aisle at Home Depot while trying to take a cart load of tools worth thousands of dollars from the hardware store on Blossom Hill Road.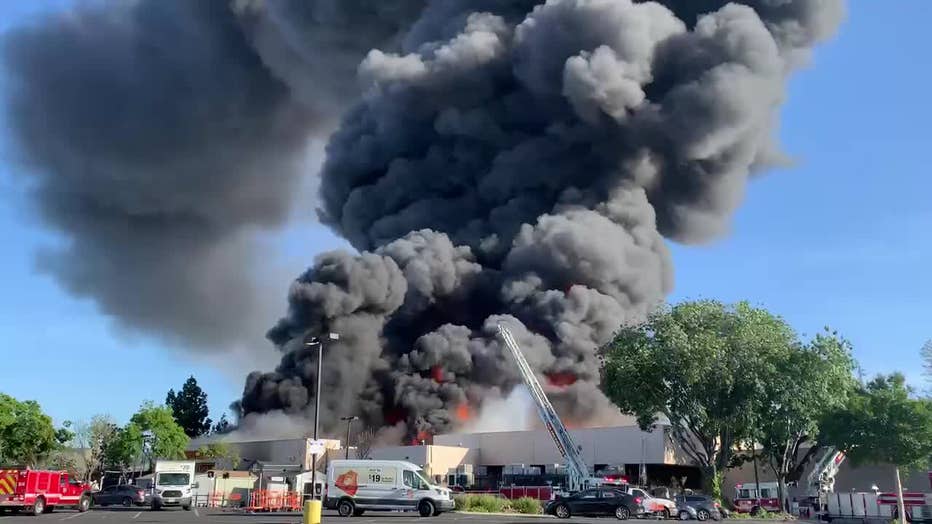 A five-alarm fire ripped through San Jose's Home Depot on April 9, 2022
The fire was so massive, smoke was visible from space and caused $17 million in inventory loss.
Rosen said miraculously, no one was hurt.
"I'm thankful that my office is not prosecuting a multiple murder case," he said. "The evidence shows that the suspect who had earlier that day stolen items from a nearby Bass Pro Shop lit the fire at the Home Depot and tried to leave the store with a cart containing stolen tools. He was stopped by a Home Depot employee and fled in another person's car."
Prosecutors said Gogue continued his theft spree at a Macy's in the East Bay.
911 calls came pouring in as employees and customers were racing to get out of the 98,000 square-feet store that has since been deemed a total loss.
"When someone commits a terrible act of this magnitude that endangers the lives of many, good people spring into action to save live," San Jose Police Chief Anthony Mata said. "That's what our San Jose Police Department and other first responders did that day."
Police describe Gogue as a chronic thief who stole thousands of dollars in merchandise from stores, sometimes revisiting the same stores more than once.
Charging documents say he stole 45 pairs of Levi's jeans from Kohl's, a keyboard and guitar from Guitar Center, and 14 pairs of sunglasses from a Sunglass Hut in recent weeks.
Investigators said pictures and surveillance video of the thefts helped connect Gogue to the fire set at Home Depot. A fire witness was able to identify him as the suspect.
"Arson is a dangerous, violent crime," ATF Special Agent in Charge Patrick Gorman said. "This unnecessary and tragic fire could have resulted in injury or loss of life."
Fire investigators are unsure how the fire was set and spread. 
It has raised questions about safety and the fire suppression system inside the Home Depot.
Inspection records, obtained by KTVU show the big box store had code violations in recent years related to ceiling clearance, the sprinkler system, and fire alarms.
Even though re-inspections say the issues were addressed last year, it's unclear if they could have contributed to the rapid spread of flames and overwhelming destruction.
"It is possible there there's enough combustibles in an area to overcome what the ratings of the fire protection systems are," said San Jose Fire Chief Robert Sapien. "It is possible to have a fire like this even in a protected structure."
Gogue is being held without bail in the Santa Clara County jail. A plea hearing is scheduled for June 1.
Brooks Jarosz is an investigative reporter for KTVU. Email him at brooks.jarosz@fox.com and follow him on Facebook and Twitter: @BrooksKTVU