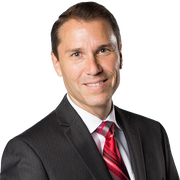 Jason Appelbaum
Sports Anchor/Reporter
Sometimes people ask me what it takes to have a career in sports broadcasting and I always tell them the same thing: passion, drive, and a little luck.
First and foremost you have be a huge sports fan. You can't fake this stuff. You either love it or you don't. 
The story of how my love for sports began is a familiar one shared by countless others, it came through bonding moments with my family. Watching football and golf as a kid with my grandad. Going to the fabulous Forum in LA to check out Magic Johnson and the Showtime Lakers with my pops in the 80's. And later taking my own family to Warriors games to watch some of the best basketball played on the planet.
I attended college at the University of California at Santa Cruz, where sports wasn't a huge part of the scene, but as a junior, during a year abroad in Spain, I made football a major focus when I coached the startup Madrid Panthers to a 3rd place finish in their first year of existence, still to this day one of the best experiences of my life.
After returning to the Bay Area, I landed my first television job as a producer at the NBC affiliate in San Francisco after interning at the station for about 5 months. I created my own luck by being ready to jump in when the weekend producer left. After almost 10 years there, I then moved down south for a year and worked as a sports producer for the CBS affiliate in Los Angeles before returning to the Bay Area to become the Executive Sports Producer at KRON where I won an Emmy producing a one hour sports special.
In July 2015 I began working here at KTVU Fox 2 to do more on-air work and help lead our department with our ever expanding sports presence, both on-air and on-line. For someone who works in sports, the Bay Area is the premier market, offering championship teams in major professional sports, as well as top programs on the collegiate level with Cal and Stanford. Combine that with the widespread, in-depth coverage by FOX Sports, and I couldn't ask for a better place to call work. 
My wife and I live in the East Bay with our two grade school children.
The latest from Jason Appelbaum
San Francisco 49ers fans mark your calendars as the team's home opener was announced Thursday.
The stakes for this season's finale between fierce NFC West rivals Seattle and San Francisco are far more one-sided that a year ago.