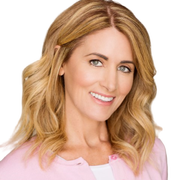 Kyla Grogan
Meteorologist
I'm not a meteorologist who dreamed of clouds and rainbows as a child. I dreamed of traveling the world and singing and fortunately I got to do just that. Before finding my way to TV, I sang and danced in musicals all over the globe. Some highlights include Starlight Express in Germany (yes the one on roller skates! ), The Radio City Christmas Spectacular, Beehive and Smokey Joe's Cafe. I also sang on a fancy world cruise where I got to see Antarctica, Easter Island, Papua New Guinea and everywhere in between. Those experiences gave me a deep appreciation for the incredible education that travel can be. It also left me addicted to seeing new places and learning about new cultures. I'm forever planning my next adventure and feel very lucky to have seen so much of the world already. 
I found my way from stage to TV starting in news as an anchor and reporter. From there I migrated to weather and I knew the moment I jumped on the green screen that weather was where I belonged. I made it to The Weather Channel and had the great fortune of working alongside some of the best meteorological minds in the world. I learned a great deal from them and rely on my TWC training daily in my forecasting. Other stops along the way include CBS Philly, NYC and Los Angeles. My journalism degree is from Boston University and my Geosciences/Meteorology degree is from MSU.
People often ask what my name means, it means that my parents were convinced I was going to be a boy and they wanted to name me Kyle. Surprise! They mostly stuck with their plan and adjusted one letter, thus Kyla. I also get asked if I still sing – I do, I lend my voice to charity benefits on occasion and still love making good music with good people when it comes up.
Thanks for stopping by and tuning in 😊
The latest from Kyla Grogan
The warning goes into effect from 11 p.m. Friday through 6 a.m. Monday and is the first to be issued this year, according to the weather service.
High pressure builds in over the weekend keeping skies clear and temperatures warm.