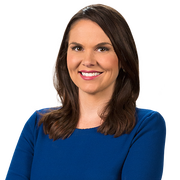 Elissa Harrington
Reporter
Elissa has been at KTVU since 2018. She works as a general assignment reporter and has done in-depth coverage on California's devastating wildfires, the Bay Area housing crisis, and the ongoing impacts of the Covid-19 pandemic.  
Before coming to KTVU, Elissa worked at television and radio stations in Oregon and California, including KVAL, KTXL, AND KGO-TV.
Elissa grew up in the East Bay. She was born and raised in Berkeley until the age of 10 when her family moved to Alamo. Elissa graduated from Las Lomas High School and went to college at University of Oregon. During college, Elissa studied abroad at the University of New South Wales in Sydney, Australia.
Elissa was one of the first reporters to enter Paradise during the deadly Camp Fire in Butte County. She covered the mass shooting at the Gilroy Garlic Festival and spoke with witnesses. She also took a boat ride with residents of Guerneville during the 2019 floods to see the impact on the community. Elissa has also extensively covered the Covid-19 pandemic, the Bay Area housing crisis, and local politics. 
Elissa grew up in the Bay Area and loves the people, the culture, the sports teams, the mountains, the beautiful places to go hiking, and the fog! When she's not at KTVU, Elissa is busy raising two young kids and spoiling her cat. She loves exploring new places, hiking, swimming, camping, and playing many games of tag with her kids. 
The latest from Elissa Harrington