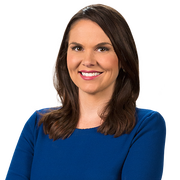 Elissa Harrington
Reporter
I have deep roots in the Bay Area. I grew up watching KTVU and was inspired by Dennis Richmond and his no-nonsense approach to journalism. It's a huge honor to work at the station I turned to for some of the most important events of my lifetime. I spent most of my childhood living in Berkeley. Some of my happiest memories include feeding the animals at the Little Farm, hiking trails at Tilden Park, and riding my bike with my two sisters. My dad often took me to A's games - although I went solely to watch the dot race! I remember the day of the Loma Prieta earthquake. I was outside when I felt a huge rolling sensation and saw the bricks under my feet come out of the ground. Another major news event that made a huge impact on my life was the 1991 Oakland Hills fire. I remember sitting on the roof of my house watching firefighters make air drops on the burning hillside. My journalism journey took me to Sydney, Australia, to Oregon and Sacramento. Finally, I made it home to the Bay Area. Reporting in my home community is a dream come true. I have lived many special places but nothing compares to the Bay Area. Every time I drive over the Bay Bridge I'm in awe of the unrivaled beauty of the San Francisco waterfront and skyline. My husband and I are longtime vegetarians and we are both news reporters – so he understands my picky diet and crazy schedule! My greatest joy is being a mom to 4-year-old son and 2-year-old daughter. We love singing together, swimming, and riding the steam trains at Tilden Park.
The latest from Elissa Harrington
The U.S.S. Somerset is named after Somerset County, Pennsylvania where Flight 93 crashed during the September 11th terror attacks, killing all on board. This is one of three tribute ships dedicated to the men and women killed during the attacks. Elissa Harrington reports.
Free ship tours will be offered all weekend. Visitors can climb on board, see the flight decks, sleeping quarters, missile launchers, and hear from sailors about their day to day life on board.
The fire was first reported at 12:54 a.m.Thursday near 46 Merrill Circle North and off Sanders Ranch Road.