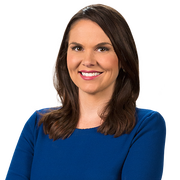 Elissa Harrington
Reporter
I have deep roots in the Bay Area. I grew up watching KTVU and was inspired by Dennis Richmond and his no-nonsense approach to journalism. It's a huge honor to work at the station I turned to for some of the most important events of my lifetime. I spent most of my childhood living in Berkeley. Some of my happiest memories include feeding the animals at the Little Farm, hiking trails at Tilden Park, and riding my bike with my two sisters. My dad often took me to A's games - although I went solely to watch the dot race! I remember the day of the Loma Prieta earthquake. I was outside when I felt a huge rolling sensation and saw the bricks under my feet come out of the ground. Another major news event that made a huge impact on my life was the 1991 Oakland Hills fire. I remember sitting on the roof of my house watching firefighters make air drops on the burning hillside. My journalism journey took me to Sydney, Australia, to Oregon and Sacramento. Finally, I made it home to the Bay Area. Reporting in my home community is a dream come true. I have lived many special places but nothing compares to the Bay Area. Every time I drive over the Bay Bridge I'm in awe of the unrivaled beauty of the San Francisco waterfront and skyline. My husband and I are longtime vegetarians and we are both news reporters – so he understands my picky diet and crazy schedule! My greatest joy is being a mom to 4-year-old son and 2-year-old daughter. We love singing together, swimming, and riding the steam trains at Tilden Park.
The latest from Elissa Harrington
The shooting happened after officers responded to a burglary call about 8:30 a.m. at 23rd and Capp streets, according to a Twitter post by San Francisco police.
PG&E says as of December, they are just over 70% done clearing 2,544 miles of overhead electric lines.
Winter storms cause flight cancellations and delays at airports across the country.
"We don't have anything better to do," Rushadh Kamdar of Fremont said.
Glide had been serving community meals for more than 50 years and Thanksgiving kicks off a monthlong series of holiday events.
A power outage at Oakland International Airport is creating delays Tuesday night during one of the busiest travel days of the year.
Tyson Moorehead was taken into custody in Stockton Tuesday for his role in the homicide. Moorehead is a suspect in the 2004 robbery and shooting of Michael Fidler, in his apartment on Golf Club Road. 
A neighbor said he talked to the owner of the home, who told him it was being rented out through Airbnb for a private party. Airbnb told KTVU that they are "urgently investigating" what happened. 
The evacuations were a result of the rapidly growing Kincade Fire, which started burning Wednesday in the heart of Wine Country situated in the tiny community of Geyserville, and which has spread to 30,000 acres by Sunday morning. Only 10 percent of the wildfire has been contained.