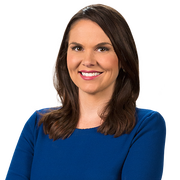 Elissa Harrington
Reporter
I have deep roots in the Bay Area. I grew up watching KTVU and was inspired by Dennis Richmond and his no-nonsense approach to journalism. It's a huge honor to work at the station I turned to for some of the most important events of my lifetime. I spent most of my childhood living in Berkeley. Some of my happiest memories include feeding the animals at the Little Farm, hiking trails at Tilden Park, and riding my bike with my two sisters. My dad often took me to A's games - although I went solely to watch the dot race! I remember the day of the Loma Prieta earthquake. I was outside when I felt a huge rolling sensation and saw the bricks under my feet come out of the ground. Another major news event that made a huge impact on my life was the 1991 Oakland Hills fire. I remember sitting on the roof of my house watching firefighters make air drops on the burning hillside. My journalism journey took me to Sydney, Australia, to Oregon and Sacramento. Finally, I made it home to the Bay Area. Reporting in my home community is a dream come true. I have lived many special places but nothing compares to the Bay Area. Every time I drive over the Bay Bridge I'm in awe of the unrivaled beauty of the San Francisco waterfront and skyline. My husband and I are longtime vegetarians and we are both news reporters – so he understands my picky diet and crazy schedule! My greatest joy is being a mom to 4-year-old son and 2-year-old daughter. We love singing together, swimming, and riding the steam trains at Tilden Park.
The latest from Elissa Harrington
At the Santa Clara County Fairgrounds, members of the public can get a free flu shot on Saturdays, now through December from 9 a.m. to 4 p.m.
Police found a suspected DUI driver passed out in a crashed car near the Golden Gate Bridge.
Beaches in Pacifica and Santa Cruz County were closed, although a KTVU photographer saw still saw a lot of people disobeying the order.
Known as the LNU Lightning Complex Fire, the biggest blaze of the group is the Hennessey Fire burning in Napa County. That particular fire has burned 105,000 acres and is  0% contained.
In just a few short weeks, the Live Like Leo Memorial Foundation has already raised over $200,000.
Police say there have been 52 homicides in Oakland in 2020.
Many small business are crowdfunding during the pandemic. It's a way to help make rent, pay employees, and for some, make safety improvements.
The Alameda County Sheriff's Department is investigating. 
The five-alarm fire that damaged six buildings broke out Tuesday at 6:30 a.m. near the Central Freeway at 14th Street between South Van Ness and Folsom in the inner Mission District.