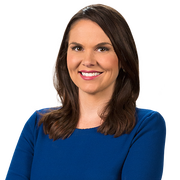 Elissa Harrington
Reporter
I have deep roots in the Bay Area. I grew up watching KTVU and was inspired by Dennis Richmond and his no-nonsense approach to journalism. It's a huge honor to work at the station I turned to for some of the most important events of my lifetime. I spent most of my childhood living in Berkeley. Some of my happiest memories include feeding the animals at the Little Farm, hiking trails at Tilden Park, and riding my bike with my two sisters. My dad often took me to A's games - although I went solely to watch the dot race! I remember the day of the Loma Prieta earthquake. I was outside when I felt a huge rolling sensation and saw the bricks under my feet come out of the ground. Another major news event that made a huge impact on my life was the 1991 Oakland Hills fire. I remember sitting on the roof of my house watching firefighters make air drops on the burning hillside. My journalism journey took me to Sydney, Australia, to Oregon and Sacramento. Finally, I made it home to the Bay Area. Reporting in my home community is a dream come true. I have lived many special places but nothing compares to the Bay Area. Every time I drive over the Bay Bridge I'm in awe of the unrivaled beauty of the San Francisco waterfront and skyline. My husband and I are longtime vegetarians and we are both news reporters – so he understands my picky diet and crazy schedule! My greatest joy is being a mom to 4-year-old son and 2-year-old daughter. We love singing together, swimming, and riding the steam trains at Tilden Park.
The latest from Elissa Harrington
Crab fishermen say Saturday's 4-alarm fire left them devastated. They were already hit hard by COVID-19 and restrictions around the shelter-in-place.
Matt Lasher, the executive director of the National Liberty Ship Memorial said the crew of the O.Brien nicknamed the ship "The Lucky O'Brien." Saturday, it escaped another close call.
Just in time for graduation, car parades are now allowed again in the South Bay. 
It's last day of operation would be Tuesday, the company said in an announcement posted Sunday on its website.
Musk has not commented on claims made by the protesters.
Three male passengers were pronounced dead at the scene, and a woman later died at the hospital.
For some, it was a Zoom visit with Grandma, for others, a takeout meal or simple walk around the neighborhood.
The U.S. Department of Labor released its weekly jobs report. The report found nearly 3.2 million Americans filed for unemployment benefits last week. More than 33 million people have filed claims since mid-March.
Flower shop in Napa preparing for Phase2 of reopening and a busy Mother's Day weekend.