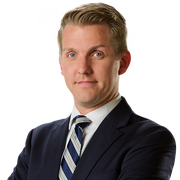 Brooks Jarosz
2 Investigates Reporter
Brooks Jarosz has worked as an investigative reporter at KTVU since 2017 and considers himself a watchdog, detective or just a nosy neighbor. He's exposed cheaters and scammers, uncovered misspent money, and brought to light systemic wrongdoing and corruption.
Before coming to KTVU, Brooks worked at ABC News in New York City in 2008 under a prestigious fellowship with the Brian Ross Investigative Unit. He then went on to work as a multimedia journalist and anchor at WSAZ News Channel 3 in Charleston/Huntington, West Virginia and then as an investigative reporter and anchor at WSYX ABC 6 and WTTE FOX 28 in Columbus, Ohio.
Originally from Toledo, Ohio, Brooks is a proud honors graduate from the E.W. Scripps School of Journalism at Ohio University. 
While at KTVU, Brooks has uncovered gaps, mismanagement, and widespread fraud within California's unemployment and disability insurance programs, amid the pandemic. His reporting on health and safety issues at California prisons revealed a series of critical mistakes leading to major COVID-19 outbreaks, botched transfers, testing failures and deaths. Jarosz also has a passion for looking out for the little guy and exposed a traffic-ticket attorney taking money and failing to show up in court, resulting in him being disbarred and his business closing. Additionally, Jarosz has dug into big, community-wide problems and challenged political leaders on increasing crime, homelessness, encampment fires, and housing issues.
Being from the Midwest, Brooks Jarosz loves the Bay Area weather and the California sun. An avid rower, he loves being on the water or cycling to discovering new places. He also enjoys the food scene, and of course the California wine. Brooks also enjoys hanging out or walking with his three dogs, Jojo, a Beagle, Jayjay, a Shih Tzu, and Rufus, a Jack Russell Terrier-mix. 
Jarosz is a wine-lover and likes to spend his weekends exploring Sonoma and Napa counties. He's also the President of the San Francisco/NorCal Chapter of the National Academy of Television Arts and Sciences (NATAS) where he devotes time to serving fellow members of the TV industry. He's a member of Investigative Reporters and Editors (IRE).
The latest from Brooks Jarosz