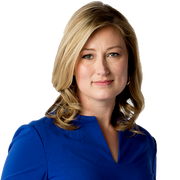 Maureen Naylor
South Bay Reporter
Maureen Naylor is an award-winning South Bay Bureau Reporter and Fill-in Anchor for KTVU.
The Bay Area native grew up in Sunnyvale and was ASB President of St. Francis High School in Mountain View. Maureen has spent her broadcasting career covering the Golden State reporting on a range of topics from wildfires to the San Francisco Giants' World Series runs. Maureen started reporting in San Luis Obispo after graduating from Cal Poly with a double major in Journalism and History. After anchoring in Chico, Maureen moved to Fresno where she and her colleagues at KFSN-TV earned an Emmy reporting on a May Day immigration march.
Maureen achieved her goal of working in the Bay Area when she joined KTVU in 2008 and ultimately won an Associated Press Award for her coverage of challenges facing an East Bay football team.
With a background as a college lacrosse player, Maureen enjoys emceeing events for non-profits, playing piano and discovering beautiful Bay Area sunsets.
The latest from Maureen Naylor