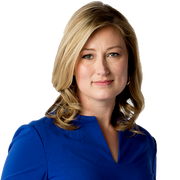 Maureen Naylor
South Bay Reporter
Maureen Naylor is an award-winning South Bay Bureau Reporter and Fill-in Anchor for KTVU.
The Bay Area native grew up in Sunnyvale and was ASB President of St. Francis High School in Mountain View. Maureen has spent her broadcasting career covering the Golden State reporting on a range of topics from wildfires to the San Francisco Giants' World Series runs. Maureen started reporting in San Luis Obispo after graduating from Cal Poly with a double major in Journalism and History. After anchoring in Chico, Maureen moved to Fresno where she and her colleagues at KFSN-TV earned an Emmy reporting on a May Day immigration march.
Maureen achieved her goal of working in the Bay Area when she joined KTVU in 2008 and ultimately won an Associated Press Award for her coverage of challenges facing an East Bay football team.
With a background as a college lacrosse player, Maureen enjoys emceeing events for non-profits, playing piano and discovering beautiful Bay Area sunsets.
The latest from Maureen Naylor
Santa Clara County is half way through the two-week requirement in the state's "red" tier before schools can reopen without a waiver.
After nearly one month of smoke-choked skies and unhealthy breathing, the National Weather Service offered a bit of good news.
The Bay Area Air Quality Management District has extended the Spare the Air alert through Wednesday, which will mark 30 straight days of messages that the air quality is poor.
Bay Area residents already in the middle of a pandemic dealt with a record-breaking heat wave over the holiday weekend.
One Contra Costa County real estate agent calls the current market "explosive".
Tens of thousands of Bay Area residents spent part of the record-breaking heat wave without power, including dozens of families in South San Jose who were without power for days.  
Gov. Gavin Newsom has repeatedly argued that schools will return in person when the data and science shows it is safe. 
From daycares to sports camps, new programs are opening their doors for students this fall.
The Santa Clara County Board of Supervisors Tuesday will vote on a proposal to extend the South Bay's current eviction moratorium by one month. The ordinance was set to expire at the end of August.