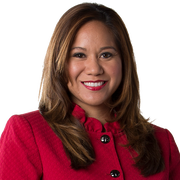 I feel incredibly blessed to be able to report in the Bay Area, specifically from the South Bay where I'm from. I grew up watching the 10 p.m. news on KTVU and to be a part of the team is a dream come true.
Raised in Milpitas, I went to elementary school at Holy Spirit School in Fremont and then Notre Dame High School in downtown San Jose (I mention my schools because I'm so grateful for my teachers and the education I received!). I earned a Journalism degree from Cal Poly San Luis Obispo.
My career started at The Filipino Channel reporting for "Balitang America" in Redwood City. I then worked at KCBY in Coos Bay/North Bend, Oregon, KION/KCBA in Monterey/Salinas and KVVU in Las Vegas before joining KTVU in April of 2014.
My career achievements include an Emmy nomination while working in Las Vegas for teacher background checks. Also in Vegas, I reported for Fox News with Shepard Smith after a gunman opened fire on the Las Vegas Strip upset with a club's cover charge.
I also helped my station KION receive a regional Edward R. Murrow Award for its coverage of the Giants fan Bryan Stow attack. In 2019, I received a John Swett Award from the California Teachers Association for a story on a pending teacher's strike in San Jose.
However, my greatest achievement is becoming a mom to a now toddler.
Thank you for watching KTVU Fox 2. It's an honor to report the news to a community I care deeply about, my hometown! Feel free to connect with me on Facebook, Twitter and Instagram.
The latest from Azenith Smith