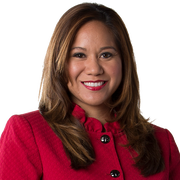 I feel incredibly blessed to be able to report in the Bay Area, specifically from the South Bay where I'm from. I grew up watching the 10 p.m. news on KTVU and to be a part of the team is a dream come true.
Raised in Milpitas, I went to elementary school at Holy Spirit School in Fremont and then Notre Dame High School in downtown San Jose (I mention my schools because I'm so grateful for my teachers and the education I received!). I earned a Journalism degree from Cal Poly San Luis Obispo.
My career started at The Filipino Channel reporting for "Balitang America" in Redwood City. I then worked at KCBY in Coos Bay/North Bend, Oregon, KION/KCBA in Monterey/Salinas and KVVU in Las Vegas before joining KTVU in April of 2014.
My career achievements include an Emmy nomination while working in Las Vegas for teacher background checks. Also in Vegas, I reported for Fox News with Shepard Smith after a gunman opened fire on the Las Vegas Strip upset with a club's cover charge.
I also helped my station KION receive a regional Edward R. Murrow Award for its coverage of the Giants fan Bryan Stow attack. In 2019, I received a John Swett Award from the California Teachers Association for a story on a pending teacher's strike in San Jose.
However, my greatest achievement is becoming a mom to a now toddler.
Thank you for watching KTVU Fox 2. It's an honor to report the news to a community I care deeply about, my hometown! Feel free to connect with me on Facebook, Twitter and Instagram.
The latest from Azenith Smith
The Jimenez family is causing quite a stir in one San Jose neighborhood, but it was a labor of love for a mother who created an elaborate Halloween display for her terminally-ill son.
In a sport dominated by males, and where football players who are females are typically kickers, one San Jose high-school senior made history on the field with a touchdown pass.
This week's earthquakes have some people in the Bay Area understandably uneasy. A seismologist with the USGS said the earthquakes in San Benito County and Contra Costa are not connected.
A disturbing hit-and-run in San Jose was captured on video from over the weekend. The witness said it was intentional. Police are investigating.
Power is expected to be fully restored in San Jose on Friday, according to PG&E.
Power your electronic devices and cellphones and fill up those gas tanks. The South Bay could be in for a rough ride. That was the gist of the message at Wednesday's afternoon news conference on the PG&E power shutoffs held by San Jose city officials.  
In the South Bay, San Jose City officials say the PG&E power shutoffs will likely begin some time Wednesday afternoon as winds move south and could affect 38,000 customers.