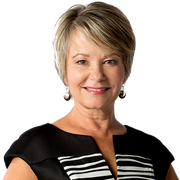 Sometimes, you can go home again! My broadcast career has taken many twists, but the latest chapter is the best. I report on the 10 O'Clock News, primarily covering news of the North Bay. Born and raised in Santa Rosa, (Go Panthers!) it doesn't get much better than that. Sonoma, Napa, and Marin Counties are my lifelong stomping ground, with so much to offer in natural beauty and fascinating people. My husband and I settled in Marin thirty years ago to raise our family; two children who are grown and gone now, one in Los Angeles and one in New York, both thriving. We are grateful. 
I joined KTVU in 2008, but of course, growing up in the Bay Area, watched it my entire life, (Captain Satellite, required viewing!) The 10' O'Clock News has always been the benchmark for local news, so it's an honor every night to be part of that legacy. I love the hour-long format that allows us to be more in-depth, and our stories to breathe a bit. 
Lucky me, my start in TV-news came in my hometown. I was attending Santa Rosa Junior College, and leaning toward journalism because I had always liked to write. Then a communications class changed my outlook and my path. This was, after all, 1980 and mass media wasn't anything like today, no internet or social sites, print was still king. The late professor John Bigby encouraged me to pursue an internship with a new TV station launching in Santa Rosa, KFTY-50. Suddenly, I was learning how to shoot and edit video, gather and produce news reports, and appear on-camera. I transferred to the broadcast department at San Francisco State University, continuing to juggle my news duties, and became a staff reporter. By the time I left for Arizona in 1983, I was KFTY's nightly anchor. Thank you, John Bigby! 
Five years at KPHO-TV in Phoenix were terrific learning years, first-time doing live reports, and first-time in unbearable heat! But we missed the Bay Area, and returned in 1989, just in time for the Loma Preita earthquake. I'll never forget that night, co-anchoring on KOFY-TV 20 with Robert McCormick, generators keeping us on the air. My Marina district apartment was red-tagged and we migrated to Marin. By 1991, I had moved over to ABC-7, where I spent the next 16 years, covering every kind of news, with a few stints as weekend and morning anchor as well. The 2000 Presidential election of George Bush stands out: what was supposed to be a 2 day trip to Austin stretched to two weeks, thanks to those hanging chads. (Google it!) No doubt though, I'll always remember profiling the heroic passengers of hijacked Flight 93. After the 9/11 terror attacks, I got to know many of the families who lost loved ones on that Bay Area-bound jet. I traveled several times to Shanksville on assignment, and will always treasure the opportunity to tell their stories.  
More recently, the North Bay firestorm of 2017 merged my personal and professional lives as never before. Neighborhoods and landmarks I grew up with, gone, and the loss of life just heartbreaking. Childhood friends who lost everything, and a community showing such grace and grit, even before the skies cleared. I was so proud to call Sonoma County my birthplace, seeing how strangers stepped up to help others in a myriad of ways. Fire stories were often painful, but sometimes joyful, and the healing continues today.  
I love how, as a reporter, no two days are the same and I'm always learning something new. The subject matter can be sad, but it can also be inspiring, even fun. As a baseball fan, KTVU made my day, sending me to St Louis and Detroit for the SF Giants 2012 World Series run. It was great to capture the excitement, although full disclosure: I'm an Oakland fan from way back, Go A's! 
It's a privilege to work at the station I grew-up watching and have such respect and affection for. And KTVU reunited me with old friends Frank Sommerville and Steve Paulson, who also started out at tiny KFTY-TV; we like to laugh that we haven't changed one bit! 
The latest from Debora Villalon