Niles Canyon Road to remain closed between Fremont and Sunol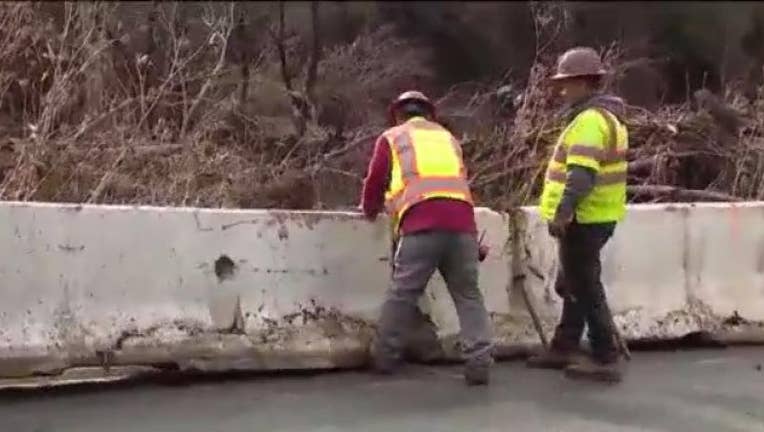 article
FREMONT, Calif. - Niles Canyon Road between Fremont and Sunol will remain closed "until further notice" as crews work to clean up a series of mudslides and damage from the flooded Alameda Creek following several days of heavy rains. 
Caltrans crews installed concrete jersey barriers Friday along the 6-mile stretch of road as they work to shore up the stretch of Highway 84 before the next wave of rain hits. 
Residents on the east end in Sunol are still dealing with flood damage as they prepare for the next storm front.
"This is a disaster zone," said Gabe Vargas, who lives along Kilkare Road, where residents lost power, and have been trapped by downed trees off and on for a week. "Sunday into Monday is going to be another monsoon rain, and I'm sure trees will come down, and I pray to God it's not over a cabin because it will take them out."
Sinbad Creek flooded Sunol Glen School earlier in the week. The school's superintendent hopes to have things cleaned up before students come back on Monday.
"We know that there's more water to come and so were still continuing with the cleanup and removing debris and mud that has already gathered, thinking that if another flood came it wouldn't just add more lays onto that," said Molleen Barnes, Sunol Glen School superintendent.
Crews farther north in Castro Valley, meanwhile, are working on Redwood Road between Camino Alta Mira and Skyline Boulevard, which was washed out in the storm.
Back on Kilkare Road in Sunol, residents like Dale Seavey continue to wade through the muck but are waiting to clean up, knowing more storm damage is likely on the way. 
"It would be nice to be able to get through and not have to go through this all the time," he said. 
Evan Sernoffsky is an investigative reporter for KTVU. Email Evan at evan.sernoffsky@fox.com and follow him on Twitter @EvanSernoffsky