PowerPoint's new AI-powered coaching tool helps you give better presentations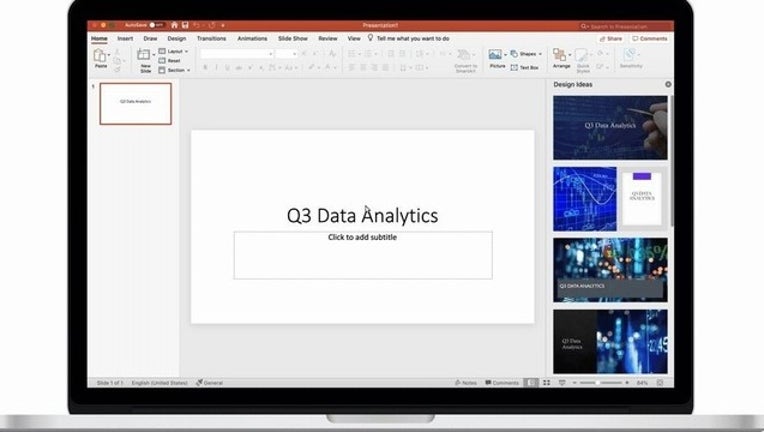 San Jose, Calif. (KTVU) - Powerpoint, the presentation creation tool from Microsoft's Office suite won't just help prepare slides, but also critique your pacing and style of delivery, thanks to an upcoming AI-powered tool called Presenter Coach.
The feature helps you practice your presentation style in a rehearsal mode, and provides on-screen feedback and guidance on pacing, use of filler words like "um" or "ah", use of inclusive language, and culturally insensitive phrases. The tool can even tell if you're just speaking verbatim off the slide. The tool presents a report graphing your speech in terms of words spoken per minute, number of slides rehearsed, and phrasing to avoid. 
Microsoft also announced that PowerPoint Designer, its AI-powered tool that automatically suggests slide designs has helped create over one billion slides since launch in 2016. The feature is getting an update with Designer for branded templates, which helps users get intelligent design recommendations while adhering to the company's branding and visual identity guidelines in terms of fonts, colors, and layouts.
For those who don't have a branded template, a new feature called theme ideas automatically recommends photos, theme styles and colors to go with the slide text as you type. 
Another feature, called Designer Perspective provides relatable references to make large numerical values easier to understand – for example, if your slide says that commercial plans fly at 30,000 feet, Powerpoint will help you contextualize that number by comparing it to the height of mount Everest. 
As for availability, Designer for branded templates is currently available to Office 365 Insiders subscribers for Windows 10 and Mac, and Designer theme ideas is rolling out now in PowerPoint for Windows, Mac, and on the web for Office 365 subscribers. Designer perspectives is currently rolling out to Office 365 subscribers. Presenter Coach will be available on PowerPoint for the web later this summer.  Microsoft didn't mention a launch date for the Presenter Coach feature on its desktop and mobile apps.