San Joaquin Co. Sheriff seeks potential Bay Area victims of prolific burglary scheme
RICHMOND, Calif. - The San Joaquin County Sheriff's Office is hoping to locate potential victims of a prolific theft operation involving a suspect and a pawn shop in Richmond.  
The Sheriff's Office initiated an extensive investigation after a vehicle burglary April 1 in the Lincoln Center Shops parking lot in Stockton. From that burglary, deputies subsequently linked at least 140 victims to an alleged scheme to steal and sell stolen goods.    
 The Sheriff's Office alleges that DeShawn Leandrei Allen worked with Urias Joram Hernandez Ochoa, owner of the Oro Max pawn shop in Richmond, to sell items he had swiped.     
Deputies carried out a search warrant of Allen's residence that allegedly revealed communications between the suspect and Ochoa, including photographs of stolen items taken with the intention of selling them to the pawn shop.     
The Sheriff's Office also carried out a search warrant of Oro Max, where they allegedly found a "significant" cache of stolen items, including cellular devices, laptops and cameras.     
Both Allen and Ochoa have been arrested. Allen is in custody on suspicion of burglary, grand theft, possession of burglary tools, vandalism and receiving stolen property. Ochoa has been released on his own recognizance but was arrested on suspicion of receiving stolen property.   
To date, the Sheriff's Office said it has identified over 140 individuals whose property ended up for sale at the pawn shop. Authorities allege that some victims live as far away as Brooklyn, New York and other locations along the East Coast. These victims may have been traveling to or from the Bay Area when their property was stolen, sheriff's officials said.  
"We believe there may be additional victims we have not contacted or know about," a sheriff's spokesperson said Friday. "Some of the items recovered do not have serial numbers or have been cleaned of any form of traceable identification."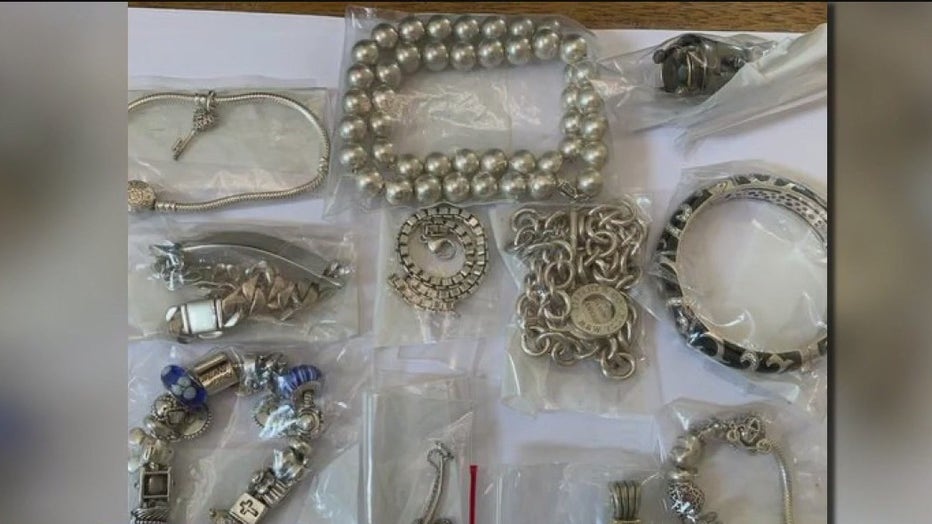 Stolen items recovered from Richmond pawn shop
The Sheriff's Office is asking anyone who may have been the victim of a robbery or burglary in the Bay Area or surrounding communities to review images of seized items here.   
Anyone who recognizes their property should contact the San Joaquin County Sheriff's Office Agriculture, Gangs and Narcotics Enforcement team at (209) 468-4424. Callers will be asked specific questions about items to verify they are the rightful owners and should refer to case number 5216 when calling.