Benicia under mandatory water conservation orders after hillside collapses on pipeline
BENICIA, Calif. - Benicia residents must conserve water, the city ordered, because the city's main water line has been damaged. 
Officials said the line was hit when a hillside collapsed near Interstate 680 and Gold Hill Road, which caused the highway to temporarily shut down earlier Wednesday, forcing officials to completely shut down the 60-year-old pipeline and declare a Stage 4 "Critical Water Shortage."
The alert mandates all businesses, schools, and residences to reduce their water usage by up to 40%, officials said. 
"We realize that this is a pretty big ask, but it's really necessary to give out staff the time to get in and do the fixes," said Benicia Mayor Steve Young.
Benicia's main water pipeline measures at 3 feet in diameter and 10 feet in depth. 
"This an incident that happened a day ago. We are still assessing the damage," said Benicia Interim City Manager Mario Giuliani.
There was no indication of when the order would be lifted.
City officials said steps residents can take to reduce their usage include taking shorter showers and using dishwashers and washers only when full.
RELATED: Novato landslide could threaten Highway 101 and major water main
"We recognize we are asking a lot of our residents, businesses and community members," said Interim City Manager Mario Giuliani. "This is an extraordinary situation requiring urgent action to reduce water consumption. Our crews are working to determine the extent of the damage to the line that delivers our drinking water. We are asking that residents and businesses conserve water and be patient."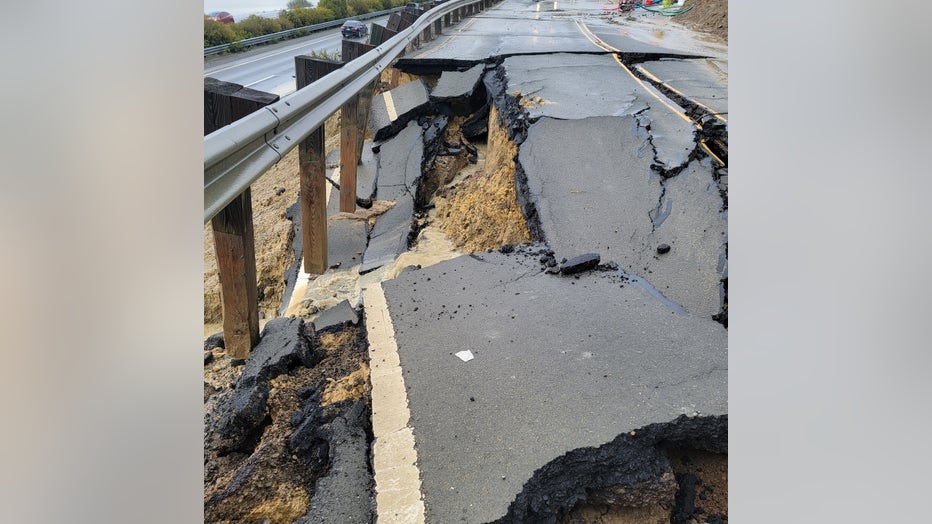 Hillside I-680 and Gold Hill Road in Benicia
SEE MORE: Water still not safe to drink in Pajaro as Monterey County opens resource center to help with recovery
As the main line gets repaired, Benicia will use Lake Herman as a secondary water source. Officials said the water may have an "earthy" taste or odor because of its naturally-occurring compounds like organic carbon. 
"Some residents and some that have different sensitivities may detect that there may be more of an earthy kind of flavor to the water but regardless of that, it's indicative of just the water source. It is still 100% safe to drink," said Benicia Public Works Director Kyle Ochenduszko.
Officials said Lake Herman's drinking water still meets or exceeds all of California's and federal requirements for safe drinking water.
Nevertheless, purchases at local stores for bottled water remain high.
"They said it's okay to drink. So, went in the store to get some water, but they're pretty much sold out already," said resident Amy Criglio. 
"We're not washing the dishes so often, we're taking shorter showers, and we're just trying to conserve on our water, and we're buying bottled water to drink," said resident Timothy Rury.
In May 2022, Benicia city officials asked for a 30% reduction in use when an aging pipeline broke underneath the city's water treatment plant; a request drought-weary customers stepped up to. 
"I am confident that they're gonna step up again to do that," said Young.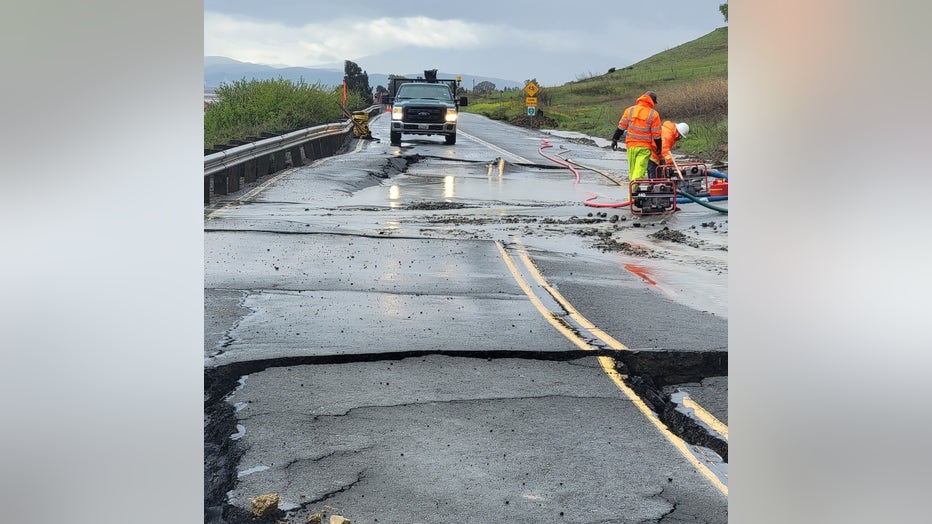 Hillside I-680 and Gold Hill Road in Benicia
To stay up to date with the latest alerts by officials, Solano County residents can register here.