2 East Bay teens chosen as Alameda County poet laureates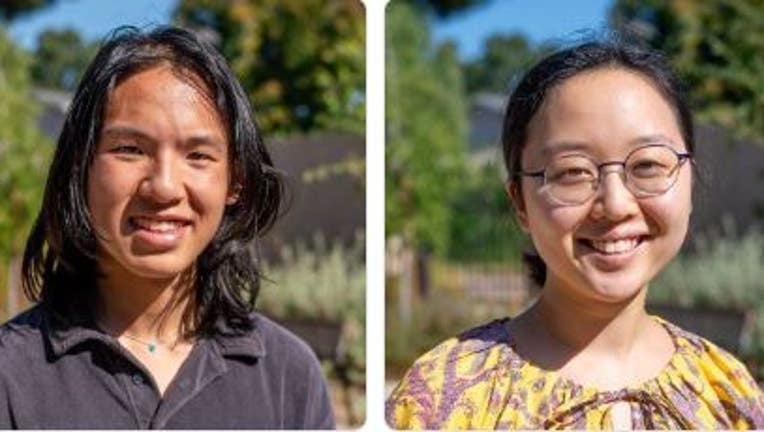 article
DUBLIN, Calif. - Two teens from Dublin and Albany are this year's youth poet laureate and youth poet vice-laureate in Alameda County, according to the Alameda County Library, which has held the competition for the past three years. 
Brian Guan of Dublin is the youth poet laureate and Sunwoo (Sunny) Eom of Albany is the county's youth poet vice-laureate. 
The winners were announced publicly Aug. 25 at the Cherryland Community Center after the judges considered six finalists from among a record 52 applicants. 
"The Alameda County Youth Poet Laureate competition celebrates teen voices from all over the county," said Nate Miley, Alameda County Board of Supervisors president. 
"When teens express themselves creatively and authentically through poetry, they inspire our next generation of leaders to amplify their voices and make a difference in their communities," Miley added. 
The other finalists were Rose America Garcia of San Leandro, Vyahruti Gudoor of Fremont, Lia Le-Nguyen of Fremont and Anika Yu of Dublin.
The competition was open to Alameda County teens 13 to 18 years old and was held during National Poetry Month in April. 
Judges based their decisions on the content of each teen's poetry, how well it was crafted and the poetry's voice. Applicants submitted three poems each. 
"When I served as a judge during the Inaugural Year of the Alameda County Youth Poet Laureate competition, I learned just how talented youth poets are," County Librarian Cindy Chadwick said in a statement. "I congratulate the winners, finalists, and all applicants for their participation in this year's competition."
Guan and Eom will be ambassadors through August 2024, using their status to inspire other Alameda County youth to get involved civically while promoting social justice, literary excellence and cultural awareness.
For winning, Guan will receive a MacBook Pro, a suite of Apple products, and his poetry will be included in the National Poetry Anthology. Eom will receive an iPad and a suite of Apple products.
 
"Poetry is a medium of humanity," Guan said in a statement. "It is emotion distilled into words and line breaks. Poetry is empathetic. Poetry is the spark before change.
Eom said, "Poetry inspires me to re-evaluate my assumptions and understandings of both language and the world it encapsulates. Poetry offers a space for me to voice up and be vulnerable, and I aim to share untold stories of my community through it." 
Winners and finalists from this year's competition will be invited to recite their work at events throughout the year. 
Winners are eligible to compete in the regional youth poet laureate and state of California youth poet laureate competitions. 
Previous winners from Alameda County have been finalists in the state competition, which is notable because this is only the third year for the competition in the County, said Jenny Rogers, a librarian in the social justice services department of the Alameda County Library. 
Rogers' department facilitates the competition. 
 
What struck her from among this year's 12 semi-finalists was the level of enthusiasm and vision that each poet had.