4 charged in death of malnourished 9-year-old boy with cerebral palsy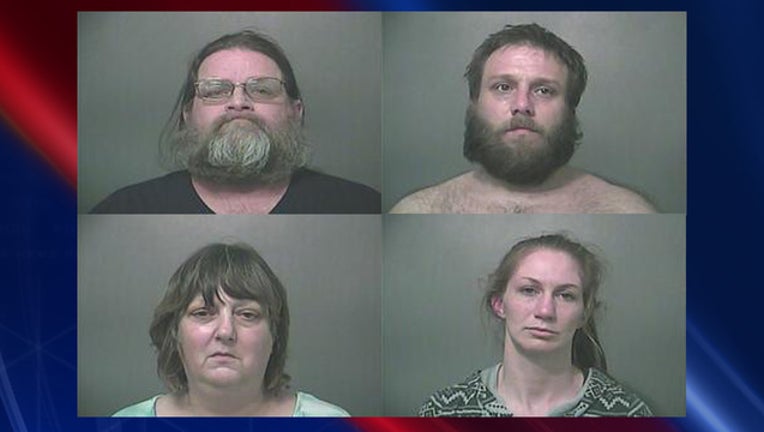 article
TERRE HAUTE, Ind. (AP) - A judge entered not guilty pleas Thursday on behalf of four people charged with neglect in the death of a malnourished 9-year-old western Indiana boy with cerebral palsy.
Vigo Superior Court Judge Michael Lewis set a $250,000 bond for the defendants during their initial court appearance and ordered the appointment of attorneys to represent them.
The defendants are the child's two guardians, Hubert A. Kraemer, 56, and Robin Lee Kraemer, 53; their son, Chad Allen Kraemer, 33; and the son's girlfriend Sarah Beth Travioli.
The boy, Cameron R. Hoopingarner, was blind and weighed less than 15 pounds when officers found him Tuesday at the family's home near Fontanet, 60 miles west of Indianapolis, Vigo County Sheriff Greg Ewing said. The officers were responding to a call about a child in cardiac arrest. Cameron was pronounced dead at a hospital.
"In my 26 years in this office, the pictures that I saw of Cameron and his condition were terrible, beyond terrible," Ewing said.
An autopsy determined the boy died of starvation, Ewing said.
The four defendants face charges of neglect, neglect resulting in death and failure to report child neglect. They face 20 to 40 years in prison if convicted. All four are being held in the Vigo County Jail.
Robin and Hubert Kraemer had cared for the boy since a few days after his birth, the Terre Haute Tribune-Star reported
As they entered the courtroom, Hubert Kraemer pushed an oxygen tank. Robin and Chad Kraemer and Tavioli cried at times, and Chad Kraemer wadded up his court paperwork in frustration at the conclusion of the hearing.
"This ain't right! This ain't right!" Chad Kraemer said as the four were led out of court and back to jail.
All four defendants said in court they are not employed.