Review: '80 for Brady' is a sports film fumble for the ages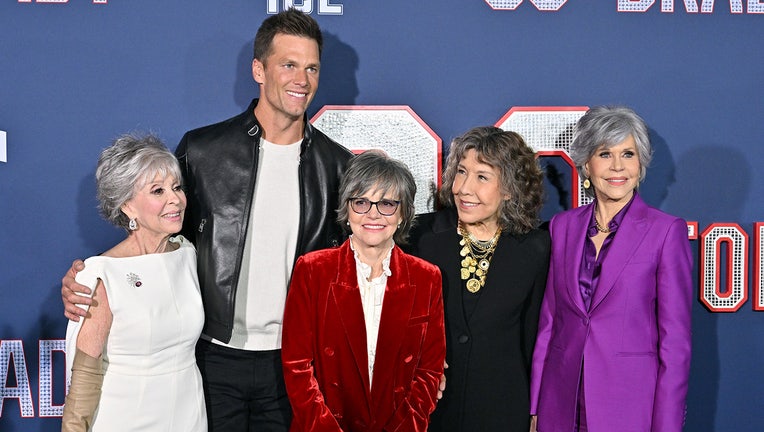 article
Tom Brady has officially — and finally, he insists — retired from the National Football League. Based on his new movie "80 For Brady," it's also time that he immediately retire from filmmaking.
No one emerges with glory from this syrupy, undercooked story of four older friends who are determined to see Brady lead an astonishing come-from-behind win at the 2017 Super Bowl.
A quartet of our finest actors — Lily Tomlin, Jane Fonda, Rita Moreno and Sally Field— are sacrificed for cheap laughs and unearned poignancy. And Brady, an executive producer, sullies one of his greatest triumphs. That hissing sound you hear in the theater is not footballs losing air but an audience deflated.
Screenwriters Sarah Haskins and Emily Halpern seem to have opened a door into exploring loss, obligation and regret in our sunset years, but fumble badly, instead drifting into granny-accidentally-takes-an-edible territory.
Up on that screen is an EGOT winner, multiple Oscar, Tony and Emmy owners, a recipient of the Mark Twain Prize for American Humor as well as Kennedy Center and Cecil B. DeMille Award honorees. But they are utterly wasted. At one point Field is reduced to participating in a pointless hot wings eating contest.
There's nothing wrong with silly buddy movies or celebrating age on screen and it's refreshing to see both bundled here. But don't tell us you're empowering older people by making them dance The Twist to get past security into the Super Bowl. Add this to the utter misuse of Diane Keaton in last year's "Mack & Rita," and we call Hollywood for illegal blindside blocks on people over 70 and a loss of 15 yards.
RELATED: Tom Brady announces he is retiring 'for good' after 23 seasons in NFL
Very, very loosely based on actual events, the film is so light plot-wise that it threatens to float away. A ticket mix-up pads a few extra minutes but logic is tossed out, like the time our heroines just happen to find four empty seats in a row just at kickoff — at the Super Bowl.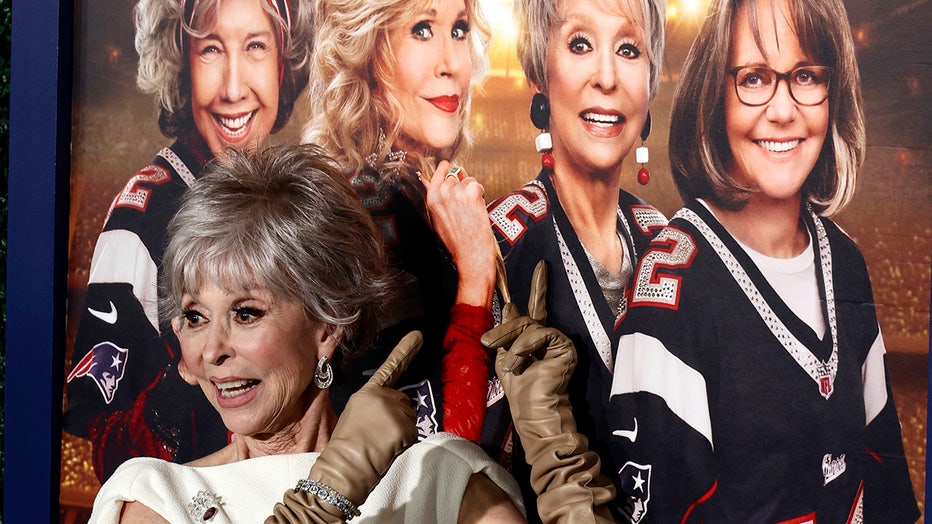 Rita Moreno attends the Los Angeles Premiere Screening of Paramount Pictures' "80 For Brady" at Regency Village Theatre on January 31, 2023 in Los Angeles, California. (Photo by Frazer Harrison/WireImage)
Brady is a constant benevolent presence throughout, whether speaking to Tomlin's character through one of his bobble heads or from TV screens in dialogue only she can hear. "This is going to work out," he promises.
Each of our leading ladies get a single note to develop: Fonda plays the vain, boy-crazy author of Rob Gronkowski erotic fan fiction. Field is the sensible, responsible one. Recent widow Moreno is up for any adventure and Tomlin is the glue holding them together.
When one of the quartet becomes fearful of a recurrence of cancer, Brady becomes her north star and she asks a bust of him what she should do, like a prayer. "He never gives up no matter what he's up against," she says. You come to expect a bright halo to appear over Brady's head.
Director Kyle Marvin fails to build any real tension as he frighteningly shifts from farce to cringe to melancholy, but real footage of the big game is nicely knitted into the second half. The message here is simple: When you're down, dig deep and go for it. In other words, have the courage to go to a different movie.
At some points the film just becomes a branding opportunity, like for Microsoft Surface and the theme park NFL Experience. "This is better than my wildest dreams," one of our august actors is forced to say while throwing footballs. When the four later finagle their way into a skybox during the game, one helpfully explains: "You can see everything!" Yes, from up here, you can see terrible writing.
This is a movie that is supposed to boost people in their 70s and 80s but has jokes about fanny packs and Pat Sajak. Co-stars Billy Porter, Sara Gilbert and Guy Fieri somehow emerge OK in small roles but the main heroines tread water in what can only be considered an after-school special for older people.
"80 for Brady," a Paramount Pictures release that is only in theaters starting Feb. 3, is rated PG-13 for brief strong language, some drug content and some suggestive references. Running time: 98 minutes. Half a star out of four.
RELATED: From Tampa Bay to 'Champa' Bay: How Tom Brady forever changed sports in Florida