Another wet, windy storm slams into Bay Area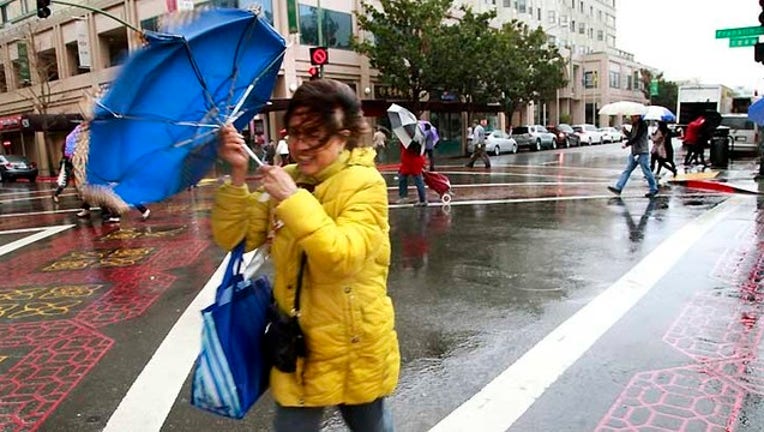 article
SAN FRANCISCO (KTVU and Wires) – A second winter storm front rolled into the Bay Area Sunday morning bringing with it heavy downpours, gusty winds and a threat of afternoon thundershowers.
The National Weather Service issued a wind advisory for the San Francisco Bay Area predicting winds would range from 20-30 mph with gusts of as high as 55 mph. The advisory had residents and local utility crews preparing for fallen trees and downed power lines.
Fortunately, there were no major outages reported early Sunday.
"Crossing bridges can be a little bit trickier when there are strong winds," said NWS forecaster Duane Dykema.
Officials expect the strongest winds along the coast and in higher terrain.
Nearly 60 flights had been canceled at San Francisco International Airport as of around 9 a.m., and inbound flights were experiencing delays of up to 60 minutes, Airport Duty Manager Brian Horne said.
"It appears it's somewhat similar to Friday in terms of the numbers," he said.
Friday's storm led to the cancellation of 175 flights at the airport and delays of up to 90 minutes. It also knocked out power to more than 90,000 people in the Bay Area, almost all of whom had their power restored by Sunday morning.
The storm dropped about three-quarters of an inch of rain on San Francisco — a welcome change after a historic six dry weeks. There was no measurable rain in San Francisco for the entire month of January – the first time since records were kept dating back to the California Gold Rush.
It was far from a drought-buster, however, particularly as it stayed warm and didn't bring much snow to the Sierra. Snow is more important than rain because snowpack supplies about a third of the water needed by residents, agriculture and industry.
The storm dropped between 10 to 15 inches of snow at higher elevations of the Northern Sierra, according to the National Weather Service. Sunday's storm system was also expected to be warm, bringing as much as another 14 inches of snow.