Buzzwords you could hear during severe weather
When severe weather strikes, the FOX Weather team provides coverage of these storms as they unfold. 
Here is a guide of some of the words you may hear our meteorologists say while talking about severe weather.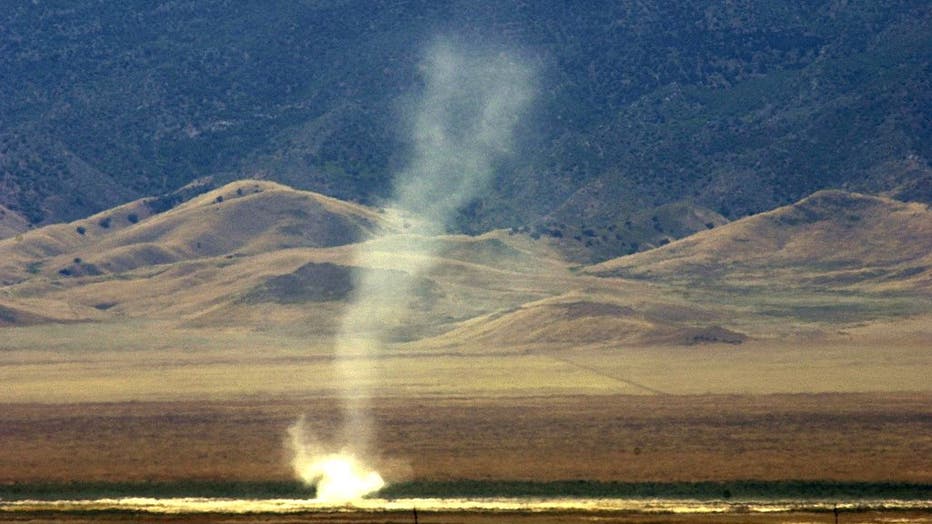 A dust devil forms as the temperature hovers around 106 degrees in the Carrizo Plain National Monument, June 1, 2001. (Photo by David McNew/Getty Images)
Dust devil
They grow from the ground when the sun heats up the surface of one spot more than another, causing air to rise quickly. Different wind speeds at different altitudes may cause the rising column of air to spin. The rotating column then picks up dirt and debris along the surface.
Dust devils are generally smaller and less intense than a tornado, according to the National Weather Service. They typically span 10 to 300 feet across and stretch 500 to 1000 feet into the air. 
Even though they may not be classified as a tornado, dust devils can still do damage. 
Funnel cloud
A forming tornado is called a funnel cloud before it hits the ground. Once the funnel touches down, it is called a tornado. Not all funnel clouds become tornadoes.
Hook echo
When a hook echo is seen on the radar, it is an indication that a tornado is likely associated with a thunderstorm. This is one of the signatures that helps provide meteorologists with "radar confirmation" of a tornado.
Landspout
Landspouts occur when winds at the surface collide. They will begin to make their own vortex, and then a developing thunderstorm passes overhead. 
Updrafts from the passing thunderstorm will pull this rotating vortex skyward, giving it a tornado-like appearance.
Multi-vortex tornado
A tornado with two or more condensation funnels at the same time is a multi-vortex tornado. They also often rotate around a common center or parent circulation or each other. These tornadoes can be especially damaging, according to the NWS.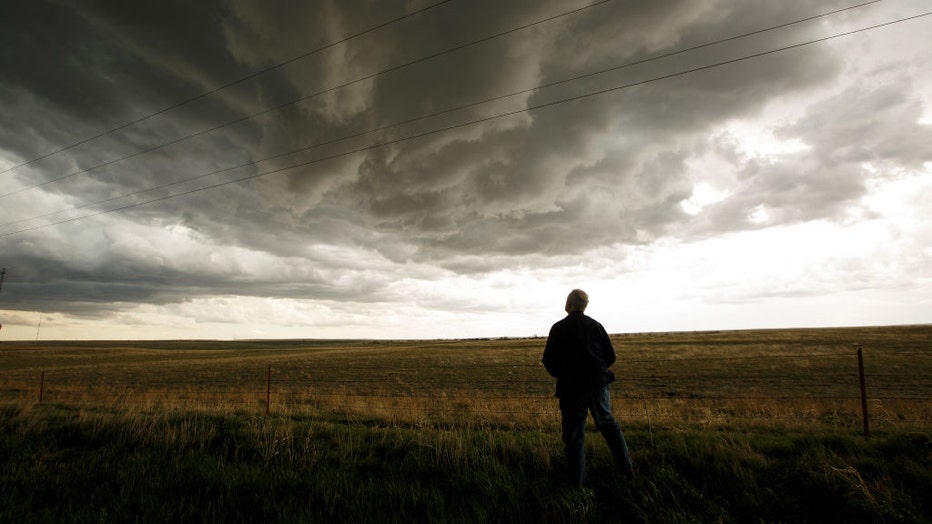 Tim Marshall, a 40 year veteran of storm chasing, monitors a supercell thunderstorm during a tornado research mission, May 8, 2017 in Elbert County near Agate, Colorado. (Photo by Drew Angerer/Getty Images)
Particularly Dangerous Situation
The NWS will issue a Particularly Dangerous Situation (PDS) Watch or Warning to highlight a significant threat of severe weather.
"PDS Tornado Watches are issued when the forecaster has high confidence that multiple strong (EF2-EF3 on the Enhanced Fujita Scale) or violent tornadoes (EF4-EF5 on the Enhanced Fujita Scale) will occur in the watch area," FOX Weather meteorologist Greg Diamond said. "There is no specific criteria to issuing one. It is at the discretion of the forecasters at the Storm Prediction Center."
WHAT IS A 'PARTICULARLY DANGEROUS SITUATION'?
Tornado
A tornado is a violently rotating column of air that drops from a cloud and touches the ground. It forms within a supercell thunderstorm due to the up and downdrafts creating wind shear (wind that changes directions or speed with height) and starts the column spinning. 
THIS IS THE LIFE CYCLE OF A TORNADO 
Tornadoes can occur year-round, but the most likely time for outbreaks is in the spring, with a second tornado season in the fall. 
Tornado Alley
Tornadoes can occur anywhere in the world. 
Twisters are more common across the U.S., from the Plains to the Appalachians. An area between the Great Plains and the Midwest was nicknamed "tornado alley" by two Air Force weather officers stationed in Oklahoma in 1948.
Cold dry air from the Rockies mixes with warm dry air from Mexico and warm moist air from the Gulf of Mexico. The combination can sometimes create severe thunderstorms and tornadoes.
TORNADO ALLEY: 7 THINGS TO KNOW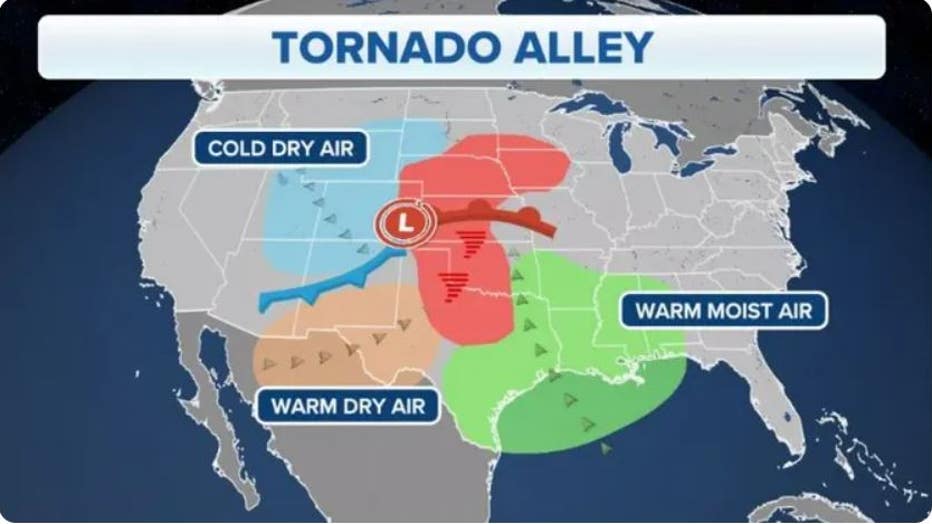 Clash of the Air Masses makes Tornado Alley a classic weather set-up for tornado formation. (FOX Weather)
Tornado Emergency
The NWS rarely issues a Tornado Emergency when there is a, "severe threat to human life and catastrophic damage are imminent or ongoing," from a confirmed tornado.
"The way we need to think of it is an enhanced tornado warning, the National Weather Service calling extra special attention to this cell, and its potentially dangerous tornado on the ground, said Brigit Mahoney on FOX Weather. 
Tornado outbreak
A tornado outbreak is generally a cluster of tornadoes occurring in the same period of time. NOAA calls it 10 or more tornadoes from a single, organized weather system. Here is how a tornado outbreak happens.
TORNADOES HIT LARGE CITIES: THIS IS WHY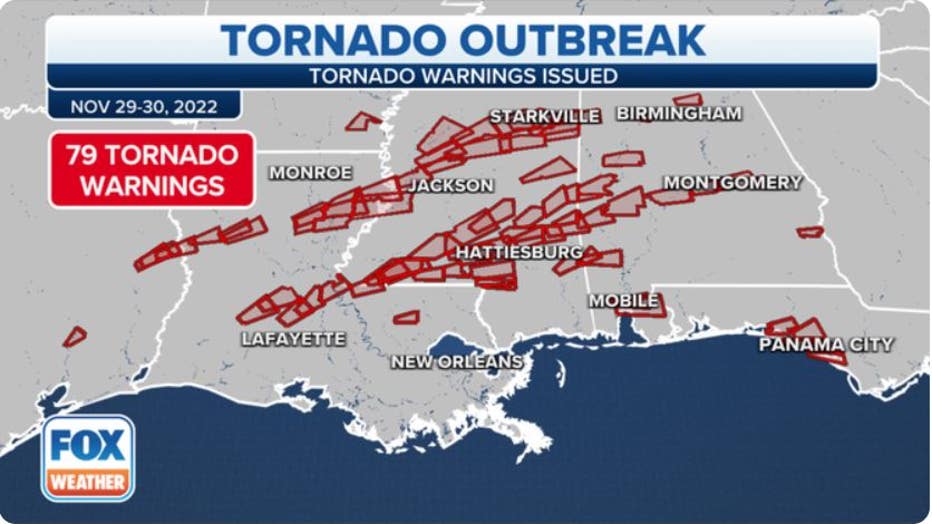 Map showing the locations of the 79 Tornado Warnings during a tornado outbreak issued between Nov. 29-30, 2022. (FOX Weather)
Watches and warnings
The NWS issues advisories, watches and warnings. A watch means that conditions are right, for example, for tornado formation. If a tornado is imminent or on the ground a Tornado Warning is issued.
WATCH VS. WARNING: HERE ARE THE DIFFERENCES BETWEEN THESE WEATHER TERMS THAT COULD SAVE YOUR LIFE
You can set up notification alerts on your FOX Weather app. to be alerted no matter where you are.
Waterspout
A waterspout is a rotating column of wind over the water. It can be tornadic and drop from the cloud. If a tornadic waterspout makes landfall, it is called a tornado.
A fair-weather waterspout forms at the water and stretches up to a cloud similar to the way a dust devil forms on land.
WHAT'S THE DIFFERENCE BETWEEN A TORNADO, WATERSPOUT, LANDSPOUT AND DUST DEVIL?
Wedge tornado
A wedge tornado is actually a slang term for a large tornado that is at least as wide as it is tall. Ropes and cones are other types of tornadoes.