Charge dropped against East Bay fruit vendor who is seeking asylum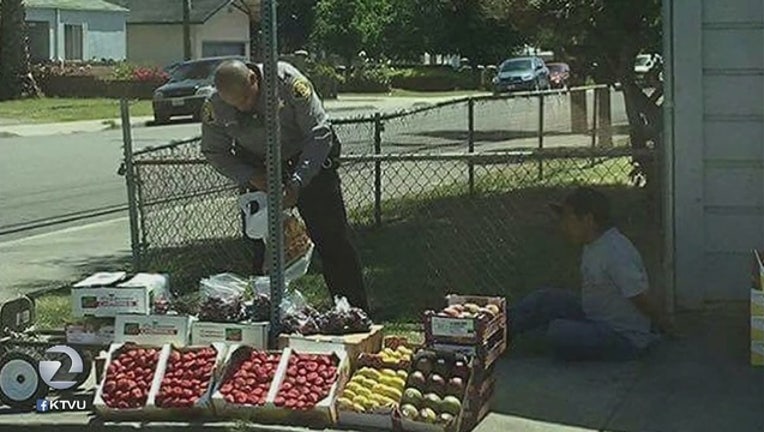 A resisting arrest charge on Tuesday was dismissed by the Alameda County District Attorney in the case of a fruit vendor selling strawberries and mangoes on a street corner in San Lorenzo.
It turns out however, that the man – Pedro Marteen Aguillar - was not running from deputies in May because he was on a federal probation, as the sheriff's office repeatedly alleged.
Rather, Aguillar was wearing an ankle monitor because he is in the United States on a pending asylum application and is being monitored by Immigration and Customs Enforcement, the Alameda County Public Defender's Office revealed to KTVU on Tuesday. 
Why Aguillar is seeking asylum was not immediately clear and it is not a matter of public record. The public defender may end up representing Aguillar in his asylum case as well.
"We're pleased the district attorney has done the right thing by dismissing this case," Public Defender Brendon Woods said in an email. "I am disturbed that our law enforcement officers would harass someone just for selling fruit on a public sidewalk. We hope this doesn't signal a trend of local police attempting to enforce immigration policies. We also were troubled by the Sheriff's Office publicly stating that our client was on federal probation when that is not the case."
Prosecutors were not immediately available for comment Tuesday to discuss why the office dismissed the charge against Aguillar.
The low-level arrest of Aguillar grabbed headlines this month because a passerby tweeted a now-viral photo of the act to local politicians -- outraged at what seemed to be harassment by an Alameda County sheriff's deputy rummaging around in the vendor's bags and arresting him.
A "fruit in" was held shortly afterward in support of immigrants, many of whom sell fruit, albeit without the proper permits, to help put food on their family's tables. 
Critics say that deputies appear to be racial profiling and wouldn't bust kids setting up a non-permitted lemonade stand. The sheriff's department responded on May 11 in its own now-viral Facebook post explaining the photograph from the deputy's point of view -- the deputy was there after a citizen complained about the vendor. And the sheriff's office insists this has nothing to do with race – officials pointed out that that the deputy who responded is African American.
In an interview on Tuesday, Sgt. Ray Kelly said his office is not anti-immigrant. But he did say that deputies do care about preventing botulism that may crop up in unlicensed street food, human trafficking, health codes and neighborhood safety. "If you don't enforce this type of selling, it will begin to look like a Third World fruit market," Kelly said. He said that his deputies also go after people of all backgrounds who sell counterfeit Warriors T-shirts too.
Kelly said that the deputy responded that day because there was a citizen complaint about a man selling fruit in a residential area. When the deputy responded, Aguillar pushed past him and tried to run away, Kelly said, adding that he assumed the man ran because he was wearing an ankle monitor assigned to him by federal agents. The deputy caught up with Aguillar, put him in cuffs and had him sit on the sidewalk.
The deputy ended up arresting Aguillar on a resisting arrest charge, which was dropped on Tuesday, and a violation of county ordinance for selling fruit without a permit. The deputy had been planning to tell the vendor "just pack up your strawberries and go," Kelly said, but ended up arresting him because the man tried to run away. "It was a lawful arrest," Kelly said. "And we stand by it."
As for the federal probation charges, Kelly told KTVU on Tuesday that the man's report stated he was under "intense supervision program," which he assumed was a federal probation program because of the man's ankle monitor. Kelly said that he made the assumption because by California law he can't cooperate or communicate with ICE, even if it means to look up someone's status. As for making the mistake regarding the asylum application, Kelly said he had "nothing to apologize for."
People seeking asylum often enter the country as undocumented immigrants and are released on their own recognizance as long as they are monitored by federal agents as their applications are pending before the court.