City, unions agree to settle Oakland city worker strike in mediation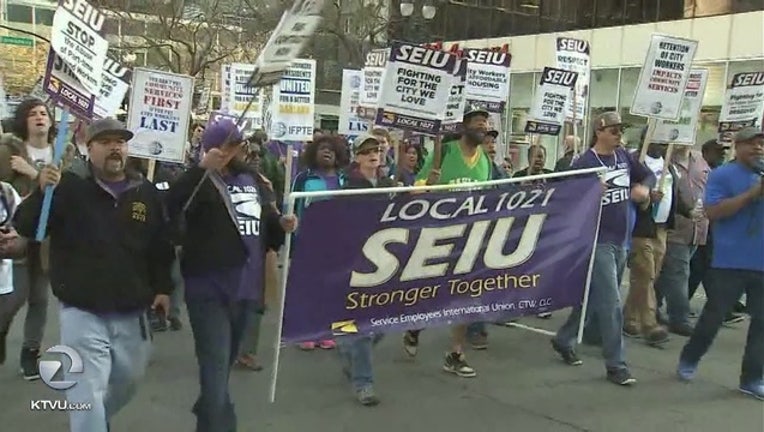 article
OAKLAND, Calif. (KTVU) - Oakland's mayor and the unions involved have now both agreed to settle the strike – which began last Tuesday – in mediation.
Mayor Libby Schaaf said Sunday morning that they will have their first meeting with that mediator Monday, but that's just the very first step in the process.
About 3,000 Oakland city workers will picket again Monday, so Oakland residents should plan on another day of very limited city services. City workers say they would like to see a resolution soon, but feel very strongly about what they're demanding.
"I've been priced out of Oakland. I'm unfortunately not able to live in the city I love," said Jonathan Arnold, city planning department. "We had given so much during the recession and we just want to be made whole, at least. Help us to catch up."
The action has cut off just about all non-emergency city services, from head start programs, parking enforcement and library services, to building inspections and public works projects.
Mayor Libby Schaaf says the city is offering a four percent raise for the first year of the workers contracts with the possibility of another boost of two percent afterwards – depending on city revenues. 
"It is true our workers made tremendous sacrifices to get us through the recession, but the wage increases since then has made up for those sacrifices," said Schaaf.
But workers say this strike is not just about wages. They want the city to hire more full-time workers and rely less on part-time and mandatory overtime.
Schaaf said Sunday morning they're offering to convert some part-time workers to full-time and offering those workers more pay so they can pay for their own benefits. 
The city has maintained that hiring full-time workers is expensive, as pension costs are expected to rise 50 percent over the next five years, according to Schaaf. 
"We are looking at a lot of financial instability," Shaaf said. "We see our pension bill going up and we see this crazy tax bill that congress getting ready to pass. These are all things that will have a terrible financial impact on this city."
The two parties will be back at the table Monday at their first meeting with a third-party mediator.