Gabby Petito case: Judge to decide if 'burn after reading' letter will be allowed as evidence
VENICE, Fla. - The trial in the civil case filed by the parents of Gabby Petito against the parents of Brian Laundrie has been pushed back to spring 2024, but first, the judge has to decide on two key parts of the potential trial.
During a hearing Wednesday in Venice, lawyers on both sides agreed they would need more time to gather case materials, including documents from the Federal Bureau of Investigation about its investigation into the disappearance and death of Gabby.
She was killed by her boyfriend, Brian in fall 2021 and now her family is suing his for creating undue pain and suffering.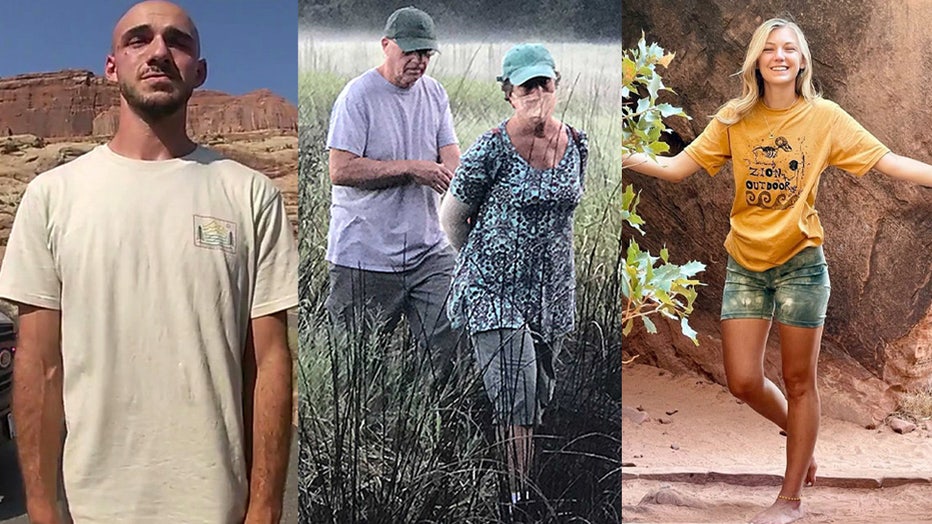 Left, Brian Laundrie; middle, Christopher and Roberta Laundrie; right, Gabby Petito
MORE: Brian Laundrie's mom breaks silence on controversial 'burn after reading' letter
Petito's family claims Laundrie's family knew Gabby was dead and the location of her remains, but did not tell law enforcement.
Follow the case of Gabby Peito here
Before the civil trial can proceed, the judge will decide whether a key piece of evidence will be seen by jurors. 
The letter: "burn after reading"
A letter written by Brian Laundrie's mother, Roberta Laundrie, to her son, was reportedly put in an envelope with the words "burn after reading" scrawled on the outside. 
In an affidavit, Roberta Laundrie said the "burn after reading" letter was written months before Gabby Petito died and was unrelated to the young woman's disappearance.
Roberta Laundrie admitted to writing "burn after reading" on the letter's envelope, but said the phrase was a reference to a book she and Brian both enjoyed.
The lawyer: Steven Bertolino
Gabby's parents, Nicole Schmidt and Joseph Petito, filed suit against Roberta and Christopher Laundrie last year, claiming Brian's parents knew what happened to Gabby, but made public comments to the contrary. 
After the initial filing, Schmidt and Petito filed a motion to add the Laundrie family lawyer, Steven Bertolino, to the suit, claiming he also knew Gabby was dead when he made statements to the media on behalf of his clients.
MORE: Laundries denied motion to avoid 'emotional distress and embarrassment' during civil trial
Bertolino and the Laundries have fought to keep his name off the case. 
Now, a Sarasota County judge will decide. A hearing to determine the status of the letter and Bertolino's involvement has been set for May 24, 2023.