DA to review criminal cases linked to Antioch cops in texting scandal
Criminal cases linked to Antioch police officers named recently in a racist text messaging scandal will be reviewed by the Contra Costa County authorities.
The partnership among the district attorney, public defender and Contra Costa Conflict Program will identify cases that are "potentially compromised" by the latest scandal that directly involves the Antioch cops named last week in a report detailing racist, homophobic, sexist and derogatory comments about Black people and other people of color.
"Once we've identified those cases – and any overlapping conflicts – we will initiate a detailed review process for potential dismissal, resentencing, or the preservation of convictions," District Attorney Diana Becton's office announced on Monday. "The DA's Office is working to ensure that public safety and serving the interest of justice are priorities in this process."
Last week, the DA's office released a report detailing multiple examples of APD officers using the n-word, sending photos of gorillas in reference to Black people, and incidents of potential civil rights violations. 
Additional messages were released today in which officers used offensive language and boasted about hurting captured suspects.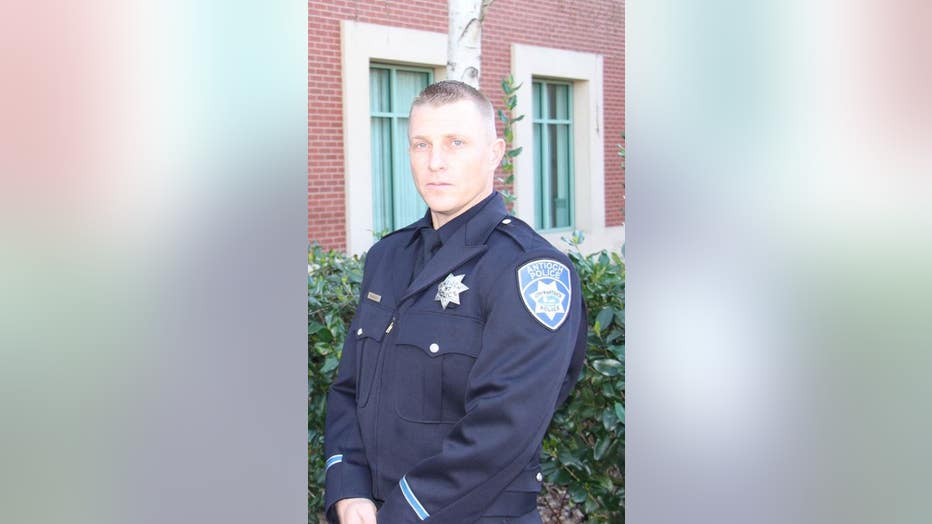 Officer Eric Rombough pictured in 2017 after he was sworn into the Antioch Police Department. Rombough is caught up in the recent racist text messaging scandal. (Facebook/Antioch Police Department)
APD Officer Eric Rombough bragged about multiple violent arrests to a number of colleagues.
"We managed to set up a perimeter and he got his a whooped in the back yard and I field goal kicked his head," he texted on March 31, 2021. Rombough then added, "I tried to knock him unconscious. And he got muzzle thumped 6 times before he gave us his hands."
SEE ALSO: Antioch police text scandal: officer boasts about hurting suspects
Rombough also sent photos of two injured suspects in the hospital after violent arrests separately to Sgt. Josh Evans, United States Postal Inspector Francisco Garcia, and an unnamed person.
Freddy Brewster is a reporter for KTVU. 
Email Freddy at freddy.brewster@fox.com or call him at 513-379-7522. 
Follow him on Twitter @freddy_brewster