Coroner's officials identify toddler who drowned in Antioch pool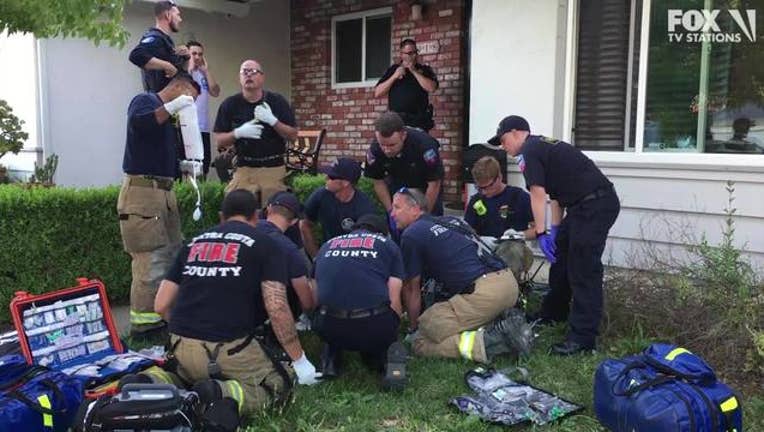 ANTIOCH, Calif. (KTVU) - Coroner's officials on Monday released the identity of a toddler who drowned in Antioch last week.
Officials said Mateo Luna drowned in a swimming pool at a home in the 3000 block of North Francisco Way Friday night around 7:30 p.m.
He was one month shy of his 2nd birthday. 
Antioch police said emergency crews responded to the home, where the little boy was found in a backyard swimming pool.
Paramedics tried to revive the boy, but he was later pronounced dead a hospital.
Investigators said the drowning was an accident but have not released additional details about the events that led up to the child's death.
It was the fifth drowning in the Bay Area in a week's time.
Last weekend on June 8, a 31-year-old man fell off a boat at Lake del Valle near Livermore. His body was recovered the following day.
Then on June 10, a 14-year-old boy drowned while swimming in the bay off Crissy Field Beach in San Francisco.
Then the following day, a 34-year-old man disappeared while swimming at the south end of Stinson Beach. His body was recovered the next day.
That same day, there was another drowning in Lake del Valle. The victim was 23-year-old Shawn Spikes, a professional horse jockey. Authorities said he was on a boat with some fellow jockeys when he fell overboard.
First responders reminded people of the importance of wearing a life jacket when on a boat. 
"People think that they'd be okay or that they don't need a life jacket," said Alameda County Fire Chief Alan Evans, "but it's always encouraged to wear a life jacket, because you don't know the circumstances."
Emergency officials also warned that when it comes to small children and water activites, constant supervision is imperative.
Chief Evans noted, "You hear about the drownings where they were watching their kids and the phone rings or something happens and they take their eyes off them for a minute and they sneak off quickly."