Dad hopes to find, thank Disney employee for special moment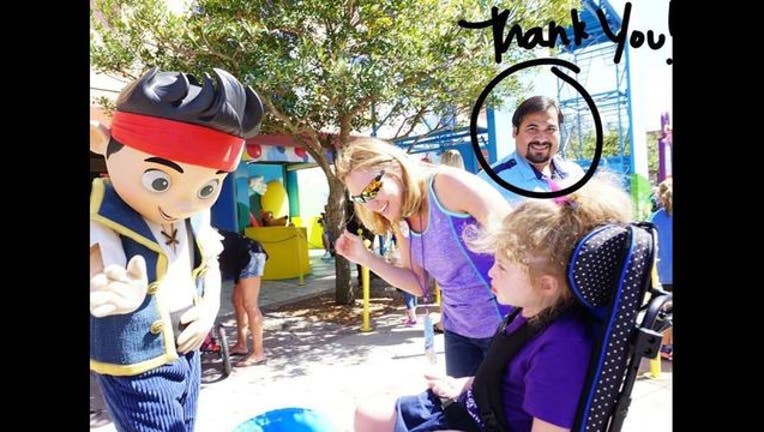 article
KTVU's Frank Somerville posted about the search for a kind-hearted Disney employee. 
Here's what he wrote: 
"Glenn O'Neill posted about what this Disney employee did for his daughter and her friend, both of whom are very sick.
(The payoff is about halfway down)
Here's what Glenn wrote:
It was our second day at Walt Disney World.
It had been a good, but tiring day up to that point, and we decided to take a break. We rested in an area where the character Doc McStuffins was greeting people in a line…a long line. Since I knew my daughter liked Doc, I figured we could stop where she could at least see her through the people.
My 7 year old daughter Eliza has a terminal disease called Sanfiippo Syndrome, which unfortunately is like a "Childhood Alzheimer's", which causes significant dementia, usually by age 5.
We were in Disney visiting our friends who also have a daughter Keira (also age 7), with the same disease.
The girls were taking a break in their special chairs.
The next thing we know, the Doc McStuffins character is right in front of Eliza and holding her hand.
Eliza's look of wonderment was something I won't forget, and Doc did the same with Keira, who didn't want to let go of Doc's hand.
At first I couldn't figure out why and how these characters even knew we were there in the sea of people, but then I saw the man…the Disney employee…who had made sure this happened.
We never asked him or acted like we wanted to be in line. He did this, on his own, just seeing these two girls in their chairs, and he knew what it would mean to them...and to us.
I remember naturally glancing over the long line of people waiting, who now would have to wait longer, and feeling a bit guilty and worried about the looks.
But do you know what I saw…I saw only smiles, from the parents & from the kids...and some parents whispering to their children, probably explaining "these girls need to see the Doc right now…before we do"
I don't think anyone noticed, but I had to drop my head and hide and hold back the tears coming.
I thanked this kind and compassionate man, but didn't get his name.
Please SHARE to help find him and let Disney know what a difference he made that day. A moment that we won't ever forget.
---Glenn O'Neill' 
It's always the little things that matter the most.
#RealPeopleRealStoriesRealLife"