Death penalty protest marks return of marathon bomber trial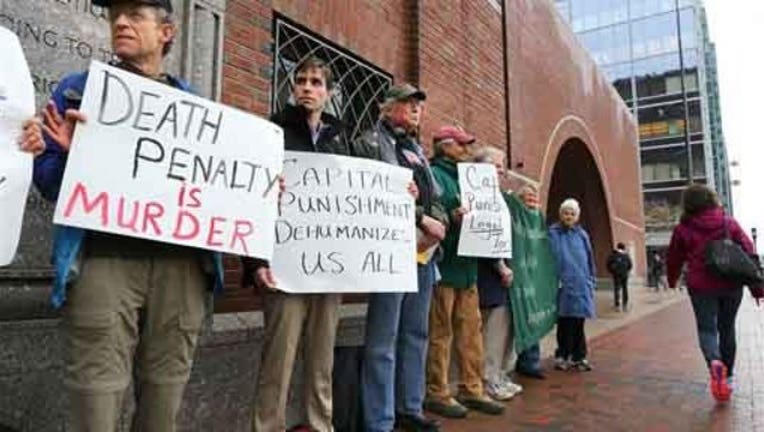 article
BOSTON (AP) — Death penalty opponents are renewing their calls for mercy as the federal trial of convicted Boston Marathon bomber Dzhokhar Tsarnaev enters the penalty phase.
More than a dozen protesters held signs and banners outside the federal courthouse Tuesday, continuing demonstrations that have taken place, off and on, throughout the trial.
Some promised they'd be a regular presence as the trial resumes.
Sister Jane Morrissey of the Sisters of St. Joseph in Springfield held a banner that read: "Why do we kill people who kill people to show that killing people is wrong?"
She says all people are God's children and deserving of mercy — including Tsarnaev.
"This is about human life," Morrissey said. "It's about what kind of world we want to leave for the children of tomorrow. What serves the common good? What respects human life? What preserves public safety?"
Pat Ferrone, who held a banner quoting Pope John Paul II, agreed.
"Here we have violence recreated, and it's an abomination," she said of the death penalty. "It doesn't hold any possibility for healing. We kind of know that."
Some survivors and victim's families have called on prosecutors to end their pursuit of the death penalty, adding some degree of momentum to the calls for leniency.
Cardinal Sean O'Malley and Roman Catholic bishops across Massachusetts also called for clemency earlier this month.
"It really gives people courage. It was really, really brave for them to come out at this point," said Ferrone, referring to the survivors opposed to the death penalty, who include family of the youngest victim and a married couple who lost limbs in the blasts.
Tsarnaev and his deceased older brother, Tamerlan Tsarnaev, detonated two pressure cooker bombs near the marathon finish line in 2013. The attack killed three people and injured more than 260 others.
The same 12-member jury that convicted Tsarnaev must unanimously agree if he is to be sentenced to death. Otherwise, he automatically gets life behind bars.