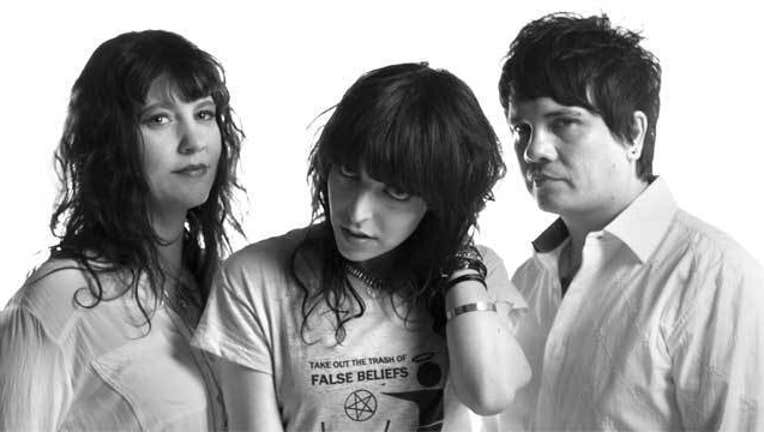 article
Guitarist and singer Allyson Baker took a long and circuitous musical journey to end up where she is today as the principle creative force behind local modern-rock outfit Dirty Ghosts. Baker cut her teeth on punk rock as a teen in Toronto, Ontario, eventually playing guitar in a variety of area hardcore bands before relocating to San Francisco in 2000.
She made her first significant mark here as a member of the SF-based quartet Parchman Farm. With the propulsive, rhythm section of bassist Carson Binks and drummer Chris LaBreche powering Baker's incendiary guitar and singer Eric Shea's gruff vocals, the band's raw sound mixed elements of garage rock and gritty funk with the proto punk-metal roar of '60s misfits The MC5 and Blue Cheer (whose version of the Mose Allison song "Parchman Farm" gave the band its name).
The group's fiery live shows and its 2004 debut EP on the local Jack Pine Social Club label started garnering significant press coverage, but the band imploded after recording a handful of tunes that -- when released posthumously on the Lost Tapes EP by Birdman Records -- revealed a fusion of blazing fuzztone guitar and muscular breakbeat grooves that could have propelled Parchman Farm well beyond regional success.
Baker resurfaced in 2006 with Dirty Ghosts, her new outfit with bassist Binks that featured the pair crafting stripped-down tunes matched to dense beats programmed by Baker's husband, noted underground hip-hop producer Aesop Rock. After the band searched fruitlessly for a lead singer, Baker took over vocal chores herself and both she and the band found their voice.
While still drawing on a familiar guitar crunch and kinetic rhythms, Dirty Ghosts incorporate a modern, mechanistic groove and post-punk dub atmospheres that echoes such influential acts as Gary Numan, Killing Joke, The Slits as well as NYC no-wavers like ESG and Liquid Liquid. Binks would later depart to join noted Oakland metal outfit Saviours, Baker soldiered on, confident of the band's unique sound.
The group released its first 7-inch single "Shout It In" last March ahead of its inaugural appearance at South By Southwest and its first tour up the West Coast in the summer. In 2012, the band issued its debut full-length Metal Moon on Last Gang Records.
Packed with sinuous beats, muscular guitar and indelible vocal melodies, Metal Moon ranges from the sneering, robotic Runaways-style hip shake of opening salvo "Ropes That Way" to percussive dance-rock numbers "Battle Slang" and "No Video" to the spacious, dub-inflected beat excursion "Steamboat to Concord." 
Baker and the live band line-up featuring longtime bassist Erin McDermott would make regular appearances at festivals here (Noise Pop, Treasure Island Music Festival, Burger Boogaloo) and abroad (Fun Fun Fun, South By Southwest) and tour extensively to promote the album. Baker found a new songwriting collaborator in drummer Tony Sevener, who has been playing with the band since being hired to fill in for a Noise Pop show in 2013.
Sevener was hired as a full-time member soon after as Baker worked on new material. The band's long awaited Last Gang follow-up Let It Pretend was recorded with Phil Manley (The F--king Champs, Trans Am) at Lucky Cat Studios last year and came out in early October following the release of the teaser Cataract EP on Burger Records.
Fresh from a national tour, Dirty Ghosts celebrate the release of Let It Pretend at Brick and Mortar Music Hall in the Mission District when they headline this show Saturday night. The band is joined by prolific local pop/psych songwriter Kelley Stoltz (who celebrates his own new releases In Triangle Time for John Dwyer's Castle Face Records and the debut effort of his alter ego Willie Weird, The Scuzzy Inputs of ... released through Stroll On Records) and ripping SF punks Useless Eaters. Man about town and loudmouthed Don Rickles of the Bay Area rock scene Parker Gibbs serves as MC.   
Dirty Ghosts with Kelley Stoltz and Useless Eaters
Saturday, Nov. 7, 9 p.m. $10-$14
Brick and Mortar Music Hall