Dog crashes car into pool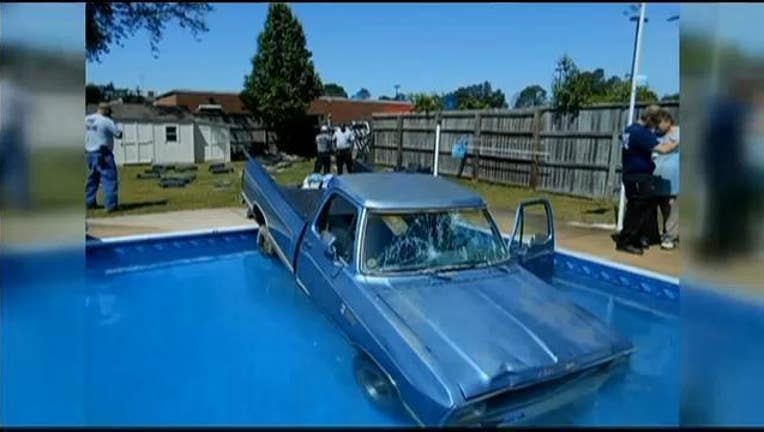 article
HARNETT COUNTY, NC -- The Smiths almost never leave home without their sweet black Lab named Caroline.
So when Michael and Ruth went on a grocery run in Erwin, North Carolina, Caroline was with them. Unfortunately, the poor pooch got a scare during the ride.
"And when she gets scared, she'll go down on the floorboard of the truck," Michael said.
Ruth was driving and when Caroline retreated to the floorboard, she now had 90 pounds of dog pressing on the accelerator along with her foot.
Michael attempted to pull her off.
"And before I could, we were wide open. We were probably going 50, 55 miles an hour," he said.
Ruth says she didn't know what else to do, but to keep the truck on a straight course. She wanted to avoid people and cars, so she steered towards a wooden fence.
The car crashed right through it and down into a backyard pool.
"We hit the water, and I'm going, 'Where in the name of God is this water coming from?'" Michael said.
The owner of the pool, John McNamara, was in the kitchen of his home with his wife. He heard noises in the yard and looked outside saying, "Honey, there's a truck in the pool!"
"Just laughed at me and said, 'What are you doing, smoking or something?' I don't smoke. I said, 'No, I mean it!'" McNamara said.
He wasn't seeing things; a 1988 Dodge Ram was sticking out of the shallow end of his pool.
McNamara's first thought was if anyone was hurt.
"That, and that I just had open heart surgery in January. I said, 'I'm gonna have another heart attack here!'"
Michael suffered from some cuts on his hand, but other than that, everyone made it out of the scary situation okay.
However, their Dodge is totaled.
The Smiths don't hold any grudge towards their prized pup though.
"I don't blame her for it. It's just one of them odd accidents that you read about in the newspaper or see on the news," Michael said.