Dog, puppy placed in sandbags, thrown from vehicle in Watsonville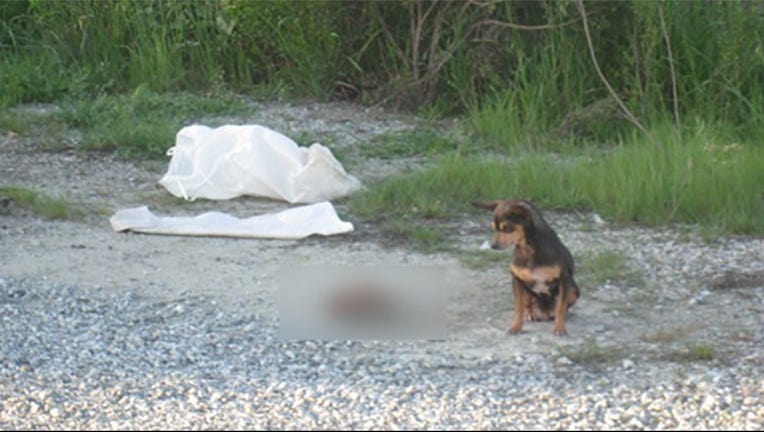 article
WATSONVILLE, Calif. (KTVU and wires) -- Officers with the Santa Cruz County Animal Shelter are seeking help in finding those responsible for throwing sand bags containing a female dog and her puppy Friday into a dumping ground outside Watsonville, killing the puppy.
Shelter officers responded at about 5 p.m. Friday to Minto Road in an unincorporated area north of Watsonville about a report of an abandoned dog and a puppy, Officer Todd Stosuy said.
The road dead ends at the edge of an agricultural field commonly used for dumping waste, Stosuy said.
Officers arrived there to find that the puppy had died and its mother had remained standing next its body and although she was afraid of them, the mother refused to leave her puppy's side, according to Stosuy.
After the mother was placed into the animal control vehicle, she started crying and scratching the door and calmed down when officers put her dead puppy beside her, he said.
From an investigation and a necropsy on the puppy, a shelter veterinarian determined that someone placed the dogs inside separate sand bags and threw them from a vehicle into the dumping ground, he said.
The puppy died of blunt force head trauma from the impact and the mother chewed her way through her bag, freed herself and pulled the puppy out.
While attempting to revive the puppy, the mother bit the puppy's tongue off, the veterinarian reported.
The puppy had been dead for four to five hours before it was found and was thrown onto the ground at about noon or 1 p.m. Friday, Stosuy said.
The veterinarian said that the mother was allowed to be present during the necropsy and would periodically walk over to lick the puppy and then go back to the veterinarian, he said.
The adult dog is a sable, tan and white Miniature Pinscher and about 6 years old. The puppy was 4 to 6 weeks old.
The mother will remain at the shelter for adoption by a special rescue group and not for open adoption because she will need care for a heart murmur unrelated to her abandonment that will last for the rest of her life, according to Stosuy.
Those responsible for what happened to the dogs could face two felony counts of animal cruelty and two misdemeanor counts of willingly abandoning an animal, he said.
Stosuy said he found it disturbing that someone would toss the two dogs "out of a window like garbage" when they could have surrendered them at no cost at the shelter at 580 Airport Blvd. in Watsonville or the one in Santa Cruz at 2200 Seventh Ave.
Anyone with information about the dogs is urged call the shelter at (831) 454-7303.