Dublin teachers overwhelmingly vote to authorize strike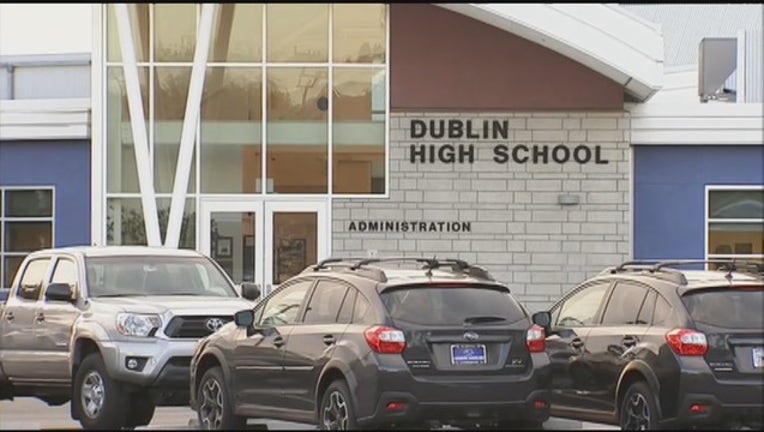 article
DUBLIN, Calif. (KTVU, BCN) - Dublin teachers have overwhelmingly voted to authorize a strike if their union does not reach a contract agreement with the Dublin Unified School District, the teachers' union said.
98 percent of the Dublin Teachers Association voted in favor of the strike authorization vote, which took place last Tuesday through Friday.
The union said that after 11 months of negotiations, which included a mediated 12-hour long bargaining session on March 8, the two sides were at an impasse.
Both sides returned to the table on Tuesday for another round of talks which began at 8 a.m.
The teachers' union is asking for a 3 percent raise for the current school year on top of the 1.5 percent hike they received a year ago for a total of 4.5 percent, a 3 percent raise for the 2019-20 school year and a one-time bonus of 3.5 percent.
The school district is offering a 2 percent increase for each of the two years and a 3 percent one-time bonus.
 "Our district management and school board have failed to listen to the voices of teachers," union president Roberta Kreitz said in a statement. "We know what our students need and we know what our school district can afford. Our members see our students are getting shortchanged and have said enough is enough."
Kreitz added that the union hopes for a settlement and would like to avoid a strike but that members are ready to walk off the job if necessary. "We are ready to stand up for what's best for our students," Kreitz said.
Dublin Unified School District superintendent Leslie Boozer said in a statement that the strike authorization vote doesn't impede their efforts to hammer out a deal. "It doesn't change or speed-up the timeline or steps that we've shared in the past," Boozer said. "It also doesn't change our confidence in our ability to collaborate with DTA and reach an equitable solution that fairly compensates our dedicated teachers while ensuring the ongoing ability of the school district to invest in other critical educational resources."
"A top-notch educational community starts in the classroom with our dedicated teachers," the superintendent added. "But that is only part of the puzzle. As a district, we must take a full view of our budget and our resources and balance the needs of today and the future," Boozer said.
The Dublin Teachers Association represents 620 members at 12 schools. Members include teachers, nurses, counselors, special education teachers, and psychologists. 
If today's talks fall apart, the dispute goes before a third party fact finding panel.
In the event of a strike, the earliest teachers would walk off the job would be sometime in the end of April, according to Kreitz, who emphasized the union will hold community meetings and engage in other outreach to ensure families have enough time to prepare. 
"We will inform every stakeholder to make sure everyone is informed along the way," Kreitz told KTVU.  
Dublin's labor dispute comes after Oakland teachers walked off the job last month, and went on strike for seven days. Members of the Oakland Education Association returned to class on March 4 after approving an 11 percent salary hike over four years with a one-time 3 percent bonus.