Fact-finder says Oakland Unified can't afford 12% salary increase, recommends 6% for now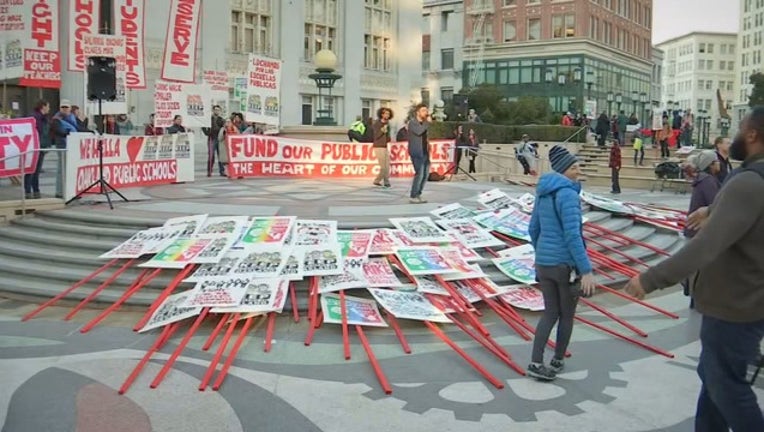 article
OAKLAND, Calif. (KTVU) - Oakland teachers are planning to strike on Thursday, despite a neutral fact-finder's report released over the weekend saying the district can't afford what they are asking for.
Najeeb N. Khoury, based out of Montrose, Calif., said the Oakland Education Association's demand for a 12 percent increase over three years, or $24 million, is beyond the district's means. 
Khoury indicated if the district's finances were healthier, he would like to see teachers get a 9 percent raise over three years — 3 percent a year, but even that would "place too much of a strain on the district's current finances." 
Read fact-finding report regarding Oakland teachers
But because Oakland is facing a possible $57 million shortfall in 2020-21, Khoury instead recommended a 6 percent raise retroactive to the 2017-18 school year. That number could rise, thought. Khoury recommended salary negotiations to reopen for the 2019-20 school year, at which time the district might be able to land more money from the state under Gov. Gavin Newsom's budget proposal, which includes possible increases for K-12 funding.
Oakland Unified had been offering 5 percent, or $10 million,  over that same time period, which Khoury acknowledged "will not keep pace with inflation." On Wednesday, the East Bay Times reported the district had offered up to an 8.5 percent salary increase over four years, which the union said wasn't enough. 
Oakland principals on Wednesday planned to head to Sacramento to meet with legislators to see if they can drum up more money for the district. 
How much do teachers get paid? 
In an interview this week, Oakland Mayor Libby Schaaf indicated there might be some more money at the state level. "I am hopeful this can remain a one-day strike," she said earlier this week. "The governor's budget definitely represents an increase, and possibly more resources than people were aware of initially."
Oakland teachers earn the lowest of all teachers in Alameda County, according to salaries compiled by the union. Teachers start at about $46,000 and max out at about $85,000.
As a former teacher herself, Oakland Unified School Supt. Kyla Johnson-Trammel said in a January letter to parents that she "firmly" believes that educators should earn more. Still, she said, "any raise for our staff will mean we will have to make budget reductions, potentially including layoffs and reductions to programs or services elsewhere to pay for it."
Each 1 percent raise that teachers receive, she said, equals an additional $1.9 million per year in costs to the district for their additional wages and benefits. Taking into account all the represented employees, such as support staff, the costs rise to about $3.5 million per year for each 1 percent raise.
In his report, Khoury blamed California's "complicated and flawed" funding system in general and the district's "proliferation" charter schools, which take away funding from traditional public schools, as two key reasons why Oakland finds itself in the situation it's in. In addition, Oakland Unified has lost millions because of a sharp decline in student enrollment over the past 15 years, from 54,000 to 37,000.