Fed Chair Janet Yellen signals the Fed will likely raise rates this month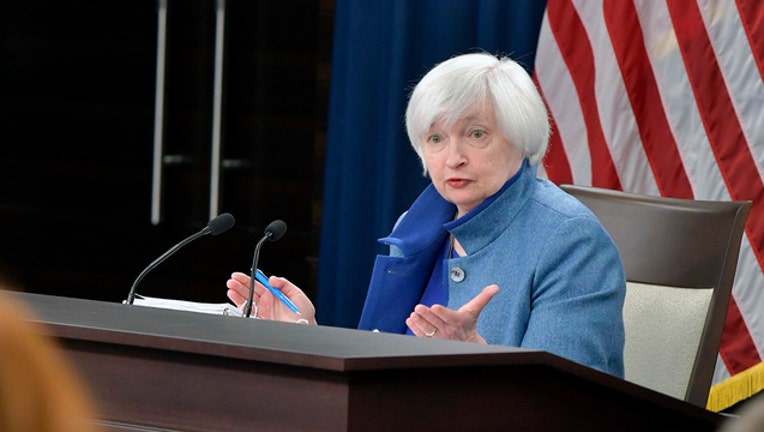 article
WASHINGTON (AP) -- Federal Reserve Chair Janet Yellen signaled Friday that the Fed will likely resume raising interest rates later this month to reflect a strengthening job market and inflation edging toward the central bank's 2 percent target rate.
Yellen also said in a speech prepared for delivery in Chicago that the Fed expects steady economic improvement to justify additional rate increases. While not specifying how many rate hikes could occur this year, Yellen noted that Fed officials in December had estimated that there would be three in 2017.
The Fed will next meet March 14-15. At that meeting, Yellen said in her speech, the policymakers will "evaluate whether employment and inflation are continuing to evolve in line with our expectations, in which case a further adjustment of the federal funds rate would likely be appropriate."
Yellen's signal of a likely rate hike this month reflects an encouraging conclusion by the Fed: That nearly eight years after the Great Recession ended, the U.S. economy has finally regained most of its health.
Her comments echoed remarks that several other Fed officials made earlier this week suggesting that they were all but certain to resume raising rates at their next meeting.
Still, a rate increase this month isn't necessarily a certainty. Any unexpected wave of poor economic news or worrisome global developments could give the Fed pause. The government's jobs report for February, to be issued next Friday, will be of particular interest. 
But the most recent data -- notably on job growth, manufacturing and consumer confidence -- along with surging stock prices have been broadly encouraging.
In December, the Fed raised its benchmark rate by a quarter-point to a range of 0.5 percent to 0.75 percent. It was its first increase since December 2015, when the Fed raised its key rate from a record low. In estimating three rate hikes for 2017, the Fed was indicating a quickened pace of increases.
Before the central bank officials began speaking out this week, many Fed watchers and investors had been doubtful of a rate increase this month. The assumption was that Fed officials would want to assess President Donald Trump's proposed tax cuts and increased spending for the military and infrastructure projects, after the details of those projects and the likelihood of their congressional passage became clear. Many thought the Fed would want to wait until June to resume raising rates.
A major reason for the recent signals from Fed officials for a rate increase is the robust job market. On Thursday, for example, the government reported that first-time applications for unemployment benefits -- a proxy for the pace of layoffs -- fell last week to their lowest level in nearly 44 years.
The stock market, in the meantime, has been setting a string of record highs, fueled by confidence that Trump's plans for cutting taxes and boosting spending will win congressional approval.
And inflation, which had been lagging at chronically low levels, has been edging steadily up, reflecting in part a rebound in gasoline prices and higher wages. The Fed's preferred inflation gauge showed that prices rose 1.9 percent over the 12 months that ended in January. That was the largest 12-month gain in nearly five years and just below the Fed's 2 percent target for inflation.
Some Fed officials suggested that the rise in inflation and the low 4.8 unemployment rate were evidence that the central bank was now close to achieving its dual mandates of maximum employment and stable prices.