First-of-its kind, mass timber apartment high rise going up in Oakland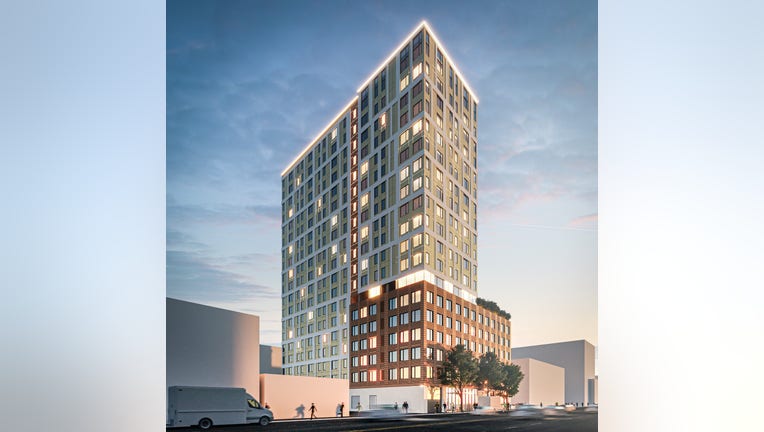 article
OAKLAND, Calif. - Construction was underway in Oakland for a first-of-its-kind high rise apartment building described as the tallest beamless mass plywood panel structure in the world.
The 19-story, roughly 200 unit structure is going up at 1510 Webster Street. 20 percent of the units will be slated for affordable housing, according to developers.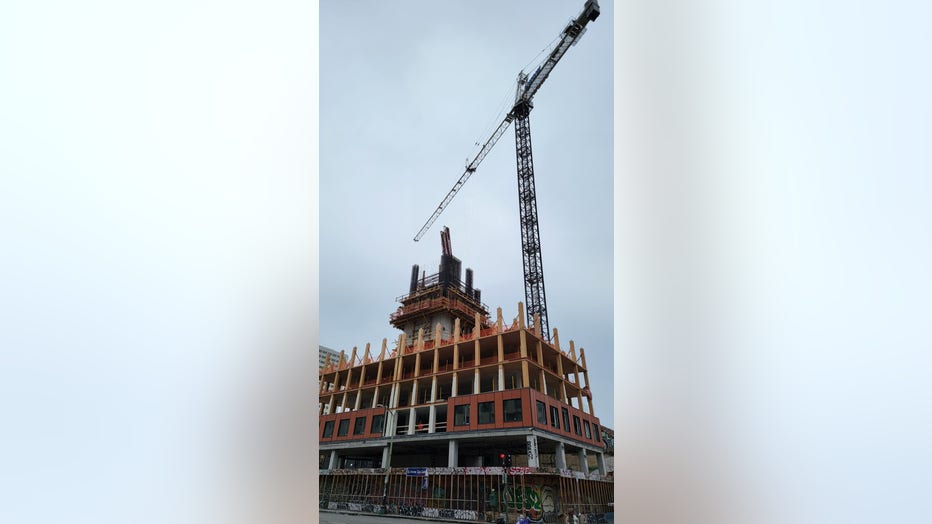 Construction at 1510 Webster Street in Oakland, Calif. The high rise will be will be the tallest beamless mass plywood panel structure in the world, according to developers. (Jeff Brink/DCI Engineers )
It's being developed, designed and constructed by Oakland-based oWOW, with assistance from DCI Engineers, which noted the construction was also the tallest mass timber building in the world in a high seismic zone. 
SEE ALSO: Bay Area home values increase for first time in 9 months
SEE ALSO: Little-known law allows Alameda landlord to charge tenants for construction, tenants are furious
The project has moved at a remarkable speed. The design began about a year-and-a-half ago, and construction was expected to top out by the end of June, according to DCI Engineers' CEO and project manager Jeff Brink.
The CEO said using mass timber structures would serve as a game changer in the industry, not only allowing for much faster building, but offering a more cost-effective and environmentally friendly alternative to building with concrete and steel.
"This is groundbreaking in terms of environmental impacts, in transitioning from concrete to mass timber," Brink said. 
He explained the environmental impacts were manyfold. For one, wood traps carbon, and when trees die and decay that carbon gets released into the air. By using timber for building, the carbon remains trapped in the wood. "In that way, pulling carbon out of the air," Brink said.
The method also reduced the massive carbon footprint created by the production of steel, concrete and other traditional material used in construction.
Another benefit, Brink said, was that the use of timber helped reduce waste. And it could also play a key role in forest management to help prevent wildfires.
"Part of forest management is selectively cutting down trees in a managed way," Brink explained. "We would be controlling forest fires and also supplying materials for the industry."
With the use of mass timber generally costing less, the savings were expected to be passed on to residents.
"The goal of developers is to figure out a way to build more residential units at reasonable costs," Brink said.
The developers said the high rise project in Oakland was creating a buzz in the design and construction industry and was expected to serve as model for future such mass timber structures. 
"This creates a significant turning point for the built environment as developers and designers seek out alternative building solutions that capitalize on sustainability, speed of construction, and end-user satisfaction," DCI Engineers said.
Rental units in the new 1510 Webster Street site were expected to be available early next year.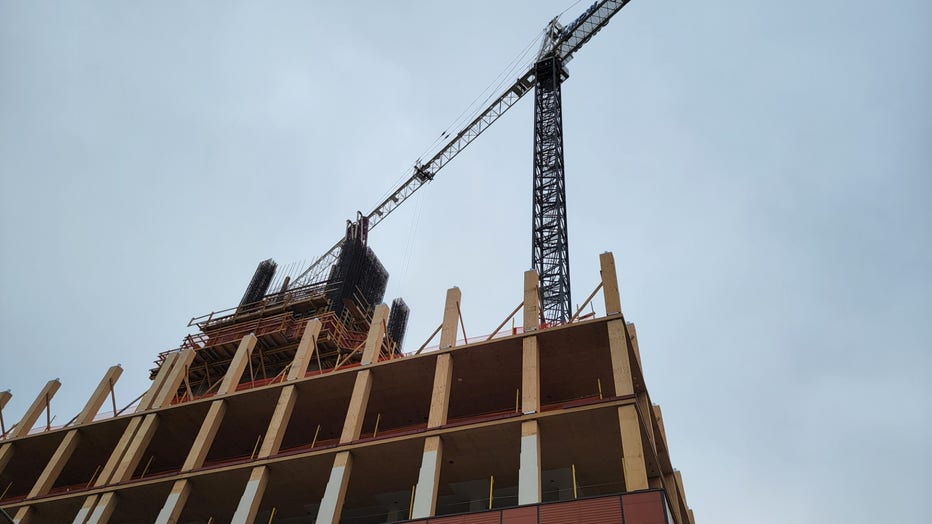 Construction at 1510 Webster Street in Oakland, Calif. The high rise will be will be the tallest beamless mass plywood panel structure in the world, according to developers. (Jeff Brink/DCI Engineers )