Former First Lady Rosalynn Carter dies at 96
PLAINS, Ga. - Rosalynn Carter, the former first lady and humanitarian who worked to change the stigma around mental health, has died. She was 96-years-old.
The Carter Center broke the news Sunday afternoon.
Carter died peacefully at her home in Plains at 2:10 p.m. They said her family was by her side.
Born in Plains, Georgia on Aug. 18, 1927, Eleanor Rosalynn Smith was the oldest of four children, After her father died when she was just 13, she worked with her mother making dresses and helping watch her other siblings while remaining in school. After a lot of hard work, she graduated and was enrolled in Georgia Southwestern College at Americus. 
During her freshman year of college, she began dating Jimmy Carter, then a fresh-faced Navy recruit studying at the U.S. Naval Academy in Maryland. One year later she married him at the age of 18 in their hometown.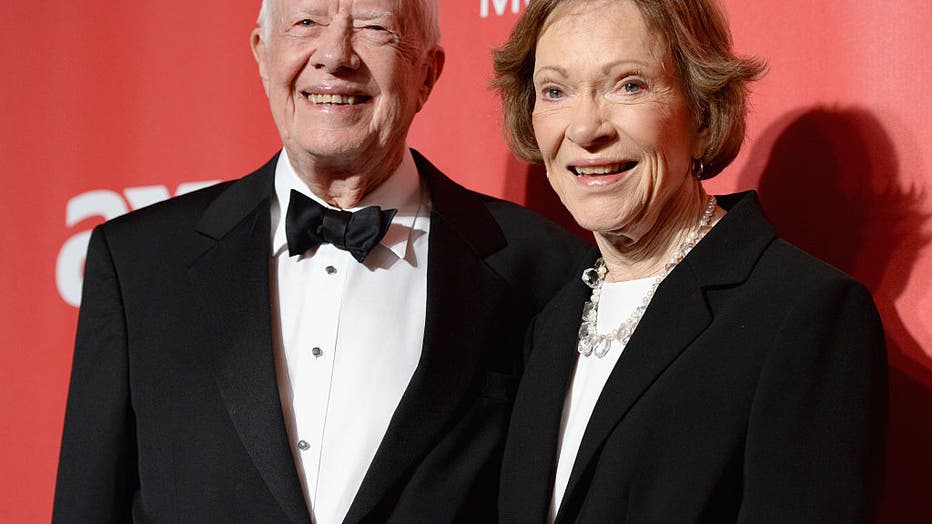 LOS ANGELES, CA - FEBRUARY 06: Former U.S. President Jimmy Carter (L) and former First Lady Rosalynn Carter attend the 25th anniversary MusiCares 2015 Person Of The Year Gala honoring Bob Dylan at the Los Angeles Convention Center on February 6, 2015
Rosalynn and Jimmy's marriage forged a partnership that would last 77 years, taking them from a peanut farm in tiny Plains to the Governor's Mansion in Atlanta to the White House.
"Rosalynn was my equal partner in everything I ever accomplished," President Carter said. "She gave me wise guidance and encouragement when I needed it. As long as Rosalynn was in the world, I always knew somebody loved and supported me."
She was soft-spoken, but deeply connected to the issues that would continue to push her to do more and help more people, well into her 90's.
"I don't think about how old I am. I think that's one good thing, is that I've got so much to do out there, and so much that I want to do," Carter said.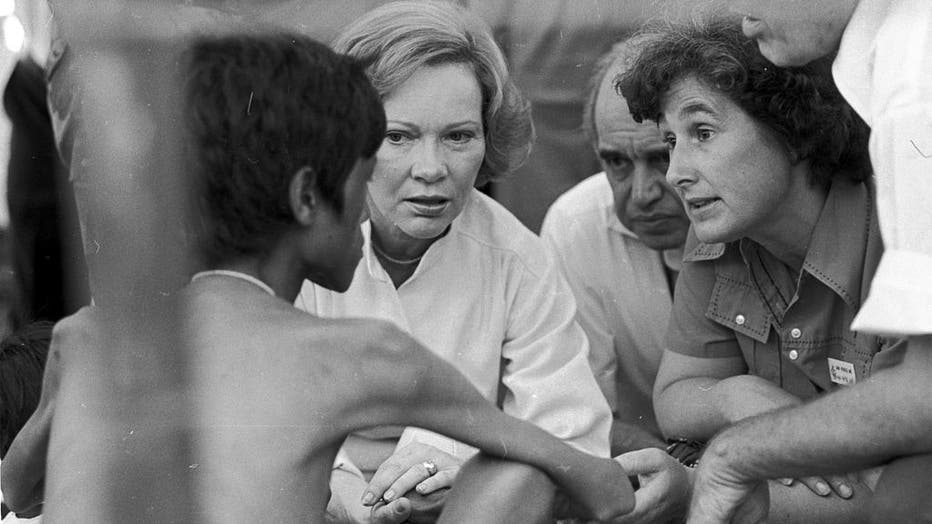 US First Lady Rosalynn Carter (second left) listens to an unidentified Cambodian refugee at the Sa Kaeo Refugee Camp (located near the Cambodian border), Thailand, November 9, 1979. The camp had been recently established by the UNHCR (United Nations
One of Carter's lifelong missions was to improve access to mental health and break down the stigma and barriers keeping people from getting help.
"This fight is not finished yet, we've got to get people into treatment," she said. "It's just something that is so important."
The more Mrs. Carter says she learned about brain disorders, the more she became convinced recovery is possible for many with mental illness.
"Millions are still suffering, and it's so sad to me. The stigma is still so bad. So, I wanted people to know what I know. So they can get over the stigma. It's all biological, the brain, the mind is all part of our body, and we've learned that."
When the Carters left the presidential spotlight, their work continued.
Through the Carter Center, founded in 1982, the former president and first lady would become tireless campaigners for fair and transparent elections, observing more than 100 elections around the world.
They committed themselves to the poorest, most underserved countries, tackling long overlooked and painful diseases like Guinea worm and river blindness, helping remote communities get better access to clean water and needed medication.
Thirty years ago, Guinea worm affected 3.5 million people. By 2017, there were only 30 cases.
But for Rosalynn Carter, there was always the pull to go back, to do more.
"Every time I say I'm not going to go, and every time I'm right there. Because something so good happens," she told FOX 5's Beth Galvin.
Rosalynn Carter lived with a quiet but deep sense of purpose.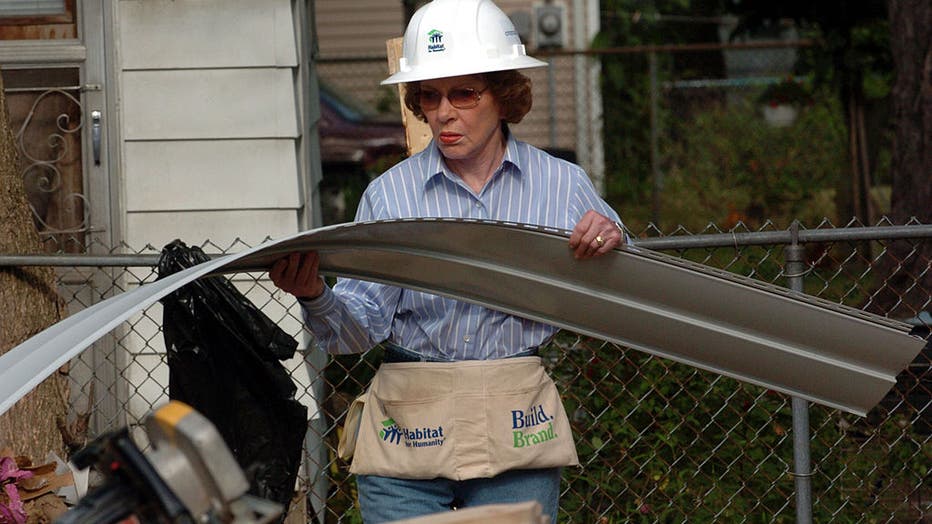 Rosalynn Carter during Habitat for Humanity - 2005 Jimmy Carter Work Project - Day 2 at Benton Harbor in Benton Harbor, Michigan, United States. ***Exclusive*** (Photo by R. Diamond/WireImage)
She created the Rosalynn Carter Institute for Caregiving at her alma mater Georgia Southwestern State and became well known for her work with Habitat for Humanity.
She was compelled, until the very end, to make a difference in the world.
"I've had a lot of opportunities. I have had a lot of opportunities that many people don't have. I hope I took advantage of them."
She's survived by her husband, her four children Jack, James "Chip" III, Donnel "Jeff" and Amy, 11 grandchildren and 14 great-grandchildren.
"Besides being a loving mother and extraordinary First Lady, my mother was a great humanitarian in her own right," said Chip Carter. "Her life of service and compassion was an example for all Americans. She will be sorely missed not only by our family but by the many people who have better mental health care and access to resources for caregiving today."
ALL ROSALYNN CARTER STORIES
The Carter Center said information on her funeral and other memorial events would be made available soon.
There is a tribute website and condolence book set up to share support and love with her friends and family.