'History being made': Photo of Mountain View Fire Department's all-female crew goes viral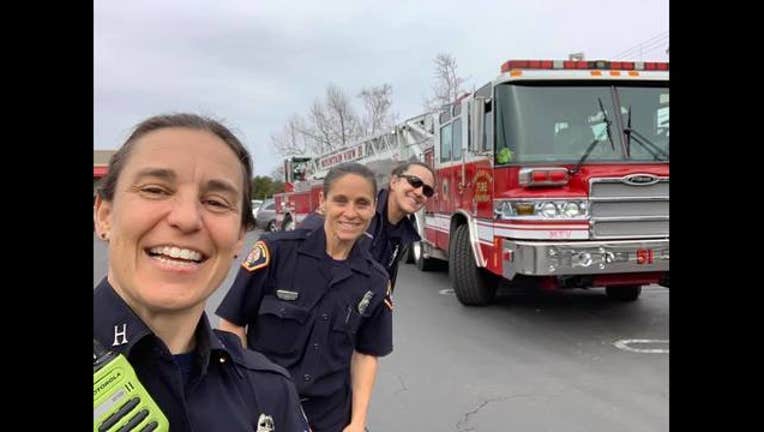 article
MOUNTAIN VIEW, Calif. (KTVU) - Three woman firefighters of the Mountain View Fire Department have made history, and their photo marking the moment has gone viral.
The photo posted on March 1 shows Capt. Jenna Graham, fire engineer Patty Juergens and firefighter paramedic Alison Costello making up their department's first all-female crew.
Graham and her two long-time colleagues happened to be assigned to the same fire engine that day, and it was a moment that needed to be noted, as the captain realized that it was a first of its kind occurrence in her department. 
They snapped a selfie of the three of them in front of their fire truck, an image that's now been shared across the Bay Area and around the country. 
"HISTORY being made. It took us way too long, 145 years," the caption in the post said. "Since 1874, for the first time in our history and on the biggest apparatus in our fleet, on our 100' Tiller Truck, we have an all female crew!"
Since being posted, which happened to be on the first day of Woman's History Month, the image has been shared more than 1,300 times and received more than 4.5K positive reactions on Facebook.
People including former and current female firefighters have left comments celebrating the moment and offering words of gratitude. 
"I became a firefighter in 1983 and told the ones against me that one day there would be company's that are all women!" wrote Carol Muhaw DaCosta on Facebook. "Thanks for proving me right! Way to go sisters!" 
"Woo hoo strong work ladies from a retired Female Fire Lt/Paramedic!!" said Beth Krieger Boone. 
"THE POWER OF WOMEN! We not only thank you for being powerful women but for your service! Cheers!" wrote Diane Reid-Davis. 
The Sunnyvale Department of Public Safety also weighed in with praise and in the spirit of solidarity saying, "Here's to strong women everywhere! From our crew to yours, keep up the great work!!"
For members of the Mountain View Fire Department, it's just another reason they love being a part of this team. 
"I am so proud of all our firefighters. I tell people regularly I am the luckiest person in the world to put on this uniform," department spokesman Robert Maitland told KTVU. "When something positive comes up that doesn't surprise me one bit."