Hundreds demonstrate for more public education funding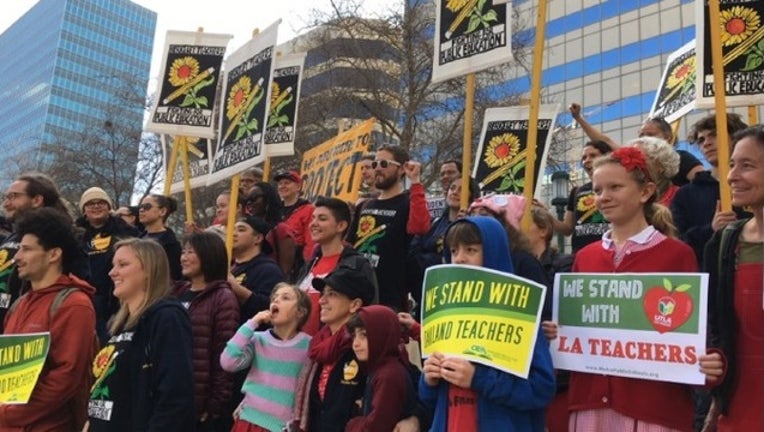 article
OAKLAND, Calif. (BCN) - Chanting, singing and waving banners, hundreds of educators, parents and students demonstrated outside Oakland City Hall Saturday calling for more state funding for public education.
The noon rally was organized by the East Bay Coalition of Public Educators, composed of California Teachers Association union chapters and parents, community groups and students.
Teachers from all over the East Bay attended the rally, with some coming from as far away as Santa Rosa.
"Are you ready to fight?" Liz Ortega, executive secretary-treasurer of the Alameda Labor Council, asked the crowd, which roared back, "Yes!"
Keith Brown, president of the Oakland Education Association, followed her onstage.
"Today we unite for Oakland kids, East Bay kids, kids all over California," Brown said. "We are here to advocate closing the Proposition 13 loophole and making a real investment in schools."
Brown was referring to an element of Proposition 13 that allows many commercial/industrial properties to avoid assessment when the property is sold.
State Sen. Nancy Skinner, D-Berkeley, echoed Brown's call in a speech that met with roars of approval from the lively crowd.
"It is morally bankrupt that we do not fund our schools," Skinner said. "Proposition 13 has starved our schools. We have to fix Prop. 13.
"We must make education a top priority in the state budget," Skinner added.
Assemblyman Rob Bonta told the crowd, "We are going to fight together to get funding for education."
Looking out over the audience, he said, "I love the sea of red."
Many of the participants dressed in bright red T-shirts, sweaters, leggings or other clothing. Some Tshirts were emblazoned with the slogan, "California Educators Rising."
Melanie and Jesse Kelsey of Oakland attended the rally with their two children, both of whom are students in Oakland public schools.
"We support our teachers. They need to be compensated for their hard work," Melanie Kelsey said.
Union chapters represented at the rally included the Alameda Education Association, Albany Teachers Association, Dublin Teachers Association, Fremont Unified District Teachers Association, Hayward Education Association and the San Leandro Teachers Association.