Interfaith group wants investigations into Santa Rita Jail death of Oakland man left languishing for days
DUBLIN, Calif. - A group of interfaith activists on Monday demanded answers and outside investigations into the death of an Oakland man at Santa Rita Jail, where he was left languishing for three to four days without anyone providing him any meaningful care, a story first exposed in a KTVU investigation earlier this month.
The group, comprising roughly 30 priests, rabbis and Muslim leaders, wrote Attorney General Rob Bonta, Alameda County District Attorney Pamela Price and Alameda County Sheriff Yesenia Sanchez, all saying essentially the same thing: How could the deputies and Wellpath nurses not have physically checked on Maurice Monk two years ago when he didn't get up to eat his food, take his medication thrown through the slat of his door or choose to go outside for recreation time? 
And who knew that he had been lying in nearly the same position for three or four days on his bunk until he was finally found dead on Nov. 15, 2021? 
"So our concern is that individuals who are suffering with serious mental illness inside of Santa Rita are not getting the proper care, the proper treatment and not being having what is normal treatment as people suffering with mental illness," said Kimberly Graves, a member of Families Advocating for the Seriously Mentally Ill. "So we're concerned that Maurice Monk, who's also suffering with serious mental illness, was left in his cell to languish and die."
Exclusive body camera video obtained by KTVU shows when deputies finally found the 45-year-old's body, stacks of uneaten food trays and pills lay scattered about the floor near an oblong puddle of urine by the foot of his bed.
Monk, an off-and-on security guard, had been left on his bunk motionless for so long that the red print reading "Alameda County" on the front of his jail-issued T-shirt had stained his chest, mixing with fluids that had been leaking out of his body, according to an internal sheriff's report. An autopsy photo shows several bedsores on his legs.
He was in jail because he missed a court appearance after verbally threatening a bus driver in June 2021 for not wearing a mask on the bus. Monk suffered from schizoaffective disorder. 
The coroner ruled that Monk died of natural causes, specifically hypertensive disease. But his family disputed that notion, alleging in a wrongful death suit that he died a "slow, torturous death." 
"We were appalled at the recent investigative reporting by KTVU that exposed the horrific treatment and lack of treatment of Maurice Monk as he lay dying in his cell at Santa Rita," the letter states.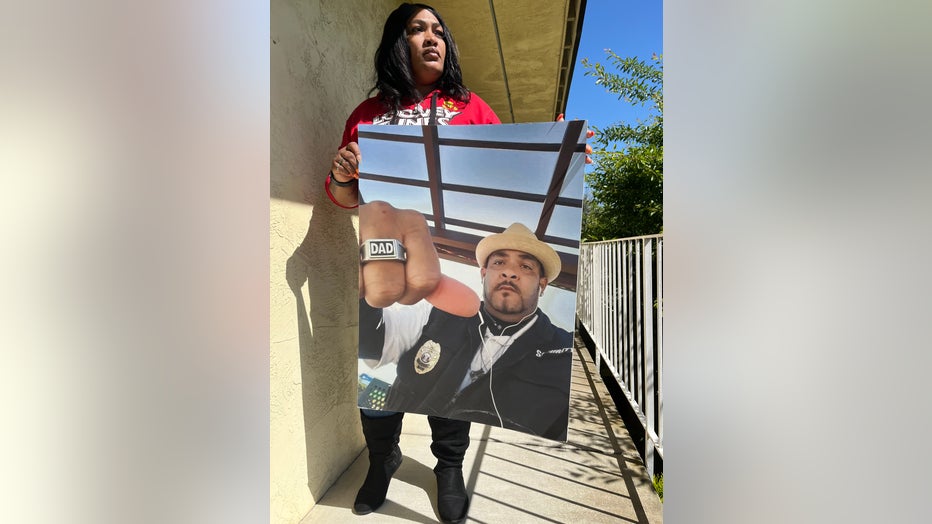 Elvira Monk holds a poster of her brother, Maurice Monk, who died in custody in Santa Rita Jail. 
The group made a formal request to the AG and the DA to begin investigating Monk's death, and prosecute those who neglected their care of Monk if criminal charges are warranted. 
The offices of Bonta, Price and Sanchez have not responded to the group and also have not responded to KTVU. 
The letters' authors include: Father Aidan McAleenan of St. Columba Catholic Church; Rev. Molly Baskette, the senior miniter of the First Church of Berkeley UCC; Meg Bowerman of St. Columba Catholic Church; Bob Britton, member Starr King Unitarian Universalist Church; Rev. Kelly Cowell of First Church of Berkeley, UCC; Rev. Dr. George C.L. Cummings, the executive director of Faith In Action East Bay; Micky Duxbury, The Stop Deaths in the Jail campaign of the Interfaith Coalition for Justice in our Jails; Rev. Deborah Lee, executive director for Interfaith Movement for Human Integrity and others. 
Adante Pointer, the Oakland civil attorney whose office made documents and body camera video surrounding Monk's case public, said he welcomed any outside inquiry,
"Everyone involved should be held accountable," he said Monday. "We welcome accountability."
It's unclear if any of the deputies or nurses involved in Monk's care, or lack thereof, received any discipline as Alameda County has not made any of those Internal Affairs results public. 
The group wrote specifically to the sheriff that they had supported a change in leadership from the past administration of Sheriff Greg Ahern, whom Sanchez beat in the June election. 
They told her that they had hope that she would "disrupt the pattern, policies, and culture that have created conditions that contribute to deaths in Santa Rita Jail."
But, they continued, they're not so sure now. 
"The unavoidable truth is that there appears to be a culture of apathy and indifference toward the lives of inmates at Santa Rita," the letter states. "This has been happening on your watch."
Lisa Fernandez is a reporter for KTVU. Email Lisa at lisa.fernandez@fox.com or call her at 510-874-0139. Or follow her on Twitter @ljfernandez