Oakland man left for dead at Santa Rita Jail, exclusive video shows
OAKLAND, Calif. - An Oakland man was left for dead for several days at Santa Rita Jail as new allegations are surfacing for the first time that deputies doctored the books to make it seem like they were checking in on him, when in fact, they did not provide any meaningful care, KTVU has learned.
Exclusive body camera video obtained by KTVU shows no one physically checked on Maurice Monk, who is seen lying half naked on his bunk, for at least three days, possibly four. And when deputies finally found the 45-year-old's body, stacks of uneaten food trays and pills lay scattered about the floor near an oblong puddle of urine by the foot of his bed. 
Monk, an off-and-on security guard, had been left on his bunk motionless for so long that the red print reading "Alameda County" on the front of his jail-issued T-shirt had stained his chest, mixing with fluids that had been leaking out of his body, according to an internal sheriff's report. An autopsy photo shows several bedsores on his legs.
"It feels like they treated my brother like a dog, like an animal," said Elvira Monk of Oakland, a home health care aid and one of Monk's sisters. "For them to treat him that way and for him to die that way by himself and lay there for that many days, it's disgusting." 
Monk's daughter even had stronger words for the deputies.
"The lies. The false logs. I don't understand why that's even allowed," Nia'Amore Monk said. "I know he's not the only one treated this way. They've been doing this for years. He's a Black man. No telling what they're doing to people in there." 
Monk was taken to jail two years ago after got into a verbal argument with an AC Transit bus driver for not wearing his mask and then missed a court appearance during the pandemic. Monk suffers from schizoaffective disorder. 
After a month in custody at Santa Rita Jail, Monk was officially declared dead of hypertensive cardiovascular disease on Nov. 15, 2021.
But deputies' narratives and a review of more than 150 body camera videos, obtained through a civil lawsuit – some of which were made public on Friday -- reveal that Monk was likely dead, or dying, for several days before that. 
And while the coroner ruled that he died of natural causes, Monk's case highlights what so many advocates have been saying for years: People incarcerated at Santa Rita Jail are not given the proper medical care and their ailments are not addressed in a humane or constitutional way.  
Monk was the 57th in-custody death at Santa Rita Jail since 2014 at the time.  Since then, that number has grown to 68. 
A KTVU investigation found that for the years 2014 to 2019, Santa Rita Jail's death rate was 50% higher than Los Angeles County and was the highest in the Bay Area.
When did Maurice Monk actually die? 
Despite the autopsy report, it's unclear exactly when Monk took his last breath. 
Part of what makes it difficult is that some of the body camera video is not dated right. For example, some videos are time stamped Nov. 16, 2021 – the day after Monk was pronounced dead – even though the video shows deputies finding Monk dead that day. 
But what the video does make clear is that Monk lay still, alone in his solitary cell face down with his pants off in nearly the exact same position for several days, with no one entering to speak to him, tap on his shoulder or find out if he was OK. 
Instead, deputies and Wellpath nurses are seen chucking pill cups through a slat in a cell door and banging on Monk's door with flashlights. No one, until the end, entered his room to speak to him directly and find out if anything was wrong.
It's unclear what medications were being thrown into his room. 
The lawsuit states Monk was not given his schizophrenia medications, haloperidol and benztropine, that he needed to take.  
Also, there is no proof beyond Oct. 27, 2021, that Monk received any blood pressure checks, despite the fact that he was labeled as the highest priority level. A sheriff's report notes that he didn't receive those checks because he was acting "agitated and aggressive."
But then Monk's demeanor changed. 
And for the last few days before his death, he could be seen on his bunk, nearly motionless. 
One or two days before his official death, Monk can be faintly heard gurgling. On another day, the video shows his left arm had moved slightly. 
And on Nov. 14, 2021, video shows a deputy entering the Monk's cell and kicking away several uneaten food trays stacked on the floor. Then the deputy exits without doing anything further. 
Over the course of the cell check-ins, one deputy wonders if Monk had "peed on himself," and then says out loud: "You know how it is, people just shitting on themselves." Other deputies stop by his cell over the course of a few days asking "is he awake? Is he alive?" 
Still, no one is seen actually entering his room to find out. 
"These deputies are paid and have a duty to look after the most vulnerable people in their care," said Oakland civil rights attorney Adante Pointer, who is representing Monk's family. "And these deputies and nurses just walked by him, completely ignoring signs of distress. This smacks of death at the hands of medical neglect."
Pointer described what happened to Monk as a "slow, tortuous death," adding, "the case of Maurice Monk's death is equal parts tragic, shocking and preventable."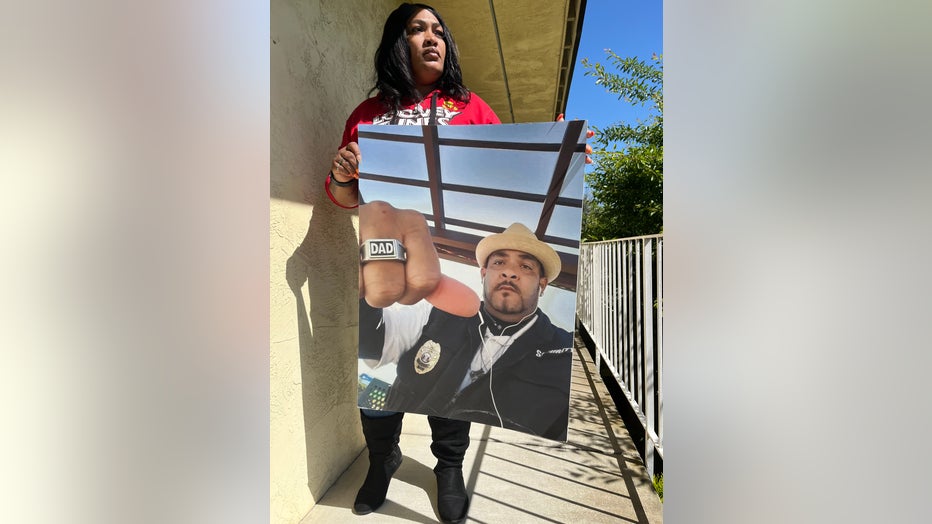 Elvira Monk holds a poster of her brother, Maurice Monk, who died in custody in Santa Rita Jail. 
Forged wellness checks alleged 
An internal sheriff's investigation found that some deputies forged the wellness check timelines and failed to identify plenty of signs that Monk had been in medical distress, according to Pointer's lawsuit.
"Indeed, one deputy even told investigators that it was normal for deputies to miss several wellness checks and simply fill them in later to suggest deputies had conducted the checks," the lawsuit alleges. 
Jail policy dictates that deputies must check on anyone in Housing Unit 1, where incarcerated people are held in isolation, every 30 minutes. But the policy doesn't spell out that the "check" means the person must be physically touched or spoken to directly. 
The deputies are seen peering at Monk through the slat in the door or speaking to him from the door frame. 
The coroner, who works directly for the sheriff, did not note any rigidity in Monk's body or find anything suspicious during his autopsy. 
But internal reports indicate otherwise. 
Capt. Tim Schellenberg wrote in an email to lieutenants that Monk "may have been dead for quite some time," according to the lawsuit. 
The day before Monk was found dead, another incarcerated man told deputies that Monk hadn't eaten since Nov. 10, 2021.
"He's been like that for a day or so," the man said.
The deputy did not seem concerned and moved on to the next cell, the video shows.
The incarcerated man then asked: "Are we just waiting for him to kick the bucket?" 
Deputy Ryan Sprague noted in an investigative report that Monk was last seen "alive and ambulatory on camera" on Nov. 11, 2021. 
Video does show Monk sitting up in his cell on that day. On subsequent days until his death, he was seen lying face down, half naked, on his bunk. 
Still, other deputies said they saw Monk moving on Nov. 14, 2021, but there is no body camera evidence to support that, the lawsuit notes.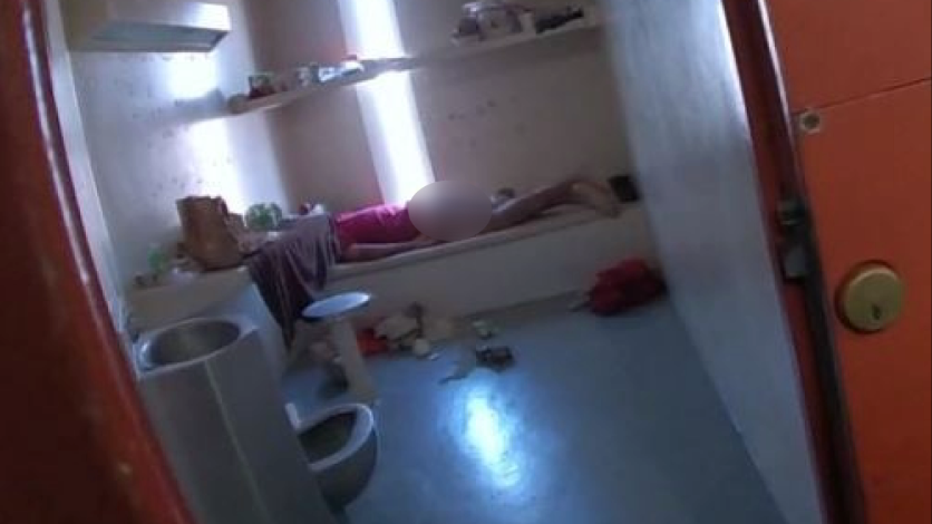 Maurice Monk lies half naked in his cell at Santa Rita Jail. He was found dead on Nov. 15, 2021. Photo: Body cam video via Adante Pointer/Lawyers for the People
What did the new sheriff know and when? 
Nearly two years ago, at least five sources with knowledge of the sheriff's department raised a flag to KTVU that Monk had been dead in his cell for several days. 
But no one would come forward on the record or provide evidence, citing retaliation.
As a result, KTVU made several public records requests over two years to see detailed investigative reports, Internal Affairs findings, deputies' logs and body camera video surrounding the days leading up to Monk's death.
All the requests were denied.
This new information came to light, only because Alameda County was mandated to provide the video and documents to Pointer and his colleagues at Lawyers for the People, Patrick Buelna and Ty Clarke through their civil rights lawsuit on behalf of Monk's daughter, Nia 'Amore Monk. 
Over the course of five months, the legal team reviewed each frame of video and put together a timeline leading up to Monk's death. 
On Friday, the lawyers filed an amended complaint to their suit in U.S. District Court in Oakland and won the legal battle to make at least some of the body camera video public. 
At the time of Monk's death in 2021, Sheriff Yesenia Sanchez was commander of the jail, working underneath then-Sheriff Greg Ahern.
Shortly after she was elected sheriff in June 2022, KTVU asked Sanchez what she knew about Monk's death. 
Sanchez answered that she didn't have any facts about Monk, but she acknowledged she had heard the allegations and would investigate.
Sanchez ran her campaign promising a more progressive platform, vowing to be more transparent and reduce the number of in-custody deaths at Santa Rita.
Now that she is sheriff, Sanchez declined all comment on Monk, citing it is under active litigation. 
Discipline unknown 
It is unclear if any of the deputies were reprimanded, disciplined or fired stemming from Monk's situation.
KTVU asked to see the results of the Internal Affairs investigation but was told none fell under a state police transparency law and would not be made public.
California law mandates the public disclosure of an internal investigation only if law enforcement is found to have engaged in dishonesty, excessive force causing great body injury or sexual assault.
Therefore, the assumption is that the sheriff's IA investigation did not find the deputies responsible for any of those three categories. 
Pointer's firm was privy to those reports and cites some of the findings in the lawsuit. 
The lawsuit indicates that the sheriff's own internal investigation found "numerous policy violations…including falsification of observations logs and failures to identify numerous signs that Mr. Monk was in distress." 
As for the role of Wellpath, the healthcare company that provides services to the jail, Sanchez spoke in general about that to KTVU in a separate interview.
She acknowledged that it is her "responsibility to make sure that we're keeping our service providers accountable."
Sanchez added: "So any time we have an issue that pops up, we do reviews and we do touch base with our providers to make sure that they're following what they're contractually obligated to."
Wellpath, which has a $250-million, 5-year contract to provide healthcare at Santa Rita Jail, did not respond for comment.
In Pointer's opinion, consequences should have been meted out for how Monk was treated. 
"There must be some kind of consequence for bad behavior," Pointer said in an interview. "Someone has to say 'the buck stops with me and from this point forward, if you behave in this way, you cause someone to die, you cause a family to mourn, you cause a daughter not to have her father, then you have to pay.'"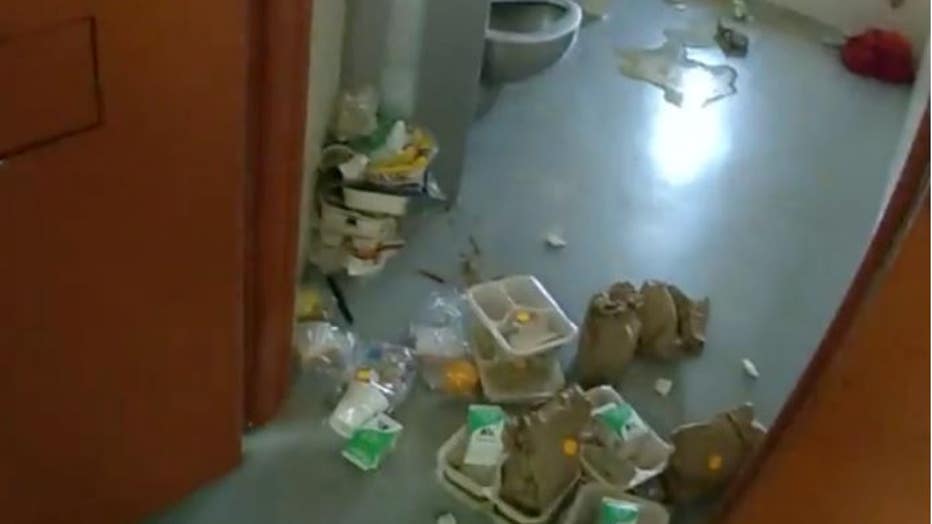 Alameda County sheriff deputies' body camera shows the uneaten food trays in Maurice Monk's cell at Santa Rita Jail. November 2021 
Medical negligence alleged
Monk's early life had been good, said both his sisters, Elivra and Tiffany Monk. 
He was voted "Mr. Castlemont" as a teenager because he was good-looking and popular at the East Oakland high school, his sisters said. 
He was also offered a full ride to Sacramento State on a football scholarship.
But in college, Monk was diagnosed with bipolar disorder and schizophrenia.
His life took a downward spiral because of these mental health issues, his sisters said.
He had been seen at Kaiser by a psychiatrist for at least six years, and his sisters did their best to take him each month to receive his Haldol shots. 
When he was medicated, Monk was funny, talkative and a great dad.
Daughter Nia'Amore Monk said her father attended school birthday paries and her cheer team, driving her sometimes from Stockton to Oakland for practice and meets, without complaint.
"He was that dad who was always around," she said. 
Breaking down in tears, she added: "He really, really cared about people. What he went through is so wrong." 
Monk was arrested on June 2, 2021, after he cussed at an AC Transit bus driver, telling him he would "f--- him up," because he didn't want to wear a mask during the pandemic," court documents show.
The charge was reduced to a misdemeanor. 
He then missed a court appearance because a deputy turned him away from the courthouse door, for a reason that is still unclear. But that missed appearance sparked a warrant out for his arrest, documents show.
He was taken to Santa Rita Jail on Oct. 11, 2021.
Alameda County Superior Court Judge Barbara Dickinson refused to lower his $2,500 bail, court records show.
And because his family couldn't afford to pay, Monk was forced to remain behind bars for more than a month.
Two years ago, Alameda County Public Defender Brendon Woods, whose office represented Monks, told KTVU there was no legitimate reason to hold him in custody.
"There is absolutely no reason I can think in regards to why the court would keep Mr. Monk essentially locked in a cage when he's suffering from mental health issues for missing a court date," Woods said. "The system continues to fail Black and brown people. The system continues to fail poor people. The system continues to fail people with mental illness."
Elvira Monk had contacted the jail to let them know her brother needed to take his prescribed medications, specifically Haldol, for his schizophrenia.
At first, she said she was told that she couldn't provide the medication because the pills had to come directly from Kaiser. Then she was told she could email the prescription information to the jail, but her emails seemed to go to the "junk" basket and were never received, she said.
Finally, she was told to fax the information in on Nov. 16, 2021.
But it was too late. He was already dead. 
Monk's death shouldn't be a 'footnote' 
The early messaging from the sheriff's office back then signaled that Monk died because he was likely sick and poor.
At the time, then-Sgt. Ray Kelly said in an email: "It's unfortunate when a person passes away at our jail. Many of the people who come to us suffer from serious illness, poverty and lack of access to regular external health care in the community."
He added: "We go to great lengths to make sure all people in our custody receive exceptional health care and other services."
Relatives certainly dispute that Monk received "exceptional" healthcare. 
In fact, quite the opposite. 
Elvira Monk said she and her family want the deputies and Wellpath staff involved to be fired or disciplined, and at least, trained to do their most basic duty: Keep the people in their custody safe. 
"If you don't like your job," she said, "then find another one."
She added that the lawsuit is about trying to effect change and prevent this type of negligence from occurring in the future. 
Monk's family and attorneys are keenly aware that if they didn't fight to obtain the body camera video and sheriff's reports, and painstakingly pore over them, then Monk's death would likely have gone unexamined forever.
They're hoping the coroner will review the case again and determine a new cause of death. 
And they're hoping that the new sheriff will make the changes that she promised.
"This needless death would have been swept under the rug and become just another footnote," Pointer said. "We're going to make sure that doesn't happen." 
Lisa Fernandez is a reporter for KTVU. Email Lisa at lisa.fernandez@fox.com or call her at 510-874-0139. Or follow her on Twitter @ljfernandez