Internal investigation found Emeryville officer lied, was rude, police transparency records show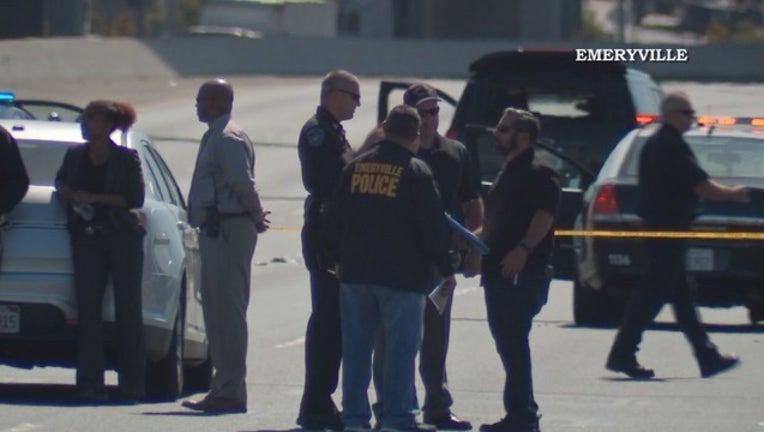 article
EMERYVILLE, Calif. (KTVU) - An Emeryville police officer resigned after an outside investigator found that he had left his jurisdiction  to hang out in well-known prostitution areas, lied about his whereabouts and didn't document why he used force when handcuffing citizens, among other sustained findings against him that were revealed in personnel files released under a new transparency law.
The 2014 sustained findings against former Officer Joshua Patterson were disclosed through a California Public Records Request under, SB 1421, which makes certain police personnel records available to the public. 2 Investigates has filed dozens of such requests and Emeryville, so far, has been the most forthcoming and the speediest in returning information. In addition, Emeryville also released records relating to an officer-involved shooting on Feb. 3, 2015 at Home Depot and soon plans to release records regarding the multi-jurisdictional officer-involved shooting on Sept. 27, 2017 at the Powell Street exit on Interstate Highway 80. 
Interactive map: Who is releasing police personnel files and who is not
In a prior interview, Capt. Oliver Collins said the majority of the officers in his department are honest and hard-working and that the Internal Affairs Unit works diligently to root out problem officers.
"No cop here wants a bad cop," Collins said previously. Collins did not wish to comment on Patterson's case specifically. 
Patterson's attorney, Justin Buffington of Rains, Lucia and Stern, who was listed in the report, did not respond for immediate comment either by phone or email on Monday. Patterson also could not be located for comment and he hasn't been with the department for five years. The head of the law firm, Michael Rains, previously told 2 Investigates that he doesn't think it's fair that the public gets to see such old records and he said that opening these old files without context could create a "witch hunt" atmosphere for police.
'What is it they're trying to hide?' Senator asks of police blocking release of personnel files
While many police departments have released personnel files, several other police unions in Contra Costa County, Los Angeles County and most recently, in San Francisco, are fighting the release of these documents prior to Jan. 1. In addition, California Attorney General Xavier Becerra said he would not release any files until the matter of "retroactivity" was settled in the courts. Rains is representing most of these unions.
According to reporting by 2 Investigates and the American Civil Liberties Union, the  majority of police departments have complied with SB 1421. More than 60 police departments across California have released files, 73 said they would release the files when they are ready, 93 are under agency review, 31 won't release and 11 have reversed course because of the Becerra's decision to withhold.
California AG responds to barrage of criticism over not disclosing police personnel records
In the Emeryville case, released late last week, Patterson was found to have violated 12 department policies ranging from not obeying regulations to bringing discredit to the agency. But investigators could not prove he had sex with prostitutes while on duty, which was one of the 15 total allegations against him. The report states that while there were "multiple allegations" that Patterson had engaged in sexual misconduct on duty with "several prostitutes," the investigation disclosed there was "insufficient evidence" to sustain the allegations or fully exonerate him. 
The extensive report was conducted by Michael Fraser of Fraser Investigations and Consulting in Pleasanton. 
What the investigation did find was that Patterson failed to report his status and location on several occasions, often going into Oakland into an area known as the "Track," south of Emeryville, which is a well-known prostitute hangout, according to the report. When asked by investigators why he went to Oakland and Berkeley, Patterson said he was never told he couldn't go outside of Emeryville without authorization and that he was instructed to make arrests, claiming San Pablo Avenue [Avenue] is "the best place to go for an arrest." He also said the chief told him to go out in the community and meet people.
Records also show Patterson was found to have committed other violations of department policy, including the fact that he didn't document properly that he had handcuffed a homeless person and used profanity when he shouldn't have, according to the report. 
"Clearly, Patterson failed to take those steps that were least intrusive and obtrusive," the report concluded.
David Snyder, executive director of the First Amendment Conation, a San Rafael nonprofit that is watching this law closely, applauded Emeryville police for disclosing the police records.
"A good number of police departments are following the law," he said. "I would hope others would follow suit." 
As for dredging up records that are five years old, or older, on police officers who have been fired or left the department, Snyder said: "The only reason it's five years later is because there has been unjustified delay of secrecy. Finally, the Legislature has corrected course."
Snyder added: "Police officers are vested with extraordinary power, so it's absolutely essential that the public know when officers have crossed ethical and legal lines. That way, the public can exert pressure to make sure that activity won't happen again."