Israel launches 400 strikes across Gaza, where health officials say hundreds of Palestinians killed
RAFAH, Gaza Strip - A barrage of Israeli airstrikes across the Gaza Strip on Tuesday crushed multiple residential buildings and buried families under rubble, as health officials in the besieged territory reported hundreds killed in the past day and the closure of medical facilities because of bomb damage and a lack of power.
The soaring death toll from Israel's escalating bombardment is unprecedented in the decades-long Israeli-Palestinian conflict. It augurs an even greater loss of life in Gaza once Israeli forces backed by tanks and artillery launch an expected ground offensive aimed at crushing Hamas militants.
Gaza's 2.3 million people have been running out of food, water and medicine since Israel sealed off the territory following the devastating Oct. 7 attack by Hamas on towns in southern Israel.
The Gaza Health Ministry run by Hamas said the attacks killed at least 704 people over the past day, including 305 children and 173 women; the ministry said it tallies daily figures collected from hospital directors. The AP cannot not independently verify the death tolls cited by Hamas.
Israel said Tuesday it had launched 400 airstrikes over the past day, killing Hamas commanders, hitting militants as they were preparing to launch rockets into Israel and striking command centers and a Hamas tunnel shaft. The previous day, Israel reported 320 strikes. Witnesses and health officials said many of the airstrikes hit residential buildings, some of them in southern Gaza where Israel had told civilians to take shelter.
One overnight strike leveled a four-story residential building in the southern city of Khan Younis, killing at least 32 people and wounding dozens of others, according to survivors.
The dead included 13 members of the Saqallah family, said Ammar al-Butta, a relative who survived the airstrike. He said there were about 100 people sheltering in the building, including many who had evacuated from Gaza City following Israel's orders for civilians in northern Gaza to move south.
"They were sheltering at our home because we thought that our area would be safe. But apparently there is no safe place in Gaza," he said.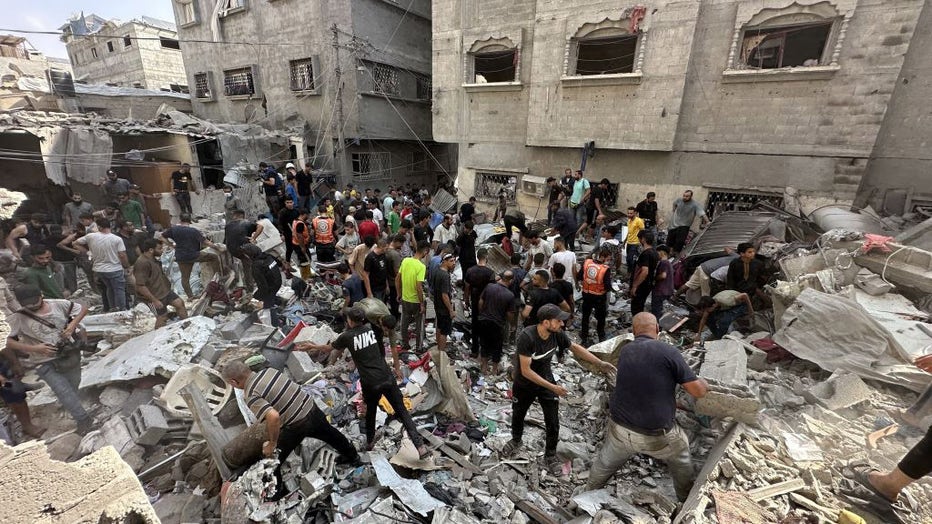 Civil defense teams and civilians conduct search and rescue operations at the scene following an Israeli airstrike on Nuseirat Camp in Deir al-Balah, Gaza on Oct. 24, 2023. (Photo by Doaa Albaz/Anadolu via Getty Images)
Another airstrike hit a bustling marketplace in the Nuseirat refugee camp in central Gaza, killing several shoppers and wounding dozens as they shopped for meat and vegetables, witnesses said.
Men used sledgehammers to break up concrete and dug with their bare hands through the jagged wreckage to save anyone they could, or recover the dead. Rescuers put an oxygen mask on the face of one man buried up to his chest in rubble as they worked for 15 minutes to free him.
In the nearby al-Aqsa Hospital, the bodies of three children killed in the day's bombardment were lined up on the floor, wrapped in white cloth.
In Gaza City, at least 19 people were killed when an airstrike hit the house of the Bahloul family, according to survivors, who said dozens more people remained buried. Workers pulled at least two children out of the collapsed building. Nearby, the legs of a dead woman and another person, both still half buried, dangled out of the wreckage.
The Hamas-run health ministry says more than 5,700 Palestinians have been killed in the war, including some 2,300 minors. The figure includes the disputed toll from an explosion at a hospital last week.
The fighting has killed more than 1,400 people in Israel — mostly civilians slain during the initial Hamas attack, according to the Israeli government.
As the death toll in Gaza spiraled, facilities to deal with the casualties were dwindling. A total of 46 out of 72 primary health-care facilities, and 12 out of 35 hospitals, stopped functioning, the World Health Organization said.
Gaza's five main hospitals were all filled beyond capacity, the territory's health ministry said.
Hospital staff struggled to triage cases as constant waves of ambulances and private cars carrying wounded pulled up to hospital doors. The Health Ministry said many wounded are laid on the ground without even simple medical intervention and others wait for days for surgeries because there are so many critical cases.
RELATED: Israel-Hamas war fuels flood of misinformation on social media: Here are the facts
While Israel has allowed a small number of trucks filled with aid to enter, it has barred deliveries of fuel to Gaza.
The rising toll has made it hard for Palestinians to bury the huge numbers of dead, with cemeteries being forced to excavate and reuse old plots and bury up to five bodies in one grave.
"Bodies pour in by the hundreds every day. We use every empty inch in the cemeteries," said Abdel Rahman Mohamed, a volunteer who helps transfer bodies to Khan Younis' main cemetery. "Some bodies arrive in pieces in bags. It's horrible."
Israel says it does not target civilians and that Hamas militants are using them as cover for their attacks. Palestinian militants have fired over 7,000 rockets at Israel since the start of the war, Israel said, and Hamas said it fired a new barrage Tuesday morning.
"We continue to attack forcefully in Gaza City and its environs, where Hamas is building up its terrorist infrastructure, where Hamas is arraying its troops," said Israeli military spokesman Rear Adm. Daniel Hagari. He again told Palestinians to head south "for your personal safety."
RELATED: Biden uses oval office speech to declare backing of Israel, Ukraine in time of war
On Monday, Hamas released two elderly Israeli women who were among the more than 200 people Israel says were taken to Gaza during the attack.
Appearing weak in a wheelchair and speaking softly, 85-year-old Yocheved Lifshitz told reporters Tuesday that the militants beat her with sticks, bruising her ribs and making it hard to breathe as they kidnapped her. They drove her into Gaza, then forced her to walk several kilometers (miles) on wet ground to reach a network of tunnels that looked like a spider web, she said.
Once there, though, her treatment improved, she said. The people assigned to guard her "told us they are people who believe in the Quran and wouldn't hurt us." Lifshitz, whose husband remains a hostage, said conditions were kept clean, she received medical care, including medication, and was given the same one meal a day of cheese and cucumber that her captors had. As she was released, she shook one Hamas member's hand.
Lifshitz and 79-year-old Nurit Cooper were freed days after an American woman and her teenage daughter were released. Hamas and other militants in Gaza are believed to have taken roughly 220 people, including an unconfirmed number of foreigners and dual citizens.
The Israeli military later dropped leaflets in Gaza asking Palestinians to reveal information on the hostages' whereabouts. In exchange, the military promised a reward and protection for the informant's home.
Israel has vowed to destroy Hamas. Iranian-backed fighters around the region are warning of possible escalation, including the targeting of U.S. forces deployed in the Mideast, if a ground offensive is launched.
The U.S. has told Iranian-backed Hezbollah in Lebanon and other groups not to join the fight. Israel and Hezbollah have traded fire almost daily across the Israel-Lebanon border, and Israeli warplanes have struck targets in Syria, Lebanon and the occupied West Bank in recent days.
Magdy reported from Cairo and Nessman from Jerusalem. Associated Press writers Wafaa Shurafa in Deir al-Balah, Gaza Strip, Aamer Madhani in Washington, Amy Teibel in Jerusalem and Brian Melley in London, contributed to this report.
This story has been corrected to show that the hospitals forced to close were in addition to the primary health facilities that closed.