James, Durant respond to Laura Ingraham's 'racist' comment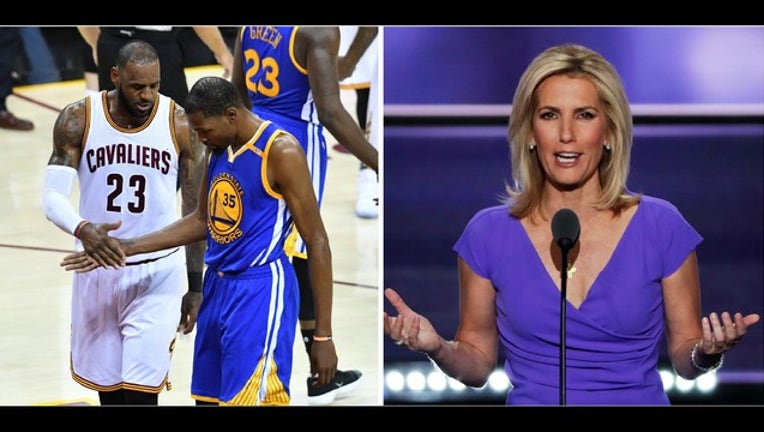 article
OAKLAND, Calif. (KTVU) - The Warriors Kevin Durant and the Cleveland Cavaliers LeBron James responded to criticism from Fox News host Laura Ingraham.
Their public feud began when the players appeared on a video with an ESPN host in which they questioned the leadership of President Trump.
On Thursday, Ingraham said the two NBA stars should stick to basketball, rather than politics. Then, on her show Friday night, she responded to calls that her comment was racist.
"Almost all the stories accused me of dog whistle commentary, and that my line, 'LeBron should shut up and dribble,' was racist. 'What?" said Ingraham. "I wrote a book 15 years ago – Shut Up and Sing – and I've been calling out variance of that title, to call out celebrities, for 15 years without regard to skin color, where you came from and what you do."
Reporters at NBA All-Star Weekend in Los Angeles asked James about Ingraham's comments.
"There was a time when athletes felt they shouldn't speak upon things, or they didn't feel the courage to speak about things that were going on," James said. "I do it because I'm passionate about it. I do it because I know this is bigger than just me personally."
James said he had never heard of Laura Ingraham before and is now thanking her for giving him an even bigger platform to speak on social issues.
In an interview with USA Today, Durant said he considered some of Ingraham's comments racist. 
"Ignorance is something I try to ignore," he said. "I do play basketball, but I am a civilian and I am a citizen of the United States, so my voice is just as loud as hers."