Stunning James Webb Space Telescope photo shows merging galaxies shining with light of a trillion suns
article
NASA's James Webb Space Telescope captured brilliant images of two spiral galaxies 250 million light-years away that have been merging for the last 700 million years.
Arp 220, found in the constellation Serpens (the Serpent), is an ultra-luminous infrared galaxy (ULIRG) that shines brighter than more than 1 trillion suns, according to the Space Telescope Science Institute (STScI).
In comparison, the STScI says the Milky Way doesn't shine as bright and has a luminosity of "only" about 10 billion suns.
The STScI says the collision of the two spiral galaxies that formed Arp 220 began 700 million years ago and sparked a colossal burst of star formation with about 200 massive star clusters residing inside the packed, dusty region that stretches about 5,000 light-years across.
That distance is about 5% of the entire Milky Way, the STScI added.
Previous observations showed about 100 supernova remnants in an area equal to less than 500 light-years. However, the STScI said NASA's Hubble Space Telescope uncovered the cores of the parent galaxies 1,200 light-years apart.
SEE THE GALAXIES SOON TO COLLIDE IN NEW IMAGES FROM HUBBLE SPACE TELESCOPE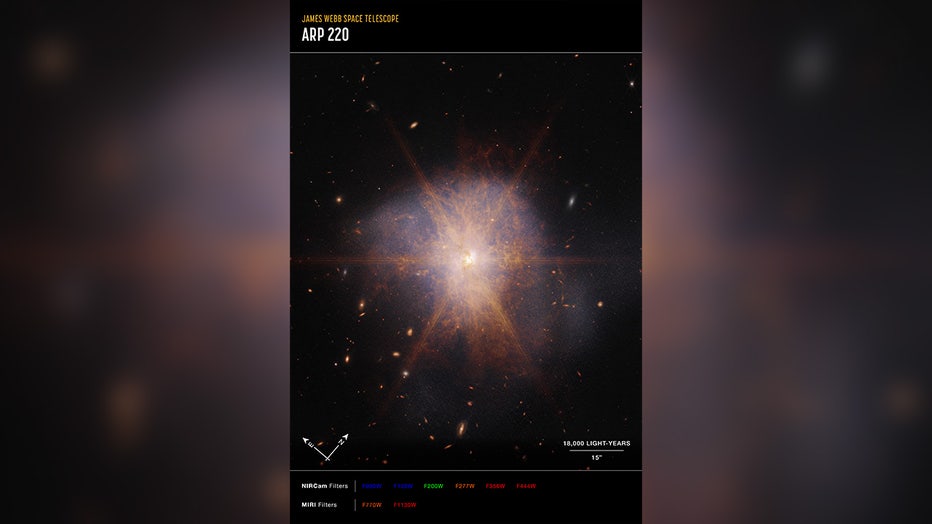 Image of Arp 220 captured by Webb's Near-Infrared Camera (NIRCam) and Mid-Infrared Instrument (MIRI), with compass arrows, scale bar, and color key for reference. (NASA, ESA, CSA, STScI / NASA)
Each of those cores, the STScI added, has a rotating, star-forming ring blasting out of the infrared light that can be seen in the newly released James Webb Space Telescope image.
The light creates diffraction spikes, the starburst feature in the photo.
JAMES WEBB SPACE TELESCOPE LAUNCHES ON CHRISTMAS DAY BEGINNING 1 MILLION-MILE JOURNEY
On the outskirts of Arp 200, the Webb image shows faint tidal tails, which are materials drawn off the galaxies due to gravity and is represented in blue in the photo.
The organic material in the photo is represented in reddish-orange.