Judge says FCI Dublin warden lied to jury, must show remorse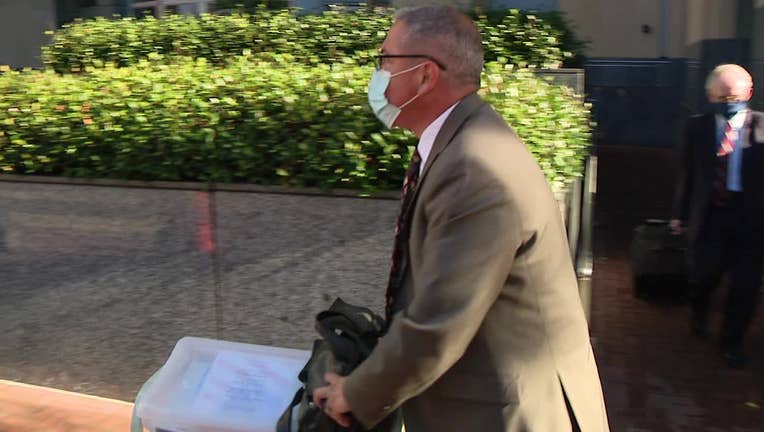 article
OAKLAND, Calif. - When a federal judge sentences former FCI Dublin warden Ray Garcia on Wednesday, there will be only one thing that she will be considering in deciding how long he will be sent to prison: Will he own up to sexually abusing incarcerated women in his care? 
"The one outstanding issue is taking responsibility and showing some measure of remorse," U.S. District Judge Yvonne Gonzalez Rogers said at a hearing on Friday in her Oakland courtroom. "You need to show that you did something inappropriate and illegal. I want these victims to be able to move on." 
So far, Rogers said it's clear that Garcia has not held himself accountable for fondling and groping three women during 2020 and 2021 at the all-women's prison in Dublin. He denied any wrongdoing all through his trial, despite a jury convicting him on eight counts of sexual abuse and lying to the FBI. 
"In my view, he perjured himself on the stand," Rogers said to Garcia's new attorney Kevin Little, as she denied his motion for a new trial. "The jury did not believe the lies he told." 
Little is asking that Garcia, 55, of Merced, spend no more than four years in prison, but hopefully, just two.
Meanwhile, the U.S. attorneys are asking Rogers to sentence Garcia to 15 years in prison – more than 10 years more than the federal sentencing guidelines recommend.
Rogers indicated that she would fall somewhere in between. She said she has been reading the U.S. Sentencing Guidelines, which are set to change in April. And she indicated she would land somewhere between a seven to an 11-year-sentence. 
Rogers also chastised Asst. U.S. Attorneys Mollie Priedeman and Andrew Paulson for trying to seek the maximum sentence for Garcia but not charging the case appropriately. 
Specifically, the prosecutors included the testimonies of five women who allege they were Garcia's victims in their pre-sentencing report, yet they chose to only charge the case with three women.
Rogers said that some of the stories of the five women "were even worse," and she questioned why the prosecutors didn't file a superseding indictment if they were so intent on making sure Garcia would be sent to prison for a longer time.
"The government is asking for a lot," Rogers said.  
She also told Garcia he would not be "getting a slap on the hand." 
Rogers added that she would not be remanding Garcia into custody after Wednesday's hearing and that he could go home, likely to celebrate his son's 16th birthday, before he would have to report to prison. 
Garcia is expected to have friends and family testifying on his behalf at the sentencing hearing. Some of Garcia's sexual abuse victims are expected to testify as well. 
Garcia is the first warden in U.S. history to be sent to prison on charges of sexual abuse, and he is one of five correctional officers at FCI Dublin charged with these crimes. Four of these officers, including Garcia, have so far been convicted of sexual abuse of a ward and abusive sexual contact. 
Rogers had repeatedly noted how egregious the conditions are at Dublin in terms of sexual abuse.  
She also noted that Garcia's sentencing will be a difficult day for everyone. 
"No one will get what they're asking for," she said. 
Lisa Fernandez is a reporter for KTVU. Email Lisa at lisa.fernandez@fox.com or call her at 510-874-0139. Or follow her on Twitter @ljfernandez