Juror who skipped celebrity trial for island vacation slapped with 30-page essay in lieu of jail time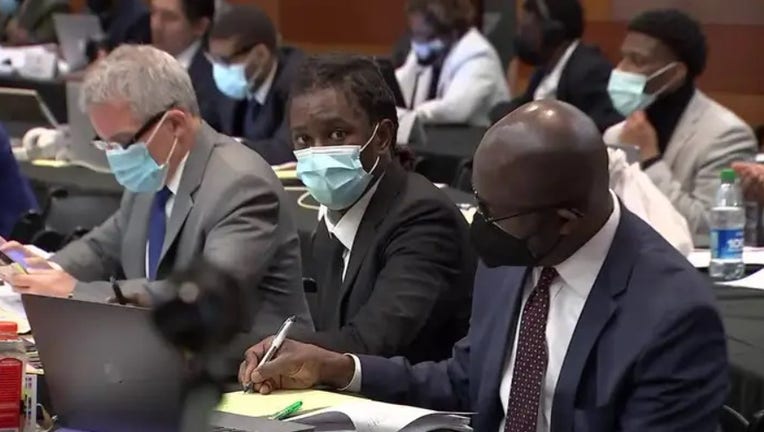 article
A potential juror being considered in the Atlanta trial for over a dozen people, including a prominent musician, was ordered to write a 30-page essay – complete with primary and secondary sources – in lieu of jail time after skipping court for an international trip, according to multiple reports. 
Juror No. 64 was among the swaths of people being considered in the trial for Rapper Young Thug and 13 others accused of racketeering, creating a violent street gang and promoting the gang's alleged criminal activities through Young Thug's music, the Atlanta Journal-Constitution reported. 
Hundreds of potential jurors have filed in and out of the Fulton County courthouse in Atlanta, and the stream of possible jurors is expected to continue until jury selection ends sometime around the end of next month.  
Juror No. 64, whose name is being withheld, went before Fulton County Chief Judge Ural Glanville on Thursday, just hours after she was reportedly taken into custody at a local airport on Wednesday.
RAPPER GUNNA, INDICTED WITH YOUNG THUG, SURRENDERS TO POLICE, BOOKED INTO ATLANTA JAIL ON RACKETEERING CHARGE
"Oh no, this is serious," the juror said upon entering the courthouse's jury assembly hall, according to the AJC.
The woman told the court she had booked her trip to the Dominican Republic on Dec. 29, 2022, one day before she opened her jury summons, she said. She travels frequently for work, she noted, as was the case for the January trip.
She initially attended jury selection when required on Wednesday, Jan. 4, and then left for the Dominican Republic that Friday. She said she asked before she left court on Wednesday if there were any exceptions, noting that she was aware that a hearing for potential jurors facing "hardships" related to jury duty was scheduled for the following Monday, Jan. 9, when she would be out of the country.
"I asked, was there any exceptions?" She said she was told, according to video shared online by Law & Crime Network, "The best you could do was send an email with the details and explanation."
She went on: "They said send an email, and I did the first-thing the next morning. I also called aggressively trying to get through."
Juror No. 64 added that the court's voicemail system notified her to send an email with any issues related to summonses "and you will not be penalized."
GEORGIA INMATES REPORTEDLY CAUGHT BRUTALLY BEATING ANOTHER FACE ADDITIONAL CHARGES
"I didn't really know I was in violation until the sheriff showed up," she went on. "After, I realized… basically because family started calling me from seeing the news and reading the paper or whatever. And I called back then. I couldn't leave… I was on a boat, and I had no way to get off."
Glanville questioned the woman throughout her explanation, including about why she chose to wait to notify the court of her trip until Jan. 5, instead of immediately upon learning of her summons. 
"Honestly, your honor, my mail was stacked. I went through, and I saw that it said we had to do it within 10 days, I believe it said," she said. "So, my thought was just to show up to not be – every move I made was to not be negligent of the jury summons."
RAPPER GUNNA ENTERS PLEA IN ATLANTA RACKETEERING CASE
Glanville held the potential juror in contempt, he said, but handed down an unusual sentence. 
"Contempt is punishable usually but a fine of $1,000 and/or 20 days in jail," Glanville said. "In order for you to satisfy your contempt, I'm going to commute your 20 days, and require you to write a 30-page paper on the importance of jury service." 
An essay in lieu of jail time is unusual in and of itself, but Glanville had more: "You have to do APA style. You're going to have to use at least 10 primary sources, 10 secondary sources."
He went on to describe how she would need to write, among other things, about the history of jury service and "who could not serve on a jury," discrimination and jury service in Georgia. 
ATLANTA SUSPECTS VANDALIZE HISTORIC CHURCH WITH THREATENING GRAFFITI; FBI OFFERS $10K REWARD
"Years ago, people who looked like us couldn't serve on juries. It was prohibited," Glanville explained. 
The paper was due to be submitted electronically within three weeks, Glanville said. 
"We're going to run it through a plagiarism check – you gotta write it yourself," the jurist said. "And you have to come back and talk to me about it."
Juror No. 64 is reportedly due back in court on Feb. 13.
Young Thug, the 31-year-old rapper born Jeffery Lamar Williams, was one of the 28 people charged in connection with the alleged RICO scheme. Prosecutors accused the defendants of establishing a Bloods-affiliated gang, "Young Slime Life," and carrying out a slew of violent crimes to make money and grow more powerful. 
CLICK HERE TO GET THE FOX NEWS APP
According to the AJC, the trial is expected to last as long as nine months, and would be the longest in Georgia's history, if so. 
Read more of this story from FOX News.