Kitten rescued from Golden Gate Bridge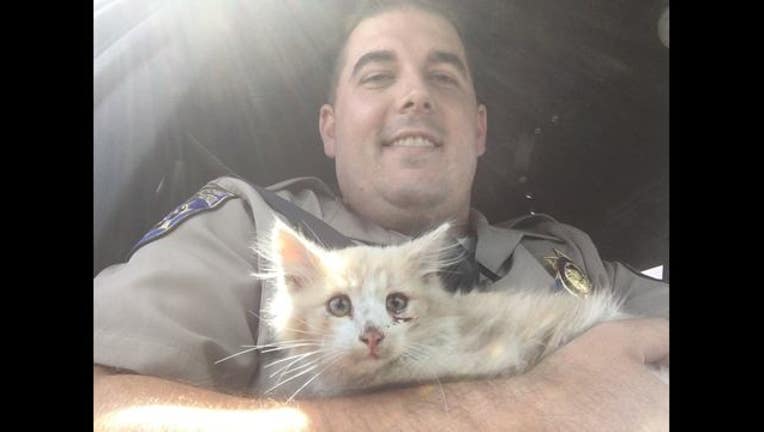 article
California Highway Patrol Officer Matt Smith likely saved one of a kitten's nine lives when he rescued it from the moveable median barrier on the Golden Gate Bridge Saturday afternoon.
Someone called the CHP around 2:50 p.m. to report seeing a small kitten in the middle of the bridge. Officers drove north on the bridge but didn't see the kitten so they made a southbound pass, CHP Officer Andrew
Barclay said.
As they approached the south tower, they saw a furry head pop out from a gap between the sections of the barrier that separate north and south lanes of the bridge, Barclay said. Officers blocked traffic, quickly freed the feline to safety and drove off the bridge.
Smith took the kitten to the VCA Madera Pet Hospital in Corte Madera near the CHP's office. Staff gave it a thorough exam and a bath and sent Smith and the kitten on their way with a goodie bag, medicine and pet carrier. The hospital staff refused payment for their services, according to the CHP.
Without a microchip or collar to identify the kitten's owner, Smith and the CHP adopted the adventurous feline and tentatively named it Bridges.
How the kitten got to the middle of the bridge without getting hit by a car is a mystery. People sometimes drop off animals near the bridge, but more than likely the kitten crawled into a vehicle to sleep and jumped or fell out as the vehicle crossed the span, Barclay said.