Law enforcement lip sync battle booms in Bay Area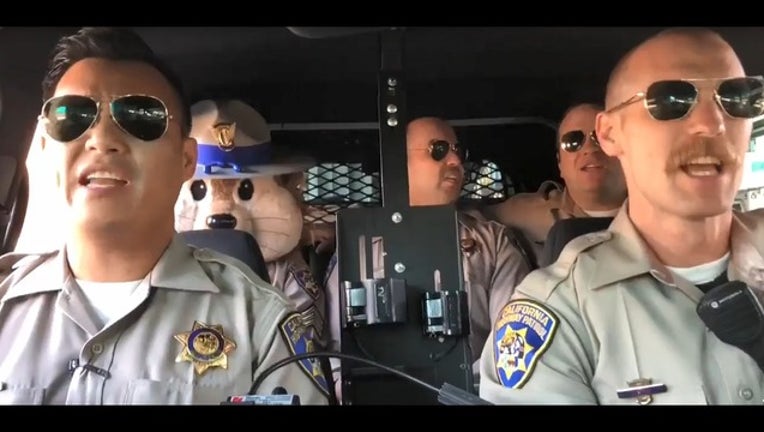 OAKLAND, Calif. (KTVU) - Police officers around the Bay Area have responded to a nationwide law enforcement lip sync battle that has propelled multiple videos into the viral realm.
It began last month when a sheriff's deputy in Texas posted a video of a song called "Fuiste Mala" by the group The Kumbia Kings. Deputy Alexander Mena's video erupted and now has over 1.5 million views. And since then the call to battle has spread throughout the country. 
The California Highway Patrol San Francisco joined in with a five-person – including Chipper the chipmunk – rendition of Queen's "Bohemian Rhapsody" on Thursday. 
Mobile users watch the CHP San Francisco lip sync here
While not all of the participants' videos are gaining traction quite like a Texas sheriff's deputy with a Selena-inspired entry, the San Mateo County Sheriff's Office may be the next big one with their impressively thoughtful delivery of "End of the Road" by Boys II Men. They're on a beach. There's a lot of hand gestures. It's fantastic. 
Mobile users watch San Mateo officers lip sync here
And then San Mateo officers flexed on a slew of local police departments by tagging nearly a dozen of them on Facebook with an efficient "care to bring it" message. 
Early Friday morning the Concord Police Department came though with their version of "Life Is a Highway" by Rascal Flatts. They chose the song from the film "Cars" because it "brings out the kid in all of us."
Mobile users watch Concord police perform here
On July 15, Napa police joined in with their "small town answer to the #LipSyncChallenge. Sgt. A. Ortiz broke out with a Spanish song, playing guitar in his patrol car. 
Mobile users watch Napa police here
San Francisco jumped back in the mix a few days later. This time it was SFPD. The police department tweeted Thursday "It's finally here!!!"
"Here it is, the moment you've all been waiting for," the department wrote, who added to pay attention "for a special guest appearance by a local notable!"
CHP Contra Costa is the latest to step up! Posting on Facebook, "You've asked and we've delivered because we just 'CAN'T STOP THE FEELING!' We had a fantastic time in our communities making this video. Thank you to all the great people that helped us out and participated."
Walnut Creek Police are the latest to join the fun. Now they've challenged Brentwood Police to step up.