Lewiston, Maine mass shooting latest: Police surround home in search for suspect
LEWISTON, Maine - Heavily armed police surrounded a home Thursday as they searched for a U.S. Army reservist who authorities say killed 18 people and wounded 13 in a mass shooting at a bowling alley and a bar in Lewiston, Maine.
"You need to come outside now with nothing in your hands. Your hands in the air," police shouted through a megaphone outside the home owned by suspect Robert Card's relative near the town of Bowdoin.
Dozens of law enforcement officials had descended on the property, with extended announcements calling for Card and anyone in the home to come out into the driveway. In most instances when police execute warrants — even for suspects wanted for violent crimes — they move quickly to enter the home.
"The announcements that are being heard over a loudspeaker are standard search warrant announcements when executing a warrant to ensure the safety of all involved," state police spokesperson Shannon Moss said. "It is unknown whether Robert Card is in any of the homes law enforcement will search."
Hundreds of law enforcement agents, including dozens of FBI agents, have been hunting for Card, a 40-year-old reservist with a history of mental health issues, since Wednesday night's shootings at a bowling alley and a bar that sent panicked patrons scrambling under tables and behind bowling pins and gripped the entire state of Maine in fear.
Schools, doctor's offices and grocery stores closed and people stayed behind locked door in cities as far away as 50 miles (80 kilometers) from the scenes of Wednesday night's shootings in Lewiston.
Robert Card, person of interest in Maine mass shootings (Androscoggin County Sheriffs Office)
President Joe Biden ordered all U.S. flags to be flown at half-staff as condolences poured in from around the nation, including from Maine native and author Stephen King, who called it "madness." The attacks stunned a state of only 1.3 million people that has one of the country's lowest homicide rates: just 29 killings in all of 2022.
The shooting suspect, Robert Card, is considered armed and dangerous and should not be approached, authorities said at a news conference. Card underwent a mental health evaluation in mid-July after he began acting erratically during training, a military official told The Associated Press.
Police said they have had no reported sightings of Card since the shootings at Schemengees Bar and Grille and at Sparetime Recreation, a bowling alley about 4 miles (6.4 kilometers) away. The Androscoggin County Sheriff's Office released two photos of the suspect walking into the bowling alley with his rifle raised to his shoulder.
A telephone number listed for Card in public records was not in service.
Eight murder warrants were issued for Card, 40, after authorities identified eight of the victims, police said. Ten more will likely be issued once the names of the rest of the dead are confirmed, said Maine State Police Col. William Ross.
Officials with Central Maine Medical Center said three of the injured people were in critical condition and five were hospitalized but stable.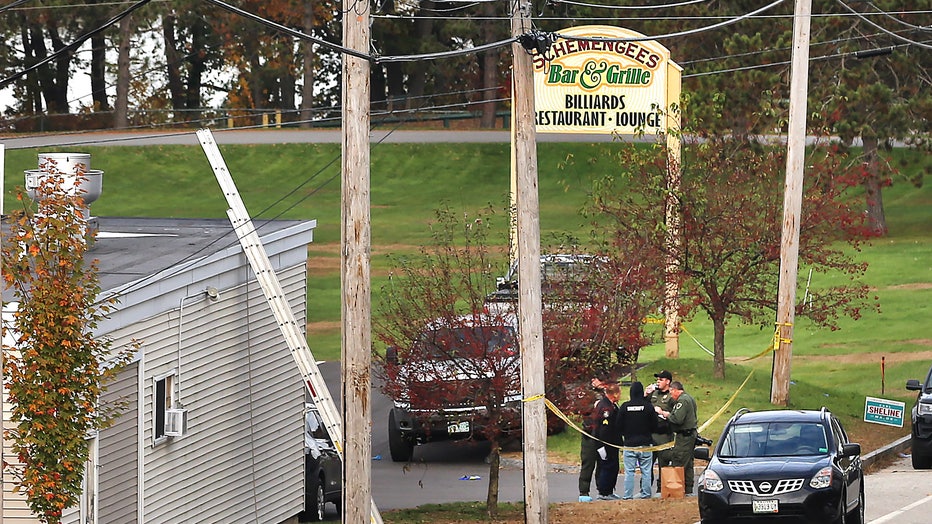 October 26: Police stand by the scene in the parking lot of Schemengees Bar and Grille which was the scene of a mass shooting the night prior. (Photo by John Tlumacki/The Boston Globe via Getty Images)
Lewiston shootings timeline
At 6:56 p.m., Auburn Communications Center was notified that a man walked into the Spare Time Recreation on Mollison Street in Lewiston and began shooting. This was confirmed by multiple 911 calls that followed.
At 7:08 p.m., The Auburn Communications Center received multiple calls that a man had come into Schemengees Bar and Grille Restaurant on Lincoln Street and began shooting.
Multiple law enforcement agencies and emergency medical personnel were dispatched to the scenes.
At 8:06 pm, police released a photo of the shooter to the media.
At 9:26 p.m., the Lewiston Police Department received a call identifying the man in the distributed photos as Robert Card, age 40, of Bowdoin, Maine.
At 9:56 p.m., the Lisbon Police Department notified Lewiston Police that they had located a white Subaru at the Pejepscot Boat Launch in Lisbon. The vehicle was identified as belonging to Robert Card.
Authorities said the shooting locations occurred at Schemengees Bar and Grille and at Sparetime Recreation, recently renamed to Just-In-Time Recreation, a bowling alley about 4 miles away.
The attack started at Sparetime, where a children's bowling league was taking place, about 7 p.m. Wednesday. One bowler, who identified himself only as Brandon, said he heard about 10 shots, thinking the first was a balloon popping.
"I had my back turned to the door. And as soon as I turned and saw it was not a balloon — he was holding a weapon — I just booked it," he told the AP.
Brandon said he scrambled down the length of the alley, sliding into the pin area and climbing up to hide in the machinery.
"I was putting on my bowling shoes when when it started. I've been barefoot for five hours," he said.
Less than 15 minutes later, numerous 911 calls started coming in from Schemengees Bar and Grille, which was offering 25% discounts to customers who work in the bar or restaurant industry.
A bulletin sent to police across the country after the attack said Card had been committed to a mental health facility for two weeks this past summer after "hearing voices and threats to shoot up" a military base.
Who is Robert Card?
A military official said Card was training with the Army Reserve's 3rd Battalion, 304th Infantry Regiment in West Point, New York, when commanders became concerned about him.
State police took Card to the Keller Army Community Hospital at West Point for evaluation, according to the official, who was not authorized to publicly discuss the information and spoke to The Associated Press on condition of anonymity.
Immediately after the shooting, police armed with rifles took positions around Lewiston, Maine's second largest city, with a population of 37,000. The once overwhelmingly white mill community has become one of the most diverse cities in northern New England after a major influx of immigrants, mostly from Somalia, in recent years.
Schools 50 miles (80 kilometers) away in Kennebunk closed as the search continued. Maine's largest city, Portland, closed its public buildings.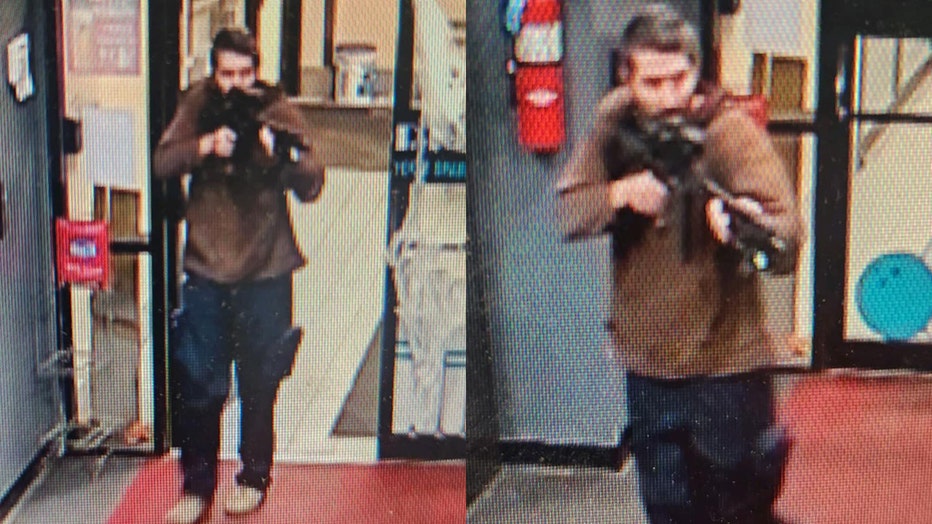 The Androscoggin County Sheriff's Office has released images of a suspected gunman in an active shooter alert. 
In Bates College in Lewiston, students stayed in dorms, blinds closed, said Diana Florence, whose son is a sophomore. She has a daughter who is a senior at the University of North Carolina at Chapel Hill, which was locked down twice last month for a shooting and a man with a gun.
"I could not believe it — that this is happening again. It's happening to my son after it just happened to my daughter," she said in a phone interview Thursday.
A security guard escorts people out of Central Maine Medical Center, Lewiston, ME on Thursday, October 26, 2023. Many victims of last night's mass shooting were taken to Central Maine Medical Center. (David McGlynn for Fox News Digital)
The shootings mark the 36th mass killing in the United States this year, according to a database maintained by The Associated Press and USA Today in partnership with Northeastern University.
Maine doesn't require permits to carry guns, and the state has a longstanding culture of gun ownership that is tied to its traditions of hunting and sport shooting.
Florence, of New York, said she and her son at Bates College spoke and texted late into the night, and that he was shaken up but OK. Meanwhile, she was left angry.
"I think this is about our laws, frankly. That we cannot seem to pass any sort of sensible gun laws or attack mental health in the way we should," she said. "And our kids are paying the price. And even if they're not killed or injured, the trauma that is going to linger long past the semester is palpable."
Author Stephen King responded to the shootings Thursday morning in a pair of posts on X, formerly known as Twitter.
"The shootings occurred less than 50 miles from where I live. I went to high school in Lisbon. It's the rapid-fire killing machines, people. This is madness in the name of freedom. Stop electing apologists for murder," he wrote.