Mardi Gras parade shooting in New Orleans leaves 1 dead, 4 hurt
NEW ORLEANS - One person was killed and four others were injured in a shooting during a Mardi Gras parade in New Orleans, authorities said.
A suspect was also taken into custody shortly after the shooting, reported around 9:30 p.m. Sunday, police said.
The victims were three males and two females, including one child, the department said. Police said all five were taken to the hospital, where one of the male victims was pronounced dead, the New Orleans Police Department said.
The four other victims were hospitalized but stable, Chief Deputy Hans Ganthier said during a news conference on Monday morning. 
The shooting occurred during the Krewe of Bacchus parade in a neighborhood outside the tourist-packed French Quarter. The route was filled with families with young children enjoying the parade when they heard gunshots, witnesses told WWL-TV. 
Chaos ensued as people ran, took cover, and tried to protect their children.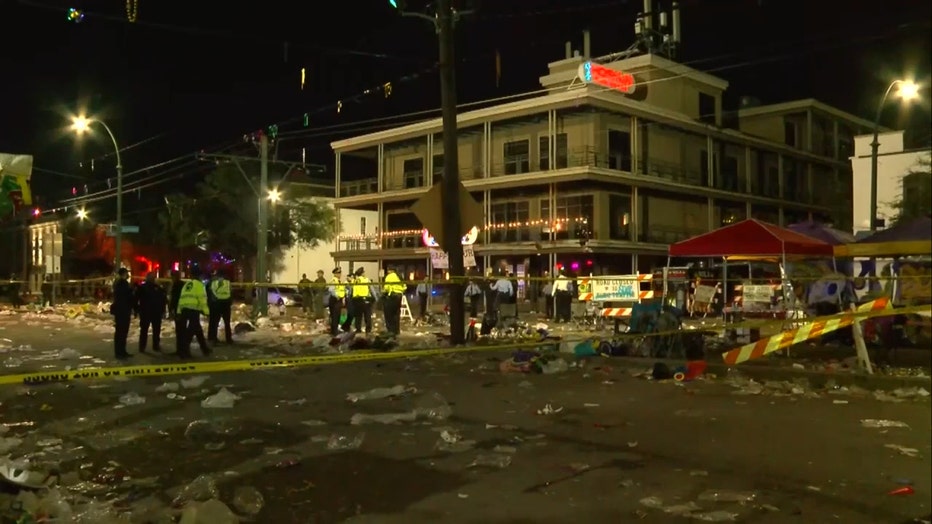 Police are pictured at the scene of a shooting along the Krewe of Bacchus parade in New Orleans on Feb. 19, 2023. (Credit: WVUE-TV)
One person was detained, but Ganthier wasn't certain whether there was anyone else involved and said the shooting remains under investigation. Two guns were also recovered at the scene. 
"This was really not something we wanted to see," Ganthier said. "We really wanted this to be a safe Mardi Gras, and we continue to work towards that end."
The superkrewe of Bacchus was temporarily halted in the 1500 block of St. Charles Avenue after the shooting. 
This story was reported from Cincinnati. The Associated Press contributed.