Mayor: Buffalo firefighter killed in downtown blaze
article
BUFFALO, N.Y. - A Buffalo firefighter was killed Wednesday while battling a blaze in downtown, according to the city's mayor.
"I am deeply saddened to report that a member of the Buffalo Fire Department has lost his life while bravely fighting the four-alarm fire on Main Street in downtown Buffalo today,"Mayor Byron Brown tweeted. "I ask everyone to keep the family and fellow firefighters in your prayers." 
The firefighter was believed to have been trapped by falling debris from a blaze that led to an explosion that sent flames and smoke billowing into the street.
RELATED: EMS workers punished for media interviews in NYC settle suit
Video recorded by bystanders showed teams of firefighters outside the building being knocked over and enveloped in a cloud of ash, then flailing to regain control of spraying hoses.
Rescuers were trying to reach the spot where the missing firefighter was believed to be trapped, officials said.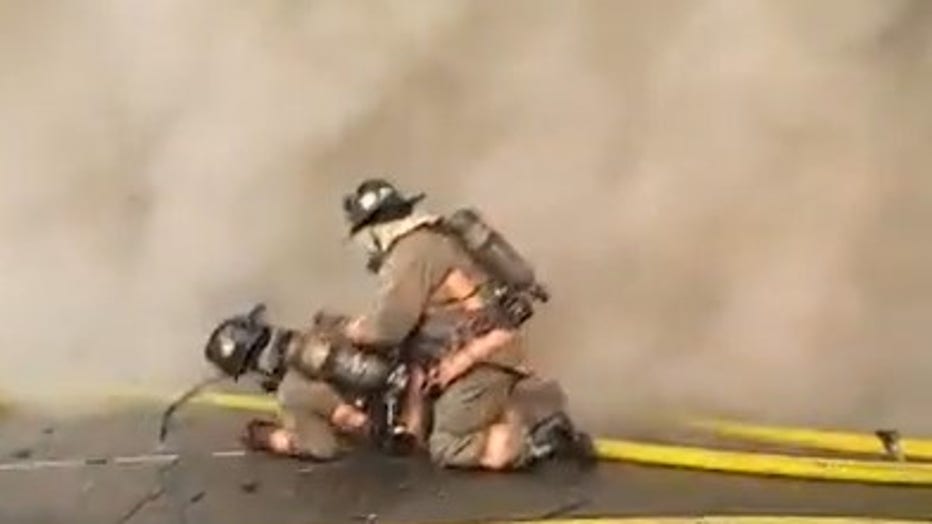 Buffalo firefighters seen just after the explosion. (Credit: Buffalo Fire Department Helmets and Hose Wagons via Storyful)
Firefighters responded to the building, which held a theatrical costumes shop, in a downtown commercial district at about 10 a.m., Fire Commissioner William Renaldo said.
"Quickly thereafter there was a mayday call," Renaldo said. "There was a structural collapse, an interior collapse. Firefighters had to evacuate. And unfortunately one of our firefighters was trapped."
The cause of the fire was under investigation. Renaldo said his department was investigating a report that workers had been seen with torches near the building, which was being renovated.
The Associated Press contributed to this report. This story was reported from Los Angeles.